The Victory Junction Gang Camp is a camp for terminally ill children located in Randleman, North Carolina, USA. It is part of the Hole in the Wall Gang camp family.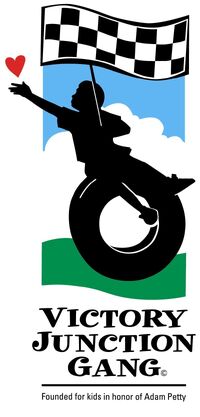 The idea for the camp came from Adam Petty, who was a teenage stock-car driver (as well as the son of NASCAR Winston Cup Series veteran Kyle Petty, the grandson of seven-time champion Richard Petty, and great-grandson of two-time champion Lee Petty). In 2000, the Pettys began talks with Hole in the Wall founder Paul Newman about the new venture.
On May 12, 2000, Adam Petty was killed in a practice crash at New Hampshire International Speedway. Kyle and his wife, Pattie (Huffman) Petty, carried on Adam's vision and spent four years raising money for, and building, the camp. On June 20, 2004--Father's Day in the U.S.--the VJGC welcomed its first campers.
Facilities include a swimming pool, a game room, a computer lab, an outdoor recreation area and open space, and a medical clinic. In 2006, work began on a "superdome" that would host indoor sporting facilities. It was begun with a $1 million seed donation from fellow NASCAR driver Kurt Busch. Other drivers, team owners, team sponsors, and NASCAR itself have given substantial donations to the camp.
The VJGC is open year-round and can accommodate about 100 campers at a time. The size of the camp is kept relatively small to allow the children more personal attention. Most campers live in the Southeast United States, but the number of participants that live in other parts of the country has grown over the time it has been open.
Fittingly, the camp physical address is 45 Adam's Way. The street number refers to the car number that Adam drove, as well as Kyle's current car number.
The Victory Junction Gang Camp had a very special visitor on 18 October 2006 when President George W. Bush stopped by. SPEED Channel Article The President spent some time fishing with a couple of campers, he visited Adam's Race Shop where he met with more campers and NASCAR drivers Michael Waltrip, Dale Earnhardt Jr. and Jimmie Johnson. He joined with some campers on the NASCAR simulators and rounded out his visit at the Fuel Stop where he posed for pictures with campers and staff. His visit was prompted by his interest in the great humanitarian work that takes place at the Victory Junction Gang Camp.
External link
Edit
Ad blocker interference detected!
Wikia is a free-to-use site that makes money from advertising. We have a modified experience for viewers using ad blockers

Wikia is not accessible if you've made further modifications. Remove the custom ad blocker rule(s) and the page will load as expected.