Ultra Motorsports was a NASCAR Craftsman Truck Series racing team. Jim Smith helped start the team and the Craftsman Truck Series. It ran full time in the Craftsman Truck Series from 1995 to 2005, earning many wins and a 2005 championship with Ted Musgrave. Early in 2006, Ultra Motorsports announced that they are closing their shop, ending a long racing career.
Truck #1 History
Edit
The #1 truck made its CTS debut at the 2001 Florida Dodge Dealers 200. Ted Musgrave drove the Mopar sponsored Dodge to a 22nd place finish after suffering water pump faliure. Musgrave was able to recover and won seven races that season. Musgrave won two races over the next two years, and almost won the championship in 2003, but lost it after jumping a restart at the season finale. During the course of the season, he had been diagnosed with bladder cancer. After another near miss at the title in 2004, Musgrave took only one win in 2005 but finally won the championship, the first in Ultra's history. Unfortunately, Dodge announced during the season that they would stop supporting Ultra's team. Ultra spent the offseason trying to work out a deal with the Ford Motor Company, but talks fell off, and Ultra was forced to shut down. The equipment and owner's points were sold to Richardson Racing.
Truck #2 History
Edit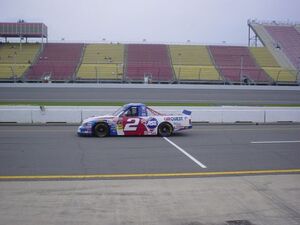 Ultra Motorsports made its official Truck debut in the series' first race, the Copper World Classic at Phoenix International Raceway. The team was the #08 Ford F-150 driven by Mike Bliss, and sponsored by Smith's company, Ultra Custom Wheels. Finishing 14th in that race, Bliss ran with the team for the entire year, when it switched to #2 at Bristol. Bliss won once at North Wilkesboro Speedway and finished eighth in points that season.
In 1996, Team ASE Racing came on board as sponsor, and Bliss picked up two more wins and moved into fifth in points. After another top-five finish in 1997, Bliss slipped to tenth in the standings, and left for Roush Racing. Smith replaced him with Mike Wallace, who won in the first race of the season at Homestead-Miami Speedway. Another win at the NAPA 300k propelled Wallace to a sixth place finish in points. After winning twice more in 2000, Wallace moved up to Ultra's Winston Cup program.
In addition to switching to Dodge Rams in 2001, Smith hired Scott Riggs to drive the #2. Riggs picked up five wins as well as three straight pole positions, and finished fifth in points. However, he moved up to ppc Racing in the Busch Series, and Smith hired Jason Leffler to take his place. Although he did not win a race in 2002, Leffler had eight pole positions and fifteen top-ten finishes. Leffler returned to Ultra in 2003, and picked up a victory at the MBNA Armed Forces Family 200, but was released mid-season after violating the terms of his contract. Jimmy Spencer and Andy Houston took over with Spencer picking up a win at Loudon. Houston returned for 2004, but he and the team struggled and he was released. P.J. Jones, Jamie McMurray, and Kasey Kahne shared driving duties for the season, with McMurray and Kahne winning during their relief duties.
In 2005, Jimmy Spencer returned to the #2. Although he was unable to visit victory lane again, he put together nine top-ten finishes and a twelfth place finish in points. It had already been decided not to run the #2 when Ultra announced it was closing its doors. The equipment and owner's points for this team were sold to Evernham Motorsports' ride for Erin Crocker.
Other teams
Edit
Ultra has had other operations in the past. In 2000, they purchased Mattei Motorsports, and field the #7 Chevrolet Monte Carlo for Michael Waltrip for the rest of that season with sponsorship from NationsRent. He was replaced by Mike Wallace in 2001, but he struggled as well, and he was briefly taken out of the car. Robby Gordon almost won a race for them that season at Infineon Raceway, but was trapped behind a lapped car and gave the lead to Tony Stewart. Wallace returned, but left for Penske Racing South late in the season, and Kevin Lepage took over for the balance of the season. In 2002, Casey Atwood came on with sponsorship from Sirius Satellite Radio and technical support from Evernham Motorsports. But Atwood struggled heavily, and Smith replaced him late in the season with Jason Leffler. Jimmy Spencer climbed on in 2003, and had four top-tens, but Sirius left the team, and Smith sold the operation to Robby Gordon in 2005.
Also in the Truck Series, Smith fielded additional trucks. In 1995, Butch Gilliand drove the #06 in five races for Ultra, and had one top-ten finish. In 1998, the #1 truck was occupied by Bliss while Dave Rezendes piloted the #2 in a one-race deal at Bristol. In 2003, Ultra debuted the #7 Dodge Ram. Stuart Kirby, Tracy Hines, and Tyler Walker piloted it that season. In the 2003 Ford 200, Ultra fielded multiple trucks, some of which crashed. This drew fire from fans, who accused Smith as using the trucks as roadblocks to help Musgrave win the race.
External links
Edit