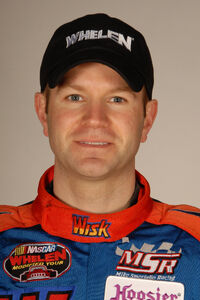 Todd Szegedy, born May 6, 1976 in Ridgefield, Connecticut, is an American racecar driver. He was the 2003 champion of the NASCAR Whelen Modified Tour. In 2004, he competed in three NASCAR Busch Series races for NEMCO Motorsports in the #87 Chevrolet, with an average finish of 25th place. He still drives in the Modified Tour, driving the #2 Wisk/Snuggle Ford.
He is probably best remembered by NASCAR fans for an incident that took place during his qualifying run for his 2nd career Nationwide Series start, which came at Chicagoland Speedway in July of 2004. During his run, a gigantic inflatable orange promoting race sponsor Tropicana was blown by the wind onto the racing surface, forcing Szegedy to dodge it. Szegedy was granted another qualifying attempt and qualified 12th. [1]
External Links
Edit
Ad blocker interference detected!
Wikia is a free-to-use site that makes money from advertising. We have a modified experience for viewers using ad blockers

Wikia is not accessible if you've made further modifications. Remove the custom ad blocker rule(s) and the page will load as expected.