Julius Timothy "Tim" Flock (May 11, 1924 - March 31, 1998) was one of NASCAR's early pioneers, and a two time series champion. He was the brother of NASCAR's second female driver Ethel Mobley, and of NASCAR pioneers Bob Flock and Fonty Flock.
NASCAR career
Edit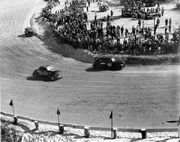 He finished 5th in NASCAR's inaugural Strictly Stock race at Charlotte, North Carolina in 1949. NASCAR's first official season ended with Tim in eighth, Tim's brother Fonty Flock in fifth, and Tim's brother Bob Flock in third in the overall points standing. Tim sat out the 1950 NASCAR season recovering from a four car pile up at Charlotte.
Returning to racing in 1951, Tim won seven races. 1952 brought eight wins and four poles. At the end of the 1952 NASCAR season, Tim Flock had 106 more points than Herb Thomas, earning Flock his first Grand National Championship title.
1955 was a record setting year for Flock as well as NASCAR. On the way to Flock's second Grand National Championship title, Flock had 19 poles and 18 victories in 45 races. The 18 victories stood as a record until broken by "The King", Richard Petty, in 1967. The 19 poles is still the highest number in a NASCAR season.
He died of lung and liver cancer on March 31, 1998 at the age of 73.
A month before his death, Flock was honored as one of NASCAR's 50 Greatest Drivers. He has been inducted in numerous halls of fame, including the: International Motorsports Hall of Fame (1991), Motorsports Hall of Fame of America (1999), National Motorsports Press Association Hall of Fame (1972), State of Georgia Hall of Fame (1972), and Charlotte Motor Speedway Court of Legends (1994). He will be inducted in the Alabama Sports Hall of Fame in May 2006.
Flock won the only NASCAR event ever held at Road America in 1956. No stock car events of any type were held at the track until the 1990s.
Tim had a Rhesus monkey co-driver named "Jocko Flocko" with him in his May 16, 1953 Grand National win at Hickory Motor Speedway. Jocko Flocko became the only winning monkey ever. The monkey was retired two weeks later at Raleigh, where the monkey became scared after looking into the wheel wells. Tim had to do a pit stop to remove the monkey, and he finished third instead of second.
External links
Edit
Ad blocker interference detected!
Wikia is a free-to-use site that makes money from advertising. We have a modified experience for viewers using ad blockers

Wikia is not accessible if you've made further modifications. Remove the custom ad blocker rule(s) and the page will load as expected.