SS-Green Light Racing is a NASCAR Camping World Truck Series team. Owned and Operated by businessman Ken Smith, Steve Urvan and former driver Bobby Dotter, the team fields 3 full-time entries in the Truck Series, the #07 Chevrolet for Donny Lia and rookie Tony Jackson, Jr., the #21 Dodge for Chris Eggleston, Butch Miller and Donny Lia, and the #23 Dodge for Jason White (VA)
Truck #07 history
Edit
The #07 truck began racing in 2001 with former owner Gene Christensen driving the Racing For Kids Chevrolet. He failed to finish higher than 30th that season and completed just 63 laps total. Jason Small began racing the 07 full-time the following season with Sunbelt Rentals sponsoring. He had two top-tens and finished 22nd in the points standings. Rich Bickle drove the 07 at the season opener in 2003, before Bobby Dotter drove for several races in the truck. Jeremy Mayfield had a sixth-place finish the following race at Lowe's, with Stan Boyd and Blake Mallory driving in select races afterwards. Johnny Chapman would then drive for six races, with Ryan Hanson and Mark McFarland driving in between. Dotter and Shane Sieg would finish out the year in the truck.
In 2004, Sieg was hired as the full-time driver with Auto Air Colors sponsoring. Despite an eighth place finish at Milwaukee, he was released before the final quarter of the season, and Sean Murphy and Andy Houston would end the season in the truck. Murphy would be hired to drive the 07 for the first five races of the season, and after one thirteenth-place finish, Butch Miller] took over at Mansfield, and finished tenth. Rich Bickle, Chris Wimmer, and Eric Norris also raced the 07, before Jack Bailey drove a total of six races, with a best finish of 26th. Chase Pistone, Jose Luis Ramirez, and Wimmer finished out the season in the truck. Murphy returned at the beginning of the 2006 season, but did not last long, with Clint Bowyer finishing seventh at Martinsville in the Jack Daniel's truck. Justin Martz, Robert Turner, Johnny Chapman, and Butch Miller drove one race apiece, with Kevin Lepage driving a pair of races with Roadloans.com sponsorship. Chad McCumbee drove the 07 for a pair of races, when U.S. Restoration became the team's new primary sponsor. Travis Kittleson then became the team's new driver for three races, his best a sixteenth at Nashville Superspeedway. T. J. Bell would drive for one race, and John Mickel brought sponsorship from Torquespeed and leased out the 07 for the rest of the season, his best finish 20th.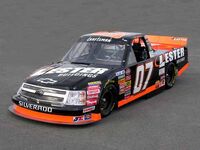 After the 2006 season, Tim Sauter and Lester Buildings joined the team for 2007. Despite only one top-ten finish, Sauter finished 16th in the points but was runner up to Willie Allen for Rookie of the Year. Both Sauter and Lester Buildings departed at season's end, possibly due to the struggles of the housing market.Template:O RLY? Shane Seig, Sean Murphy and Ryan Lawler will share the ride in 2008. ASILIMITED will be a primary sponsor for selected events.
Truck #08 history
Edit
The team began competing in 2000 with Dotter driving the #45 People Against Drugs Chevrolet in two races, his best finish a seventeenth at The Milwaukee Mile. For the 2001 season, Dotter would drive the 08 full-time while campaigning for Rookie of the Year. He had a 10th place finish at IRP and finished fifteenth in points. He continued to drive the 08 truck in 2002, posting four top-ten finishes and finishing a career best fourteenth in points. In 2003, rookie Jody Lavender was hired as the team's driver for most of the season, bringing sponsorship from Lavender's Discount Carpets and Hartsville Community Bank. He finished seventeenth in points that year despite missing four races. He was replaced in those races by Dotter and Shane Sieg, who ran two races apiece.
Ken Weaver was hired as the next driver of the 08 truck in 2004, bringing 1-800-4-A-Phone as sponsorship, and he raced a total of fifteen times, with a best finish of 18th at Texas Motor Speedway. Various other drivers raced the 08 truck that season, including Dotter, Tony Raines, A.J. Fike, Butch Miller, Bill Manfull, and Sean Murphy. Weaver started driving the 08 truck for the first three races in 2005, and had a sixth-place finish at Daytona International Speedway, before he left the team. Without a primary sponsor, the team began racing with the driver-by committee schedule, and Tam Topham drove for the team at Martinsville Speedway, before Rich Bickle drove the next two races, and finished fifth at Mansfield. Butch Miller and Kevin Lepage drove one race apiece, before Johnny Chapman drove in four of the next five races. Miller and Topham raced another time in the 08 that year, along with Jarit Johnson, Chris Wimmer, Mark McFarland, and Jack Bailey.
In 2006, Bobby Hamilton, Jr. raced in the first three races of the season with Corky's BBQ and Ribs sponsoring the team's Dodge, before he left to drive full-time for his father's team. Butch Miller drove the next week at Martinsville, and Boris Jurkovic followed at the following race, when the team returned to Chevrolet. Mike Greenwell made his debut at Mansfield, finishing 26th, and after Johnny Chapman drove at Dover, Chad McCumbee was hired as Green Light Racing's first full-time driver in two years. With the exception of two races where Chris Wimmer and Mike Greenwell raced, McCumbee drove the 08 for the rest of the season, posting two seventh-place finishes and was runner-up for Rookie of the Year despite missing the season opener at Daytona. He was hired to race to race the 08 for the 2007 season, skipping the Sam's Town 400 due to making his NEXTEL Cup debut at Pocono Raceway, being replaced by Eric Norris. He left for MRD Motorsports late in the season, and Shane Sieg took his place, for a couple of races, with Dennis Setzer driving at New Hampshire. Chris Jones took over the ride starting at Martinsville. For 2008,, Jason White brings sponsorship from GunBroker.com, along with the team's manufacturer change to Dodge.
Other teams
Edit
Beginning with the 2006 season, Green Light Racing began fielding a third team when the expected field was short. Wayne Edwards drove the 03 truck first in 2006, finishing 36th and 35th respectively. Johnny Chapman then drove at Texas Motor Speedway, finishing 35th. Chapman drove the 78 at Atlanta in 2007, finishing last. Other drivers of the 06 truck in 2007 were Morgan Shepherd, Blake Mallory, Randy MacDonald, Dotter, Edwards, and Brandon Knupp. Most of these states have only been start and parks.
SS Racing, although an ASA team, has dabbled in the Truck Series with a limited partnership with GLR, providing associate sponsorship for the team. However, with the recent financial successes of merged teams such as Gillett Evernham Motorsports and Roush Fenway RacingTemplate:O RLY?, coupled with Gene Christiensen's bid for a seat in Congress, both GLR and SS expanded their partnership to a full merger beginning in 2008.
External links
Edit
Ad blocker interference detected!
Wikia is a free-to-use site that makes money from advertising. We have a modified experience for viewers using ad blockers

Wikia is not accessible if you've made further modifications. Remove the custom ad blocker rule(s) and the page will load as expected.