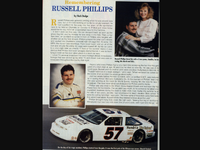 Russell Lee Phillips
(March 8, 1969 - October 6, 1995) was a
NASCAR
Sportsman Division
driver from Mint Hill, NC. He was killed in a crash at
Charlotte Motor Speedway
in 1995. In his career, he ran 15 NASCAR Sportsman Division races at Charlotte, his best finish being an 11th. Aside from racing, he was a very kind man who had several jobs, including a preacher, volunteer firefighter, racing fabricator, and more. He was the husband of Jennifer Phillips, and the brother of John Phillips, Sadie, and a few others.
The 1995 Winston 100 was Phillips' 15th NASCAR Sportsman Series start, who had just won his first pole and led the pack the first 2 of 67 laps. On lap 37 of 67, Phillips was in 10th place when the two cars driven by Joe Gaita and Morris Bice spun in front of him, and him and a few other drivers steered high to avoid the accident. Rookie Steven Howard steered to high, right into the path of Phillips, who was then launched roof-first into the catch fence just as Steven Howard hit the wall. Steven's car dragged Phillips' car along the wall for several feet, shearing the roof completely off. When the car flipped back down, there was a hole where the roof once was.
Phillips body was dismembered and decapitated by the track's catch fence and a caution light, and the track was littered with debris, blood, several body parts, and even bone, causing a long red flag while officials cleaned it up. Phillips head was found at the entrance to pit road, and one of his hands was found in the fence, where the caution light once was.
Teams
Car #
Sponsor(s)
Series
Russell Phillips racing
57
Hendrix Office Machines Inc.,

Cook's Body Shop, Graphics Plus,

Mullis

NASCAR Sportsman Division