Template:Infobox Nascar Racetrack Rockingham Speedway is a racetrack located in Rockingham, North Carolina. It is affectionately known as "The Rock" and hosted NASCAR events 1965 to 2004. The track was closed as a result of the Ferko lawsuit.
The track measures slightly over one mile in length, and is shaped like a D rather than a perfect oval. The track surface is very abrasive compared to other tracks on the circuit, due to the high sand content of paving compounds made from local materials. This abrasiveness notoriously contributes to excessive tire wear; this characteristic is often cited as a demanding element of racing at The Rock, necessitating strict management of tire wear by drivers. The track was reshaped from a flat one mile track to the present configuration in 1969.
The Rock played host to two NASCAR top tier races each year, until 2004 when its schedule was reduced to only one race due to disappointing ticket sales. It held its last race on February 22, 2004. Despite wide speculation that it would be its last race on the NASCAR circuit, the race failed to sell out, falling nearly 10,000 short of the 60,000 capacity. In that last race, Matt Kenseth held off then rookie Kasey Kahne on the last lap to win by only 0.010 seconds. This finish was one of the closest in NASCAR history, and viewed by many fans as one of the best races that year. It is also known for a wild crash early in the race in which Carl Long flipped wildly down the backstretch. Upon its exit from the NASCAR circuit, The Rock joined the Ontario Motor Speedway, Riverside International Raceway, and the North Wilkesboro Speedway as racetracks no longer on the circuit.
Most agree that the lack of any other tourist attractions in the area and the relatively small size of the city hurt ticket sales. In addition, other tracks nearby such as Lowe's Motor Speedway and Darlington Speedway (which is near Myrtle Beach) had a tendency to lure away fans looking to catch a race. All of this despite Rockingham's reputation for excellent racing and for having great sightlines for spectators. It must also be mentioned that the facility made limited infrastructure reinvestments over the years while being owned by the DeWitt family, and and seemed to lag behind other facilities which continually modernized and updated their business plans, especially after it was sold to pay off estate taxes owed by the DeWitt and Wilson families which had owned the track.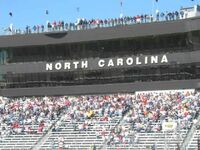 The track is home to the Buck Baker Driving School and is used for television and movie filming, along with testing. The 2004 ESPN telefilm 3: The Dale Earnhardt Story was filmed at the track.
Rockingham has become a test track for many Sprint Cup and Nationwide Series teams because of recently imposed testing restrictions by NASCAR to save money. After the track was stripped of its dates, teams began using the circuit to test cars and engines, especially to simulate abrasive wear at certain tracks (Darlington and Atlanta most notably). In 2005, Kyle Petty tested his Darlington car at Rockingham days before its race to not waste one of his five assigned tests. With 2006 NASCAR rules banning all testing at active Sprint Cup tracks except at selected NASCAR_approved open tests, testing at Rockingham has become a premium; Penske Racing tested at the track in mid-April to simulate testing, and with the abrasiveness of the Atlanta Motor Speedway surface, which has not been repaved since reconstruction in 1997, and Atlanta's participation in the Chase for the Sprint Cup, many teams are considering returning to Rockingham in September or October to test their cars to simulate Atlanta's similar surface.
External links
Edit