Robby Gordon Motorsports is a NASCAR Sprint Cup team owned by Robby Gordon fielding the #7 Dodge driven by himself.
Alan Kulwicki
Edit
The team debuted at the 1982 Cracker Barrel Country Store 420 at Nashville Speedway USA with Bob Jarvis driving it as the #32 Clinomint Buick, finishing 28th out of 30 cars. At the time, it was owned by Bill Terry. The team ran a limited schedule until 1987, when it fielded a full time car driven by a rookie driver from Wisconsin named Alan Kulwicki. The car was now the #35 Quincy's Steak House Ford. After 14 starts, Terry sold the team to Kulwicki. After winning Rookie of the Year honors, Kulwicki changed the number of the car to #7 and got sponsorship from Zerex. Kulwicki won three pole positions and finished 15th in points. In 1988, Kulwicki won his first career race at Phoenix International Raceway. In celebration, he drove the now-famous Polish Victory Lap. He won once more in 1990, but lost his Zerex sponsorship. After beginning 1991 with no sponsor, he got a one-race deal with Hooters after their regular driver, Mark Stahl, failed to qualify. The deal blossommed into a multi-year deal. and Kulwicki won three more races over the next two years. He shocked everybody when he defeated Bill Elliott for the 1992 Winston Cup championship by 10 points. Kulwicki died five races into the 1993 season.
New beginnings
Edit
The team ran under Kulwicki's name with Jimmy Hensley and Tommy Kendall driving, before Geoffrey Bodine purchased the team. He got new sponsorship from the Family Channel for the rest of the year, before it was replaced by Exide Batteries in 1994. Bodine won three times that year that year but finished 17th in points. In 1996, the sponsorship was replaced by QVC, and scored his most recent win at Watkins Glen International Raceway. He struggled in 1997 though, failing to qualify in a couple of races. Despite this, he won two poles in the last two months of the season, including one that broke the track record at Atlanta Motor Speedway.
Ultra-Mattei
Edit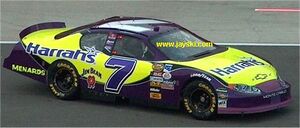 In 1998, he sold part of his ownership to Jim Mattei, and picked up sponsorship from Philips. When Bodine got an offer to drive for Joe Bessey in 1999, he sold the rest of his team and was replaced by Michael Waltrip, as the team switched to Chevrolet. Finishing 5th in the Daytona 500, Waltrip finished the year 29th in points. Getting sponsorship from NationsRent in 2000, Waltrip's only top-ten finish that year was a 3rd at Martinsville. He left at the end of the year, and Mike Wallace took over. Midway through 2000, Mattei sold partial interest in the team to Jim Smith, who bought out Mattei one month later. Wallace struggled with the team and was replaced briefly by Robby Gordon at Sears Point. Gordon scored a 2nd place finish, but later that year, signed with Richard Childress Racing. Towards the end of the year, Wallace left for Penske Racing and Kevin Lepage took over for the rest of the year.
In 2002, the team moved to Dodge, got Sirius Satellite Radio as a sponsor, and hired Casey Atwood to drive as part of a new partnership with Evernham Motorsports. Atwood struggled and was replaced by Jason Leffler in the last two races, after the Evernham partnership dissolved. Jimmy Spencer took over in 2003 and had four top ten finishes. The team ran only two races in 2004 after struggling to find a sponsor. In 2007 the team switch manufactures to from a Chevy to a Ford. Gordon ran all 36 races with a best start of 2nd at the 2007 Toyota / Save Mart 350 and a best finish of 5th at the 2007 Centurion Boats at the Glen finishing 30th in points. In 2008 they will team up with Gillett Evernham Motorsports, using a Dodge engine, and switching over to Dodge make.
NASCAR Debut
Edit
In 2004, Robby Gordon used his wealth he got off of his Cup series RCR deal, to rise up his Busch series team. Robby Gordon drove part-time in 2004 for his team and had a few top tens. In September 2004, Robby Gordon won the team's first event at Richmond. After 2004, Robby Gordon resigned from Cup team RCR to drive for himself.
Robby Gordon's self-team was unsuccessful in 2005. He failed to qualify for several races and finished badly. At New Hampshire, Gordon only got in the headlines for when he was penalized by NASCAR for an incident with Michael Waltrip at Loudon.
Again Robby Gordon's team had no wins, not many top tens and failed to qualify for a few races. The only win Robby Gordon came near to was at Watkins Glen in the NNS in 2006.
In late 2006, Robby Gordon's team finished a shocking twelfth place finish, but rumors arose that Gordon intentionally threw debris onto the track to cause a caution. Gordon was fined $35,000 by NASCAR for the debris.
RGM did much better in 2007. Robby Gordon had a few top fives in the spring. At Sonoma, Robby Gordon qualified second and dominated the race. However poor pit stop plannings caused Gordon to finish 16th. Gordon faced ridicules from fans and drivers after the event when he criticized race winner Juan Montoya stating "I am happy for Juan but he didn't really win. He only won by luck and he did not dominate this event."
At Montreal, Robby Gordon was penalized by NASCAR. On the final restart of the inaugural NNS at Montreal, Robby Gordon passed leader, Australian rookie Marcos Ambrose for the lead. Ambrose then spun out Gordon under yellow to reclaim the lead. Gordon went back out up front, but NASCAR black-flagged him for not restarting in a proper position and failing to maintain cautious speed. In reply, an angered Gordon intentionally wrecked Ambrose on the final restart. Robby Gordon defied orders to leave the track and crossed the finish line first, doing donuts afterwards even though he did not win the race. Following this incident, Gordon apologized and was parked by NASCAR from the Cup series race at Pocono the next morning. Gordon then apologized to Marcos Ambrose later that week, offering the Aussie a deal to race the #77 for RGM at Watkins Glen's Cup series event as a part-apology and part- belief in the rookie. However because of rain Ambrose did not qualify.
2008-Present
Edit
Robby Gordon basically spent the years from 2008-2012 racing, taking top tens on rare occasion, being penalized frequently until he finally gave up on his NASCAR career and closed his team in 2012; mostly to continue his paused open-wheel racing career by remodeling his idol; Mickey Thompson's Stadium Racing.