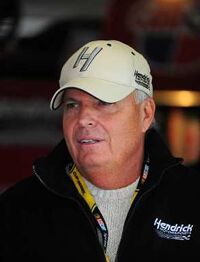 Rick Hendrick (born July 12, 1949 in Charlotte, North Carolina), is an owner of several NASCAR stock cars, as well as one of the largest automotive chains in the United States.
Hendrick Motorsports, founded in 1984, is one of the most successful teams in NASCAR racing, with championships won in 1995, 1996, 1997, 1998, and 2001. As the head of Hendrick Motorsports, Rick Hendrick owns several race cars, including the Sprint Cup cars of Jeff Gordon, Dale Earnhardt, Jr, Kasey Kahne and Jimmie Johnson. Past drivers include Geoff Bodine, Tim Richmond, Benny Parsons, Darrell Waltrip, Ken Schrader, Ricky Craven, Wally Dallenbach, Jr., Joe Nemechek, Ricky Rudd, Kyle Busch, Casey Mears and Rick Hendrick himself. Hendrick Motorsports has over 140 Sprint Cup wins.
The Hendrick Automotive Group was founded by Hendrick in 1976 as a single dealership in Bennettsville, South Carolina. Today, the company consists of over 65 dealerships in about 10 states, and annual revenues are over $3 billion. Hendrick is currently serving as chairman of the company.
Rick drove in the 1987 and 1988 Winston Cup races at Riverside International Raceway, finishing 33rd (out with [transmission problems][1] after racing to the Top 10) and 15th. He also had a single start in the Busch Series and the Craftsman Truck Series.
In 1996, Rick Hendrick was diagnosed with a form of leukemia. With successful treatment, the disease went into remission within three years.
In 1997, Hendrick pleaded guilty to bribery and mail fraud. In the 1980s, Honda automobiles were in high demand, and Honda executives allegedly solicited bribes from dealers for larger product disbursements. Hendrick admitted to giving hundreds of thousands of dollars, BMW automobiles, and houses to American Honda Motor Company executives. Hendrick was sentenced in December of that year to a $250,000 fine, 12 months home confinement (instead of prison, due to his leukemia), three years probation, and to have no involvement with Hendrick Automotive Group or Hendrick Motorsports during his year of confinement. In December of 2000, Hendrick received a full pardon from President Clinton.
On October 24, 2004, Hendrick's son, Ricky Hendrick and nieces and brother were killed in an airplane crash en route to the Subway 500 in Martinsville, Virginia. All eight passengers and both pilots died in the incident. also aborad that plane was Hendrick's engine builder, Randy Dorton.
External links
Edit