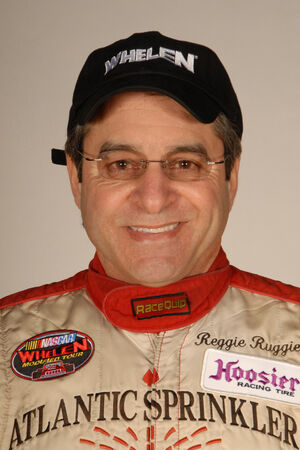 Reggie Ruggiero, from Rocky Hill, CT, is a former NASCAR driver. In his career, Ruggiero only competed in four Nationwide Series races in his career. Ruggiero is one of the best modified drivers in the Northeast, and continues to race there.   Currently racing, the Dick Barney Atlantic Sprinklers No. 14 for limited events like Thompson, Stafford, NHIS, and Martinsville.
Outside of NASCAR
Edit
Ruggiero started racing in 1969, when he won many races at Plainsville Stadium. After landing a big-name Modified ride in 1971, Ruggiero went on a tear.
He captured three Modified track championships at Riverside Park Speedway. Translated, Ruggiero won ninety-three races. He later won two New Hampshire state championships and a championship at Stafford Speedway.
He then moved onto the NASCAR Featherlite Modified Series, where he won 44 races in his career. Ruggerio is admittedly the best driver to never win a Modified Series championship, finishing second in points six times. I the early 70's he worked for Eddie Mac and his garage with Stan Gregor & John Bergantti. Then ran a successful gas station in New Britain.
The first two came in 1987, when Ruggiero made his debut in the #90 Cox Pontiac at Martinsville. He started the event in 20th, and when the green flag flew Ruggiero did a solid job for a rookie. He finished on the lead lap and then came home with a 10th place finish in his debut. Ruggiero was given a ride in the next race at Darlington, starting 27th and finishing 26th, but was not kept on in the ride. He was replaced by Rusty Wallace.
Ruggiero disappeared until 1993, when Ruggiero raced at NHIS, taking his Busch North Series car into the field. After starting 23rd in the field, Ruggiero came home 30th. He was caught up in a mid race crash.
Ruggiero did better in his 1995 race at NHIS. He started that event in 13th and came home in the 20th place.
External Links
Edit