Premium Motorsports (formerly Jay Robinson Racing) is a stock car racing team. They currently compete in the Monster Energy Cup Series and Camping World Truck Series.
Busch Series
Edit
Car #28 history
Edit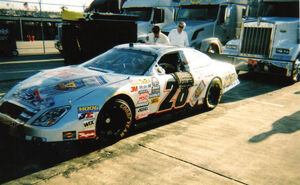 The 28 car made its debut at the 2004 Charter 250. It was sponsored by Yahoo! and driven by Mark Green, who finished 35th in the car. Green piloted the car in six more races that season, before departing for Keith Coleman Racing. Shane Hall drove the car on a limited basis for the rest of the year. Derrike Cope was named the driver for 2005, with sponsorship from Radioshack and Motorola. Cope struggled and was replaced by Shane Hall. Hall only ran on a part-time basis, and did not finish a race. The 28 has been driven part-time by Hall in 2006.
Car #39 history
Edit
The 39 cars were purchased by Robinson from Robert Yates Racing in 2003, who had repossessed the equipment from Angela's Motorsports. The team's first race was at the Koolerz 300, with Mike McLaughlin driving a fan-supported ride. He qualified fourth, but was involved in a crash late in the race, and finished 29th. Joe Buford and Clint Vahsholtz ran the next two races. Jason White began running the 39 eventually, as Three Stooges Beer came aboard as sponsor. Eventually, road racer Chris Bingham drove the 39 after struggling in the 49 car. Following his release, Jamie Mosley, before Dana White finished out the year.
Andy Ponstein began the year in the 39, but wrecked several times during his tenure and was released. Tina Gordon came on after that, and had a best finish of 26th at Pikes Peak, before she was released. The 39 has not run since.
Car #49 history
Edit
JRR made its debut in the Busch Series at the 2001 NAPA Auto Parts 300. Fielding a Chevrolet, driver Andy Kirby failed to make the field. Their first start came at the Suncom 200, with A.J. Frank driving. He finished 39th after suffering equipment failure. The team made the next race at Bristol Motor Speedway, finishing 43rd with Jerry McCart driving, as well finishing 42nd at Texas with Robbie Faggert. Frank returned at Nashville, where he finished 38th after wrecking during the race. At the next race at the NASCAR Subway 300, Kirby finished in 16th, the best finish for the team that year. Other drivers who raced for JRR that year were Joe Bush, Dick Trickle, Phil Bonifield, and Ken Alexander. The team finished 33rd in owner's points that year.
JRR started 2002 by switching to Ford and Kirk Shelmerdine finishing 31st at Daytona. Faggert returned the next week with sponsorship from Rent-A-Wreck, where he finished 35th, and Craig Raudman at Las Vegas, who finished 32nd. Joe Buford took over the next two races, before David Starr took over at Texas. After that, Kirby returned to the team, and ran until the Kroger 300, when he was killed in a motorcycle accident two days after. They made one race with Nick Woodward, then with Dan Pardus. Buford, Troy Cline, and Derrike Cope finished out the year for the team.
In 2003, the team hired Bingham to and Cope to share the driving duties 49. Bingham struggled finishing races and soon moved over to the #39 team, while Cope would eventually be released. Shane Hall took over for two races, along with Carlos Contreras. At New Hampshire, Tammy Jo Kirk and sponsor Advil signed on. She ran 15 races that season with a best finish of 21st at Pikes Peak. Cope returned to the 49 in 2004, running 30 out of 34 races, and finishing 27th in points. Vahsholtz made one start at Kentucky, where he finished 36th. In 2005, JRR hired Steve Grissom to pilot the #49 full-time. His best finish was 16th at Talladega. Mara Reyes filled in for him at Mexico City. Grissom ran the season-opening race at Daytona in 2006, but Jorge Goeters (competing for NASCAR Busch Series Rookie of the Year) Derrike Cope, and Shane Hall have all seen seat time in the #49 thus far in 2006.
External links
Edit