Paul Menard (born August 21, 1980) is a NASCAR driver currently competing in the Monster Energy Cup Series. He currently drives the #21 Menards Ford Fusion for Wood Brothers Racing. He is the son of Menards founder John Menard, Jr., whose company is his sponsor.
Early career
Edit
Menard's racing career began at the age of eight when he won the Briggs Junior Karting Class Championship in his native Eau Claire, Wisconsin. He later won the Briggs Medium Class Champion before working his way up to higher level racing He began ice racing at the age of 15 and won 10 International Ice Racing Association events in his career. He continues to compete in IIRA events in and around Wisconsin.
In 2000, he began racing a limited schedule in the ARCA Re/Max Challenge Series, finishing 13th in points. During his rookie season in 2001, he earned a pole and victory at Road America in Elkhart Lake, Wisconsin, finishing ninth in points. The 2002 season saw Menard compete in ReMax Challenge (two poles, seventh in points), SCCA Trans-Am (one front-row start, four top-10 finishes), Grand Am Cup (victories at Fontana and Phoenix) and the NASCAR Southwest Tour. He capped his season in in the latter series with a last-lap pass of veteran Ken Schrader for the Phoenix victory.
In 2003, Menard joined Andy Petree Racing to compete in NASCAR Winston Cup, Busch and Craftsman Truck Series events while still competing in ARCA. In his first ARCA start at Salem Speedway, he qualified second and finished fourth. Later that year, he started on the pole at Winchester, Indiana, and then scored his first ARCA victory at Talladega Superspeedway. He also had top finishes of ninth in the Busch race at Indianapolis Raceway Park and eighth in the Truck race at the Kansas Speedway.
2004-2008
Edit
In 2004, Menard began the
NASCAR
Busch Series
season driving the No. 33 Menards Chevrolet. Midway through the season, he moved to
Dale Earnhardt, Inc.
in the #11 Chevy. 10 races later, Menard won his first career pole position at
Kansas Speedway
and finished 23rd in points despite no top-tens and missing seven races. With Dan Stillman as crew chief beginning in 2005, they started out by leading 57 laps at
Daytona
. Winning the
Bud Pole Award
at
Talladega
also had them running up front until getting caught up in a wreck. He got his first top-10 and top-five by placing fifth at the
Kentucky Speedway
. From there, the team went from 20th to the top-10 in points before finishing sixth on the season.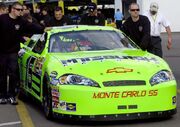 In 2006, driving the #15 car part-time for DEI, Menard scored his first top-10 finish in the NEXTEL Cup Series by coming in seventh place at the Golden Corral 500 at Atlanta Motor Speedway. Menard also won his first Busch Series race on June 24 at his home track of the Milwaukee Mile by holding off a late race charge and bump from NEXTEL Cup regular Kevin Harvick. Harvick eventually caused a multi-car wreck attempting to bump him out of the way. Menard finished off 2006 with a sixth place finish in the standings, tying his best finish in the standings last year (2005). He scored 16 top-10 finishes and 7 top-5 finishes in the Busch Series.
In 2007, Menard ran his first full-time Cup season. He failed to qualify for six races that season, but after DEI's merger with Ginn Racing, the owner's points were transferred from Sterling Marlin's #14 car to Menard, who was then locked in to the rest of the races. His best finish of 2007 was in the Citizens Bank 400 where he finished 12th. In the Busch Series, he picked up 5 top-5 finishes. After the fall race at Charlotte, in which Menard and Tony Stewart made contact on pit road, a feud between the drivers ensued, with Tony Stewart criticizing Menard's career, saying,
"You can have your father buy your ride and write DEI a big check, but you can't buy talent. And that's what John Menard's been good at his whole life, is just buying success. He's bought his son a Nextel Cup ride and he's just got enough talent to just be in the way most of the time."
In 2008, Menard won his first Sprint Cup Series pole at Daytona International Speedway in early July and remained in the top 35 in owner's points for the entire season. At Talladega in the fall, Menard had the best run of his career leading laps and coming home with a strong second place finish. He also was up front for a good part of the day in the other. He finished up the season with $3,559,130 in earnings and finished 26th in points standings, a career high. He has qualified for every race
2009: Yates Racing
Edit
For the 2009 season Paul Menard and his sponsorship (Johns Manville, Moen, Richmond Water Heaters, Turtle Wax, Energizer, Pittsburgh Paints, Nibco, Zecol, PEAK, Vertus, Sylvania, Quaker State and Menards) moved over to the number 98 Ford Fusion for Yates Racing. Paul Menard has shown limited improvement in 2009, running in the top 10 many times to have problems. For example he crashed at Las Vegas Motor Speedway while running very well, Dover while he got in a wreck with Robby Gordon and at Chicagoland Speedway where he got dumped by Dale Earnhardt Jr. with 40 to go while running 7th. This then lead to the team being placed low in points and even in danger of falling out of the top 35 for much of the year. Paul's best finishes include two, 13th place finishes in the Aarons 499 at Talladega Superspeedway as well as the Samsung 500 at Texas Motor Speedway and 15th in the Southern 500. At the second Dover race, Paul showed his skills by starting 10th and running in the top 10 for most of the day only to get tight near the end of the race and come home 19th. In the 2009 season, he has yet to score a top ten finish as of Martinsville. He also competed in about half of the NASCAR Nationwide Series races in the Richmond Water Heaters/Menards #98 Ford. He has had decent finishes in the car with a worst finish of 21st. He has started twice in the 3rd position and has two top 10's with a season high of 5th in the O'Rilley 300 at Texas Motor Speedway. The future for Paul Menard is unknown as it is rumored that he will drive for Richard Petty Motorsports next year. One thing for sure is his sponsorship will follow him anywhere in the Sprint Cup Series. He will also drive full time in the NASCAR Nationwide Series next year for Roush-Fenway Racing. At the end of the 2009 NASCAR Sprint Cup Series, Menard was the only driver to not score a top 10 finish who ran all of the races. Paul ended up finishing 31st in the final point standings.
2010: Richard Petty Motorsports
Edit
Paul Menard announced a multi-year deal to drive for Richard Petty Motorsports in 2010. Initially going well with a few top fives & a career best 5th place finish, his season went downhill after the Coca-Cola 600 and he was fired at the end of the year.
2011-2017: Richard Childress Racing
Edit
2011, Paul Menard was picked up by Richard Childress to drive RCR's new #27 chevy & team sponsored by Menard's. Paul Menard had impressive performances on his new team. At Daytona he avoided 2 small ones to finish in 9th place. A few weeks later at Bristol, Menard finished in 5th spot after leading 35 laps in the opening quarter of the race. At Texas Menard finished in 5th place and at Talladega, led 33 laps. From Talladega to Michigan in late June 2011, Menard had terrible finishes but finished in 8th spot at Daytona. Later in late July 2011, Paul Menard had his outbreaking race of his career at the Brickyard 400. After leading about 34% of the race, Menard took the lead by taking 2 tires on a final pit stop. Jamie McMurray went by Menard with 9 laps left, but Paul Menard saw Jamie cut his tire with 4 laps remaining and went back by for the lead. Menard pulled away from Jeff Gordon to win his first Cup victory at his father's dream track.
In September 2011, Paul Menard and RCR were the center of significant controversy when Paul Menard spun out near the ending of the Richmond event. Teammate Kevin Harvick won, but Menard and RCR were accused of intentionally spinning out to both help Harvick win the race & enter the Chase by a tiebreaker. Despite overwhelming evidence that showed Menard crashing on purpose, NASCAR called it inconclusive and did not penalize RCR or Menard.
External links
Edit