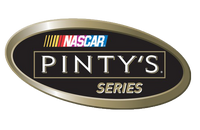 The NASCAR Pinty's Series is a NASCAR series in Canada.
NASCAR's purchase of CASCAR
Edit
NASCAR began talking with the former CASCAR series in November 2004, when the two bodies signed a multi-year marketing and operational agreement. The purchase came in September 2006. The new series is expected to replace CASCAR's Super Series, and Western Series drivers can compete in the new series. The future of CASCAR's Sportsman Series is unknown. The series title sponsor is Canadian Tire.[1]
The renamed series is expected to share NASCAR's regional-tiered series, along with the NASCAR Mexico Corona Series and the two Grand National divisions, the Busch East Series and AutoZone West Series. It is widely thought the Canadian Tire and Corona Series may adopt the Grand National rules in 2008 as to allow the competitors to use the same cars in Grand National races.
NASCAR's Canadian television ratings
Edit
NASCAR is the No. 1 televised motorsport in Canada. The 2006 Daytona 500 was the most watched motorsport race in TSN history with a national average audience of 568,000 viewers. [2]
2010 schedule
Edit
6/5/2010: Delaware Speedway, Delaware, ON
6/13/2010: Mosport International Raceway, Bowmanville, ON
7/3/2010: Autodrome St. Eustache, St. Eustache, QC
7/17/2010: Toronto Street Course, Toronto, ON
7/25/2010: Rextall Speedway, Edmonton, AB
7/31/2010: Sun Valley Speedway, Vernon, BC
8/4/2010: Auto Clearing Motor Speedway, Saskatoon, SK
8/15/2010: Circuit Trois-Rivières, Trois-Rivières, QC
8/21/2010: Mosport International Raceway, Bowmanville, ON
8/29/2010: Circuit Gilles Villeneuve, Montreal, QC
9/11/2010: Barrie Speedway, Barrie, ON
9/18/2010: Riverside Speedway, Antigonish, NS
9/25/2010: Kawartha Speedway, Fraserville, ON
References
Edit
External Links
Edit
Ad blocker interference detected!
Wikia is a free-to-use site that makes money from advertising. We have a modified experience for viewers using ad blockers

Wikia is not accessible if you've made further modifications. Remove the custom ad blocker rule(s) and the page will load as expected.