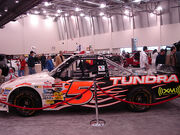 Mike Skinner (born June 28, 1957 in Ontario, California) is a NASCAR driver from Susanville, California now living in Daytona Beach, Florida. He currently is retired from racing
Camping World Truck Series
Edit
Mike Skinner competed in the inaugural 1995 SuperTruck Series (now Camping World Truck Series). He was the series' first champion. He also holds the distinction of winning the first ever Truck Series event, barely edging NASCAR legend Terry Labonte. Skinner went on to win seven more races in 1995. In 1996, he impressively recorded another eight wins. He currently ranks third on the all-time Truck Series wins list with 28. He has earned 49 pole positions, a Camping World Truck Series record. This season, Skinner had a streak of winning 6 poles in a row. In 2007 he won 3 of the first 4 races of the season, and 3 in a row—all on very distinctly different types of tracks: California (2 miles), Atlanta (1.5 miles), and Martinsville (.526 miles). This marked the second time he has won 3 races in a row in his Truck Series career, the first Truck Series driver ever to accomplish that feat. In 2007, Mike Skinner led laps in 14 races in a row, another Craftsman Truck series record. He recorded 5 wins in 2007. After a fierce points battle with Ron Hornaday, Skinner finished 2nd in points after mechanical misfortunes in the final race of 2007. Skinner led at least one lap in 24 of the 25 races in 2007. Mike Skinner won a record 11 pole positions in 2007, starting on the front row in 17 of the 25 races.
Nationwide Series
Edit
Mike Skinner has one NASCAR Nationwide Series victory. It came in 1999 at Atlanta Motor Speedway in the #19 Yellow Freight Monte Carlo. NASCAR briefly stripped the win from Skinner for a post-race inspection violation. Runner-up Dave Blaney was given the win. Within a couple days, the victory was awarded back to Skinner.
Sprint Cup
Edit
Mike Skinner is expected to run a partial schedule in Sprint Cup in the Bill Davis Racing #27 Toyota Camry in 2008. The car is currently sponsored by Bad Boy Mowers. Rookie Jacques Villeneuve failed to race the #27 into the 2008 Daytona 500. Skinner's rookie season in Sprint Cup was in 1997 and started out on top by winning the pole of the 1997 Daytona 500 in his Lowe's sponsored Richard Childress Racing Chevrolet Monte Carlo. He went on to claim Rookie of the Year at the Sprint Cup level. 1998 was uneventful for Skinner, though he helped then teamate Dale Earnhardt hold the lead on his way to victory in the 1998 Daytona 500. He finished a career high 10th in the points in 1999. In 2000 he was on his way to a dominating victory in the spring Atlanta race before his engine expired within sight of the checkered flag, and finished second to Jeff Gordon five races later at Talladega. Skinner finished a respectable 12th in the final point standings in 2000. He was let go from Richard Childress Racing late in 2001 due to injury and performance problems. He drove for the struggling Morgan-McClure Motorsports car in 2002 and 2003, after scoring only 1 top ten finish in 2 seasons, he left the Sprint Cup series to join Toyota's entry in the Craftsman Truck Series.
In 2006, Mike was scheduled to drive the #23 Bill Davis Racing Dodge part-time in Sprint Cup. In the car, he failed to make the Daytona 500. Bill Lester subsequently made more starts in the car. He has since made appearances in the #34 Front Row Motorsports car and the #37 R&J Racing car. He is not currently under contract to any Sprint Cup team. Skinner has significantly helped Bill Davis Racing's Sprint Cup Toyota Camry program through testing. He failed to qualify the #23 Bill Davis Racing Camry for the 2007 Daytona 500. Mike Skinner and Johnny Benson split time in the #36 360 OTC Camry the last few races of 2007 in Sprint Cup. On November 4, 2007 he qualified 14th and finished 24th in the Bill Davis owned Toyota.
On March 3rd 2008 it was announced that Mike will be replacing AJ Allmendenger in the 84 Red Bull Toyota starting at Atlanta on March 9th 2008.
Skinner is often referred to over the years as the best driver not to have won a Sprint Cup points race. He has several exhibition and non-points race wins in NASCAR's top series. Skinner has 6 pole positions and 39 top 10 finishes in his Sprint Cup career. He has earned just under $15 million in NASCAR's top series.
Mike currently drives the number 5 Toyota Tundra Toyota in the NASCAR Camping World Truck Series. He drove at the Winston Cup level for Richard Childress Racing from 1997 to 2001 and for Morgan-McClure Motorsports in 2002 and 2003.
In addition to his expertise in racing, Skinner is an accomplished amateur pool player and competes in tournaments in the off-season. Mike is also an avid golfer who has won many small amateur golf events.
External links
Edit