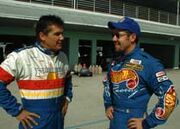 Mike Cope (born May 8, 1962 in Pinellas Park, Florida) is a retired NASCAR driver. He became famous during the mid-1990s one of the best drivers in the Slim Jim All-Pro Series. In the late-90s he made a failed attempt to race in NASCAR's high levels. He is no relation to Derrike Cope.
Busch Series
Edit
Cope made his Busch Series debut in 1996, racing at the Milwaukee Mile. He ran the #58 Penrose Chevy and started in the 34th position. He ran all but 3 laps and finished 25th.
Cope ran in the All-Pro Series 1997, then returned to the Busch Series in 1998. He made 17 races for a new team, the #30 Slim Jim Chevy owned by Team 34. Cope was able to qualify for all but one of his starts for the team, but he did not run well. His only lead lap finishes were a 7th at Hickory and a 9th at Pikes Peak. Finally, after a 31st at Myrtle Beach, Cope was released with 2 top-10s but 6 DNFs to his credit in 17 starts. He was replaced by Todd Bodine. Cope did not make any more starts in 1998 and finished 40th in points.
Cope made six starts in 1997, driving for Billy Ballew Motorsports. He made his series debut at Homestead-Miami. He started 27th and finished 22nd despite not finishing the race with engine problems. Cope struggled in the other 5 starts, not finishing three of them. However, his best race was the last. He finished 12th at NHIS. His best start in 1997 was Milwaukee Mile where he started 23rd.
Cope went Busch racing in 1998, but returned in 1999, making one start at Las Vegas. Driving the #15 Manheim Auctions Ford, Cope started 30th and ran a solid 14th, completing all but two laps.
Cope earned a ride in 2000 to replace Stacy Compton in the #86 R.C. Cola Ford for Impact Motorsports. The team had been solid, but Cope struggled with the team. His best run was the first race of the season at Daytona International Speedway, where Cope finished 12th. He also added on a 15th at Miami. However, it went downhill afterwards, and after Cope didn't show up for the seventh race of the season, he was released in favor of Scott Riggs.
External links
Edit
Ad blocker interference detected!
Wikia is a free-to-use site that makes money from advertising. We have a modified experience for viewers using ad blockers

Wikia is not accessible if you've made further modifications. Remove the custom ad blocker rule(s) and the page will load as expected.