Michael Waltrip Racing
Owner(s)
Michael Waltrip
Robert Kauffman
Base
Cornelius, North Carolina
Series
Sprint Cup Series
Car No.(s)
00, 1, 7, 12, 14, 15, 17, 21, 44, 47, 51, 55, 56, 66, 98, 99
Drivers
#15 - Clint Bowyer
#55 - Brian Vickers
Sponsors
#15 - 5-hour Energy/Peak Antifreeze
#55 - Aaron's
Manufacturer
Toyota
Career
Debut
2002
Defunct
2015
Championships
K&N Pro Series East = 2
Michael Waltrip Racing was an American stock car racing team that competed in the NASCAR Sprint Cup Series, Xfinity Series, Camping World Truck Series, and K&N Pro Series East. They last fielded the #15 5-hour Energy/Peak Antifreeze Toyota Camry for Clint Bowyer and the #55 Aaron's Toyota Camry for Brian Vickers in the Cup Series. MWR also operated the #66 Peak BlueDEF/Toyota Camry for Michael Waltrip and Jeff Burton part-time in conjunction with NEMCO-Jay Robinson Racing under the name Identity Racing Ventures. Michael Waltrip Racing Holdings LLC was a company formed as a 50-50 partnership between Robert Kauffman, the 44-year-old founder and managing partner of Fortress Investment Group, and Michael Waltrip, who first established the team in 1996.[1]
On August 19, 2015, it was announced by MWR that they will not field any cars for 2016 and that they would close down it's operations after 2015.[2]
Sprint Cup Teams
Edit
Car #00 History
Edit
Michael Waltrip Racing began racing in the Cup series in 2002, making its debut at the 2002 Aaron's 499. The car was the #98 Aaron's Chevrolet Monte Carlo driven by Kenny Wallace. Wallace qualified 27th and finished 21st. Following that first race, Waltrip sold the #98 and its owner points to Innovative Motorsports. MWR ran another race that season at the Tropicana 400, the #00 Chevy for Jerry Nadeau. Nadeau qualified 34th but finished 37th after suffering a steering failure. MWR attempted another race that season, the NAPA 500 with Buckshot Jones driving with sponsorship from Charter Pipeline but failed to qualify. Jones ran the EA Sports 500 the following season, where he started sixteenth and led nineteen laps before being relegated to 40th due to a crash. He attempted Atlanta again, but failed to qualify. Mike Skinner closed out the year for MWR at the Ford 400, qualifying 17th, but finished 39th after a wreck.
In 2004, Wallace returned to MWR. Running four races for the team, his best finish was a 22nd at Homestead-Miami Speedway. Wallace ran two races in 2005, finishing 27th at Darlington Raceway. Johnny Benson ran a pair of races that season as well, but did not finish higher than 42nd. David Reutimann made his Cup debut at Lowe's Motor Speedway that season, qualifying 26th and finishing 22nd. In 2006, the #00 ran under two separate entries. The first ran with listed owners Mike and Bonnie Anderson under the name MBA Racing, campaigned Ford Fusions with Hermie Sadler driving. He made only three starts, with his best finish 40th at the Daytona 500. The other was the MWR car with Waltrip as the listed owner. Bill Elliott drove the Monte Carlo in five races in 2006 with sponsorship from Burger King.
David Reutimann was tapped to drive the #00 Toyota Camry in 2007, with full-time primary sponsorship from Burger King and Dominos Pizza. He competed for the Rookie of the Year title as well as the Nextel Cup championship. However, the team struggled to qualify for races, as did other Toyota teams, making only 26 of 36 races in the season. Reutimann experienced one of the hardest crashes ever recorded at the 2007 Auto Club 500 at California Speedway.[3] Because of the struggles, the team finished 39th in points and had a best finish of 13th. Sponsors Burger King and Dominos also pulled their sponsorship for 2008.
Reutimann opened '08 in the #00 with backing from Aaron's, before relinquishing the ride to ARCA veteran Michael McDowell after the first five races.
Car #44 History
Edit
Veteran driver Dale Jarrett drove the #44 UPS Toyota in 2007. Jarrett was eligible to use the past champions provisional only six times throughout the 2007 season, as NASCAR had made the change during Las Vegas testing. However, Jarrett, who made only two of the first nine races on speed, used his last champions provisional at Talladega in April 2007. After the depletion of Champions Provisionals during the 2007 season, crew chief Matt Borland was released from Michael Waltrip Racing, with Jason Burdett replacing Borland.[4]
Jarrett drove the 44 for the first five races of the 2008 season as the well as the Budweiser Shootout and NASCAR Sprint All-Star Race before retiring from racing. Reutimann will move from the #00 to take his place after those races.
Car #55 History
Edit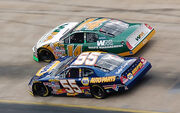 The #55 car began running in Sprint Cup in 2006 as a partnership between Bill Davis Racing and Michael Waltrip Racing. The partnership allowed Bill Davis to return his second team to full-time status while Michael Waltrip and his sponsor NAPA Auto Parts would have a car to race while expanding Michael Waltrip Racing. The agreement allowed for the transfer of owner points from BDR to MWR following the season. Soon afterwards, Jasper Motorsports closed down, and Waltrip purchased that team's owners points to be guaranteed a starting spot in the first five races of the 2006 season, with former Jasper owner Doug Bawel being listed as owner. Davis and Waltrip ran the 2006 season without manufacturer support, although running Dodge Chargers, due to a bitter lawsuit between Daimler-Chrysler and Davis. In a dismal 2006 season, the team failed to register a finish higher than 14th and finished 37th in the points.
Michael Waltrip switched to the then-new Toyota Camry for the 2007 season with sponsor NAPA Auto Parts in the Nextel Cup Series. It was a dismal first year for the Toyota Camry in NASCAR top series competition, as Waltrip's team faced stiff penalties for using illegal fuel additives during qualifying for the Daytona 500. The team rebounded to qualify 15th via the Gatorade Duels, but finished 30th, leaving Daytona with negative driver and owner points. Waltrip proceeded to fail to qualify for 11 consecutive races before qualifying for his second race at Dover International Speedway on June 2nd. Making just his third start of the season at Michigan International Speedway on June 18th, Waltrip posted the team's first top-10 finish and Toyota's third by finishing 10th and leading a lap. In order to take advantage of the champions provisional, Terry Labonte has also driven the 55 in 2007 at Infineon, Indianapolis, and Watkins Glen. Waltrip gave Toyota its second pole in Cup competition at Talladega on October 7th and grabbed another top-10 finish at Lowe's the following week.
Nationwide Series Teams
Edit
Waltrip made his debut as a car owner in 1996 driving the #12 MW Windows Ford Thunderbird. He ran thirteen races that season, winning the pole at Richmond International Raceway and posting three top-five finishes. The next season, MWR switched to the #21 with sponsorship from Band-Aid and had three fourth place finishes, and had six top-ten finishes the following season. In 1998, Waltrip fielded a second car, the #14 Rhodes Furniture Ford for Patty Moise full-time. Moise made 19 starts and a best finish of tenth at Bristol Motor Speedway, finishing 37th in points.
Waltrip got his first career win as an owner/driver at the 1999 All Pro Bumper to Bumper 300. The next year, he switched to the #7 as well as driving the #99 car with Aarons sponsorship for three races, his best finish coming at Michigan International Speedway, where he placed second. Ted Christopher drove the #99 at Memphis Motorsports Park with sponsorship from LesCare Kitchens, qualifying 29th and finishing 28th. MWR switched to the #99 full-time in 2001, as Waltrip drove twelve races, his best finish third at the Aaron's 312. Waltrip also fielded the 99 for three races for Shawna Robinson, who had a 19th at Talladega Superspeedway, and Kerry Earnhardt, whose best finish was a 20th at Kentucky Speedway.
Waltrip had sole driving duties in 2002, running nineteen races and winning at Michigan International Speedway. The following season, he won at Bristol Motor Speedway. After making 31 starts in 2004 and winning at Nashville Superspeedway, Waltrip had only four top-tens in 2005. In 2006, Waltrip partnered with FitzBradshaw Racing to pick up FitzBradshaw's #40 car's owner's points. He drove a majority of the races in 2006, with his brother Darrell and David Reutimann driving additional races using Evernham engines.
David Reutimann drove the #99 Aaron's Toyota Camry for Waltrip in 2007. He won his first career Nationwide Series race with the team at Memphis Motorsports Park in October, and finished second in points. In the latter part of 2007, MWR also fielded a second car with Michael McDowell to prepare him for a possible Sprint Cup career.
Camping World Truck Series
Edit
At the conclusion of the 2006 truck series season, Waltrip became a co-owner with his brother Darrell's Camping World Truck Series team. The #00 ran a full-time schedule in 2007 with Sprint Cup rookie A.J. Allmendinger, Waltrip development driver Josh Wise, and Justin Labonte splitting driving duties. Aaron's and Red Bull Energy Drink sponsored numerous events with the team.
Allmendinger posted the highest finish of the three drivers, finishing 2nd at the 2007 Quaker Steak and Lube 200 in May. He went on to post another top 10 finish. Josh Wise had two top 10 finishes, while Justin Labonte finished a season best 12th.
Three races prior to the end of the season, the team was sold to TRG Motorsports and no longer operates with Waltrip Racing.
Partnerships
Edit
Waltrip-Jasper Racing
Edit
On January 20, 2006, Michael Waltrip and president of Jasper, Doug Bawel, announced they have formed Waltrip-Jasper Racing. Waltrip-Jasper Racing fielded the No. 55 NAPA Auto Parts Car in the 2006 Nextel Cup Series, driven by Waltrip. Bawel, as the listed owner of the No. 77 that he fielded with Roger Penske in 2005, had a guaranteed starting spot in the first five races of 2006 by virtue of finishing 34th in the 2005 owner points. This enabled Waltrip to make the first five races in 2006 without qualifying on time.[5]
The Waltrip-Jasper partnership ceased at the end of the 2006 season.
Waltrip-PPI Racing
Edit
The partnership of Michael Waltrip Racing and PPI Motorsports was officially announced on February 10, 2007. The partnership will be limited to the #00 car, driven by David Reutimann. Cal Wells will be listed as the owner and the 2006 owner points for the #32 was be transferred to the #00 for the 2007 season. The partnership included the purchase of all equipment and personnel at PPI Motorsports, as the former #32 pit crew is now the #00 pit crew.[6]
The Waltrip-PPI partnership ceased at the end of the 2007 season, with Cal Wells moving to a management position at Waltrip Racing.
Raceworld USA
Edit
Raceworld USA, located in Cornelius, North Carolina, is the race shop and center of operations for Michael Waltrip Racing. The main shop facility consists of 107,000 square feet while the fabrication shop consists of the remaining 35,000 square feet.[7]
Raceworld USA is also intended to be a tourist attraction. The shop features elevated walkways and flat screen televisions, providing fans with an interactive inside look on how a race team functions. Also, Raceworld USA allows patrons to hold events at the race shop.
External links
Edit
References
Edit
Ad blocker interference detected!
Wikia is a free-to-use site that makes money from advertising. We have a modified experience for viewers using ad blockers

Wikia is not accessible if you've made further modifications. Remove the custom ad blocker rule(s) and the page will load as expected.