Marshall Teague (February 17, 1922 - February 11, 1959) was an American race car driver. He raced first in the early days of NASCAR and then later competed as a Formula One driver (Indy 500 only).
He was nicknamed by NASCAR fans as the "King of the Beach" for his performances at the Daytona Beach Road Course.
He walked into fellow Daytona Beach resident Smokey Yunick's "Best Damned Garage in Town", and launched Yunick's legendary NASCAR mechanic career.
Teague competed in 23 NASCAR Grand National (now Sprint Cup) races from 1949 to 1952, winning seven of them. Teague approached Hudson by traveling to Michigan and visiting the plant without an appointment; by the end of the visit Hudson virtually assured Teague of corporate support and cars; the relationship was formalized shortly after the visit. During the 1951 and 1952 seasons Teague was a member of the Hudson Motors team and driving what he called the Fabulous Hudson Hornet. Teague was also instrumental in helping Hudson tune the I6 powered Hudson Hornet to its maximum stock capability. When combined with the cars light weight and low center of gravity, the Hornet allowed Teague and the other Hudson drivers to dominate stock car racing from 1951 through 1954, consistently beating out other drivers in cars powered by larger, more modern engines. Yunick and Teague won 27 of 34 events in major stock car events [1].
However, he left NASCAR in 1953 following a dispute with NASCAR founder William France Sr. and went to the AAA and USAC. He participated in 2 grands prix, debuting on May 30, 1953. He scored 0 championship points.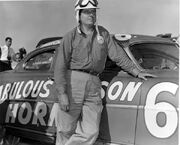 He died while attempting a closed course speed record in an Indy car at the newly opened Daytona International Speedway on February 11 1959, eleven days before the first Daytona 500. The death cast a shadow over the track's first event. However, Marshall's death so bothered Big Bill France, that open wheel Indy racing has never happened again at Daytona [2].
External links
Edit