ML Motorsports is a part-time Nationwide Series team. The team is owned by Mary Louise Miller. She founded the team in 1998 and began racing in the ARCA Series. ML Motorsports began racing full time in ARCA in 2000 and finished in the top 10 in the point standings from 2000 to 2005. In that span, Brian Ross and Jason Jarrett won ARCA Rookie of the Year honors in 2000 and 2001 for ML Motorsports.
The team moved up to NASCAR in 2006 competing in 7 races with
Justin Diercks
as their driver. In 2007, Diercks and
Mark Green
shared the #70 for 17 events. ML Motorsports kept Green in the car for 2008 and Green finished 5th in the
2008 Aaron's 312
at
Talladega
for the team's only top 5 finish to date in NASCAR. ML Motorsports hired
Shelby Howard
to drive the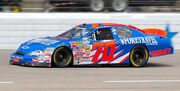 car in 2009 and 2010. Howard got the team to finish in the top 30 in owner's points which guaranteed a starting spot in the first 5 races of 2011.
David Stremme
and
Scott Wimmer
drove the car in 2011 and racked up 13 top 20 finishes, 9 top 15 finishes, and 1 top ten which came at
Richmond
. The team finished in 23rd in owner's points.
In early January 2012, it was announced that 19 year old Johanna Long would drive for ML Motorsports for 21 races in 2012 and possibly full time in 2013 if they receive enough funds. Long made her debut at Daytona International Speedway, becoming the youngest female driver in history to race in the Nationwide Series, finishing 21st. Long will be running a 21 race schedule again in 2013.
External links
Edit
Ad blocker interference detected!
Wikia is a free-to-use site that makes money from advertising. We have a modified experience for viewers using ad blockers

Wikia is not accessible if you've made further modifications. Remove the custom ad blocker rule(s) and the page will load as expected.