This is a list of National Association for Stock Car Auto Racing (NASCAR) champions; that is, a list of all the champions in NASCAR's three major series (Sprint Cup, Nationwide Series, and Craftsman Truck Series). The NASCAR championships are awarded at the end of each season to the driver who has amassed the most points throughout the year. The point totals are determined each week by the driver's final position in a race and the amount of laps they have led in it. The current points system was adopted by NASCAR in 1975 and continues into the present day NEXTEL Cup with slight changes and a ten-race playoff format created in 2004. The Busch Series and the Craftsman Truck series have always used this system, sans the playoff.
Since its founding in 1948, NASCAR has held 92 combined seasons in its three major series with a total of 51 separate champions. The first championship awarded was to Red Byron in 1949. Greg Biffle and Bobby Labonte are the only drivers to have won championships in two of the three series during their NASCAR career. Biffle has come the closest to winning all three (past champion of Busch and Craftsman Truck series and runner-up in the 2005 NEXTEL Cup), but this feat has yet to be accomplished.
The current defending champions are Jimmie Johnson in the Sprint Cup, Carl Edwards in the Nationwide Series, and Ted Musgrave in the Craftsman Truck Series.
Sprint Cup
Edit
By season
Edit
| Season | Driver | Owner | Number, Make | Starts | Wins | Top Tens | Poles | Points (margin) |
| --- | --- | --- | --- | --- | --- | --- | --- | --- |
| 1949 | Red Byron | Raymond Parks | #22, Oldsmobile 88 | 6 (of 8) | 2 | 4 | 1 | 842.5 (117.5) |
| 1950 | Bill Rexford | Julian Buesink | #60, Oldsmobile 88 | 17 (of 19) | 1 | 11 | 0 | 1959 (110.5) |
| 1951 | Herb Thomas | Self-owned | #92, Hudson Hornet | 34 (of 41) | 7 | 18 | 4 | 4208.45 (146.2) |
| 1952 | Tim Flock | Ted Chester | #91, Hudson Hornet | 33 (of 34) | 8 | 25 | 4 | 6858.5 (106) |
| 1953 | Herb Thomas | Self-owned | #92, Hudson Hornet | 37 (of 37) | 12 | 31 | 12 | 8460 (646) |
| 1954 | Lee Petty | Self-owned | #42, Chrysler New Yorker | 34 (of 37) | 7 | 32 | 3 | 8649 (283) |
| 1955 | Tim Flock | Carl Kiekhaefer | #300, Chrysler 300 | 39 (of 45) | 18 | 33 | 18 | 9596 (1508) |
| 1956 | Buck Baker | Carl Kiekhaefer | #300B, Chrysler 300-B | 48 (of 56) | 14 | 39 | 12 | 9272 (704) |
| 1957 | Buck Baker | Self-owned | #87, Chevrolet | 40 (of 53) | 10 | 38 | 6 | 10716 (760) |
| 1958 | Lee Petty | Self-owned | #42, Oldsmobile | 50 (of 51) | 7 | 43 | 4 | 12232 (644) |
| 1959 | Lee Petty | Self-owned | #42, Plymouth | 42 (of 44) | 11 | 35 | 2 | 11792 (1830) |
| 1960 | Rex White | Self-owned | #4, Chevrolet Impala | 40 (of 44) | 6 | 35 | 3 | 21164 (3936) |
| 1961 | Ned Jarrett | W.G. Holloway, Jr. | #11, Chevrolet Impala | 46 (of 52) | 1 | 34 | 4 | 27272 (830) |
| 1962 | Joe Weatherly | Bud Moore | #8, Pontiac | 52 (of 53) | 9 | 45 | 7 | 30836 (2396) |
| 1963 | Joe Weatherly | Bud Moore | #8, Pontiac | 53 (of 55) | 3 | 35 | 6 | 33398 (2228) |
| 1964 | Richard Petty | Self-owned | #43, Plymouth Sport Fury | 61 (of 62) | 9 | 43 | 8 | 40252 (5302) |
| 1965 | Ned Jarrett | Bondy Long | #11, Ford Galaxie | 54 (of 55) | 13 | 45 | 9 | 38824 (3034) |
| 1966 | David Pearson | Cotton Owens | #6, Dodge Charger | 42 (of 49) | 15 | 33 | 7 | 35638 (1950) |
| 1967 | Richard Petty | Self-owned | #43, Plymouth Satellite | 48 (of 49) | 27 | 40 | 18 | 42472 (6028) |
| 1968 | David Pearson | Holman-Moody | #17, Ford Torino | 48 (of 49) | 16 | 38 | 12 | 3499 (126) |
| 1969 | David Pearson | Holman-Moody | #17, Ford Torino Talladega | 51 (of 54) | 11 | 44 | 14 | 4170 (357) |
| 1970 | Bobby Isaac | Nord Krauskopf | #71, Dodge Charger Daytona | 47 (of 48) | 11 | 38 | 13 | 3911 (51) |
| 1971 | Richard Petty | Self-owned | #43, Plymouth Satellite | 46 (of 48) | 21 | 41 | 9 | 4435 (364) |
| 1972 | Richard Petty | Self-owned | #43, Plymouth Satellite | 31 (of 31) | 8 | 28 | 3 | 8701.4 (127.9) |
| 1973 | Benny Parsons | L.G. DeWitt | #72, Chevrolet Chevelle | 28 (of 28) | 1 | 21 | 0 | 7173.8 (67.15) |
| 1974 | Richard Petty | Self-owned | #43, Dodge Charger | 30 (of 30) | 10 | 23 | 7 | 5037.75 (567.45) |
| 1975 | Richard Petty | Self-owned | #43, Dodge Charger | 30 (of 30) | 13 | 24 | 3 | 4783 (722) |
| 1976 | Cale Yarborough | Junior Johnson | #11, Chevrolet Chevelle | 30 (of 30) | 9 | 23 | 2 | 4644 (195) |
| 1977 | Cale Yarborough | Junior Johnson | #11, Chevrolet Malibu | 30 (of 30) | 9 | 27 | 3 | 5000 (386) |
| 1978 | Cale Yarborough | Junior Johnson | #11, Oldsmobile Cutlass | 30 (of 30) | 10 | 24 | 8 | 4841 (474) |
| 1979 | Richard Petty | Self-owned | #43, Chevrolet Monte Carlo | 31 (of 31) | 5 | 27 | 1 | 4830 (11) |
| 1980 | Dale Earnhardt | Rod Osterlund | #2, Chevrolet Monte Carlo | 31 (of 31) | 5 | 24 | 0 | 4661 (19) |
| 1981 | Darrell Waltrip | Junior Johnson | #11, Buick Regal | 31 (of 31) | 12 | 25 | 11 | 4880 (53) |
| 1982 | Darrell Waltrip | Junior Johnson | #11, Buick Regal | 30 (of 30) | 12 | 20 | 7 | 4489 (72) |
| 1983 | Bobby Allison | Bill Gardner | #22, Buick Regal | 30 (of 30) | 6 | 25 | 0 | 4667 (47) |
| 1984 | Terry Labonte | Billy Hagan | #44, Chevrolet Monte Carlo | 30 (of 30) | 2 | 24 | 2 | 4508 (65) |
| 1985 | Darrell Waltrip | Junior Johnson | #11, Buick Regal | 28 (of 28) | 3 | 21 | 4 | 4292 (101) |
| 1986 | Dale Earnhardt | Richard Childress | #3, Chevrolet Monte Carlo | 29 (of 29) | 5 | 23 | 1 | 4468 (288) |
| 1987 | Dale Earnhardt | Richard Childress | #3, Chevrolet Monte Carlo | 29 (of 29) | 11 | 24 | 1 | 4696 (489) |
| 1988 | Bill Elliott | Harry Melling | #9, Ford Thunderbird | 29 (of 29) | 6 | 22 | 6 | 4488 (24) |
| 1989 | Rusty Wallace | Raymond Beadle | #27, Pontiac Grand Prix | 29 (of 29) | 6 | 20 | 4 | 4176 (12) |
| 1990 | Dale Earnhardt | Richard Childress | #3, Chevrolet Lumina | 29 (of 29) | 9 | 23 | 4 | 4430 (26) |
| 1991 | Dale Earnhardt | Richard Childress | #3, Chevrolet Lumina | 29 (of 29) | 4 | 21 | 0 | 4287 (195) |
| 1992 | Alan Kulwicki | Self-owned | #7, Ford Thunderbird | 29 (of 29) | 2 | 17 | 6 | 4078 (10) |
| 1993 | Dale Earnhardt | Richard Childress | #3, Chevrolet Lumina | 30 (of 30) | 6 | 21 | 2 | 4526 (80) |
| 1994 | Dale Earnhardt | Richard Childress | #3, Chevrolet Lumina | 31 (of 31) | 4 | 25 | 2 | 4694 (444) |
| 1995 | Jeff Gordon | Rick Hendrick | #24, Chevrolet Monte Carlo | 31 (of 31) | 7 | 23 | 8 | 4614 (34) |
| 1996 | Terry Labonte | Rick Hendrick | #5, Chevrolet Monte Carlo | 31 (of 31) | 2 | 24 | 4 | 4657 (37) |
| 1997 | Jeff Gordon | Rick Hendrick | #24, Chevrolet Monte Carlo | 32 (of 32) | 10 | 23 | 1 | 4710 (14) |
| 1998 | Jeff Gordon | Rick Hendrick | #24, Chevrolet Monte Carlo | 33 (of 33) | 13 | 28 | 7 | 5328 (364) |
| 1999 | Dale Jarrett | Robert Yates | #88, Ford Taurus | 34 (of 34) | 4 | 29 | 0 | 5262 (201) |
| 2000 | Bobby Labonte | Joe Gibbs | #18, Pontiac Grand Prix | 34 (of 34) | 4 | 24 | 2 | 5130 (265) |
| 2001 | Jeff Gordon | Rick Hendrick | #24, Chevrolet Monte Carlo | 36 (of 36) | 6 | 24 | 6 | 5112 (349) |
| 2002 | Tony Stewart | Joe Gibbs | #20, Pontiac Grand Prix | 36 (of 36) | 3 | 21 | 2 | 4800 (38) |
| 2003 | Matt Kenseth | Mark Martin | #17, Ford Taurus | 36 (of 36) | 1 | 25 | 0 | 5022 (90) |
| 2004 | Kurt Busch | Jack Roush | #97, Ford Taurus | 36 (of 36) | 3 | 21 | 1 | 6506 (8) |
| 2005 | Tony Stewart | Joe Gibbs | #20, Chevrolet Monte Carlo | 36 (of 36) | 5 | 25 | 3 | 6533 (35) |
|- 2006 in NASCAR|2006 Jimmy Johnson Hendrek Motorsports 48, Chevrolet Monte Carlo 36 (of 36)
===By drivers
Driver
Total
Seasons
Richard Petty
7
1964, 1967, 1971-1972, 1974-1975, 1979
Dale Earnhardt
1980, 1986-1987, 1990-1991, 1993-1994
Jeff Gordon
4
1995, 1997-1998, 2001
Lee Petty
3
1954, 1958-1959
David Pearson
1966, 1968-1969
Cale Yarborough
1976-1978
Darrell Waltrip
1981-1982, 1985
Herb Thomas
2
1951, 1953
Tim Flock
1952, 1955
Buck Baker
1956-1957
Joe Weatherly
1962-1963
Ned Jarrett
1961, 1965
Terry Labonte
1984, 1996
Tony Stewart
2002, 2005
Red Byron
1
1949
Bill Rexford
1950
Rex White
1960
Bobby Isaac
1970
Benny Parsons
1973
Bobby Allison
1983
Bill Elliott
1988
Rusty Wallace
1989
Alan Kulwicki
1992
Dale Jarrett
1999
Bobby Labonte
2000
Matt Kenseth
2003
Kurt Busch
2004
Nationwide Series
Edit
By season
Edit
| Season | Driver | Owner | Number, Make | Starts | Wins | Top Tens | Poles | Points (margin) |
| --- | --- | --- | --- | --- | --- | --- | --- | --- |
| 1982 | Jack Ingram | Self-owned | #11, Pontiac | 29 (of 29) | 7 | 24 | 1 | 4495 (47) |
| 1983 | Sam Ard | Howard Thomas | #00, Oldsmobile | 35 (of 35) | 10 | 30 | 10 | 5454 (84) |
| 1984 | Sam Ard | Howard Thomas | #00, Oldsmobile | 28 (of 29) | 8 | 26 | 7 | 4552 (426) |
| 1985 | Jack Ingram | Self-owned | #11, Pontiac | 27 (of 27) | 5 | 22 | 2 | 4106 (29) |
| 1986 | Larry Pearson | David Pearson | #21, Pontiac | 31 (of 31) | 1 | 24 | 1 | 4514 (7) |
| 1987 | Larry Pearson | David Pearson | #21, Chevrolet | 27 (of 27) | 6 | 20 | 3 | 3959 (394) |
| 1988 | Tommy Ellis | John Jackson | #99, Buick | 30 (of 30) | 3 | 20 | 5 | 4281 (295) |
| 1989 | Rob Moroso | Dick Moroso | #25, Oldsmobile | 29 (of 29) | 4 | 16 | 7 | 4001 (55) |
| 1990 | Chuck Bown | Hubert Hensley | #63, Pontiac | 31 (of 31) | 6 | 18 | 4 | 4372 (200) |
| 1991 | Bobby Labonte | Self-owned | #44, Oldsmobile | 31 (of 31) | 2 | 21 | 2 | 4264 (74) |
| 1992 | Joe Nemechek | Self-owned | #87, Chevrolet | 31 (of 31) | 2 | 18 | 1 | 4275 (3) |
| 1993 | Steve Grissom | Wayne Grissom | #31, Chevrolet | 28 (of 28) | 2 | 18 | 0 | 3846 (253) |
| 1994 | David Green | Bobby Labonte | #44, Chevrolet | 28 (of 28) | 1 | 14 | 9 | 3725 (46) |
| 1995 | Johnny Benson, Jr. | Bill Baumgardner | #74, Chevrolet | 26 (of 26) | 2 | 19 | 0 | 3688 (404) |
| 1996 | Randy LaJoie | Bill Baumgardner | #74, Chevrolet | 26 (of 26) | 5 | 20 | 2 | 3714 (29) |
| 1997 | Randy LaJoie | Bill Baumgardner | #74, Chevrolet | 30 (of 30) | 5 | 21 | 2 | 4381 (266) |
| 1998 | Dale Earnhardt, Jr. | Dale Earnhardt | #3, Chevrolet | 31 (of 31) | 7 | 22 | 3 | 4469 (48) |
| 1999 | Dale Earnhardt, Jr. | Dale Earnhardt | #3, Chevrolet | 32 (of 32) | 6 | 22 | 3 | 4647 (280) |
| 2000 | Jeff Green | Greg Pollex | #10, Chevrolet | 32 (of 32) | 6 | 27 | 7 | 5005 (616) |
| 2001 | Kevin Harvick | Richard Childress | #2, Chevrolet | 33 (of 33) | 5 | 24 | 4 | 4813 (124) |
| 2002 | Greg Biffle | Jack Roush | #60, Ford | 34 (of 34) | 4 | 25 | 5 | 4924 (280) |
| 2003 | Brian Vickers | Ricky Hendrick | #5, Chevrolet | 34 (of 34) | 3 | 21 | 1 | 4637 (14) |
| 2004 | Martin Truex Jr. | Dale Earnhardt, Jr. | #8, Chevrolet | 34 (of 34) | 6 | 26 | 7 | 5173 (230) |
| 2005 | Martin Truex Jr. | Dale Earnhardt, Jr. | #8, Chevrolet | 35 (of 35) | 6 | 22 | 3 | 4937 (68) |
By driver
Edit
Craftsman Truck Series
Edit
By season
Edit
| Season | Driver | Owner | Number, Make | Starts | Wins | Top Tens | Poles | Points (margin) |
| --- | --- | --- | --- | --- | --- | --- | --- | --- |
| 1995 | Mike Skinner | Richard Childress | #3, Chevrolet | 20 (of 20) | 8 | 18 | 7 | 3224 (126) |
| 1996 | Ron Hornaday, Jr. | Dale Earnhardt | #16, Chevrolet | 24 (of 24) | 4 | 23 | 2 | 3831 (53) |
| 1997 | Jack Sprague | Rick Hendrick | #24, Chevrolet | 26 (of 26) | 3 | 23 | 5 | 3969 (232) |
| 1998 | Ron Hornaday, Jr. | Dale Earnhardt | #16, Chevrolet | 27 (of 27) | 6 | 22 | 2 | 4072 (3) |
| 1999 | Jack Sprague | Rick Hendrick | #24, Chevrolet | 25 (of 25) | 3 | 19 | 1 | 3747 (8) |
| 2000 | Greg Biffle | Jack Roush | #50, Ford | 24 (of 24) | 5 | 18 | 4 | 3826 (230) |
| 2001 | Jack Sprague | Rick Hendrick | #24, Chevrolet | 24 (of 24) | 4 | 17 | 7 | 3670 (73) |
| 2002 | Mike Bliss | Steve Coulter | #16, Chevrolet | 22 (of 22) | 5 | 18 | 4 | 3359 (46) |
| 2003 | Travis Kvapil | Steve Coulter | #16, Chevrolet | 25 (of 25) | 1 | 22 | 0 | 3837 (9) |
| 2004 | Bobby Hamilton | Self-owned | #4, Dodge | 25 (of 25) | 4 | 16 | 0 | 3624 (46) |
| 2005 | Ted Musgrave | Jim Smith | #1, Dodge | 25 (of 25) | 1 | 15 | 1 | 3535 (55) |
By driver
Edit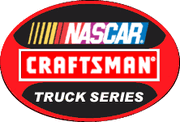 Other NASCAR series
Edit
References
Edit