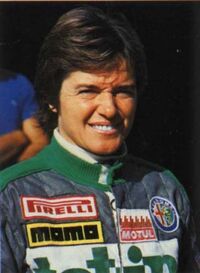 Lella Lombardi, (March 26, 1943 - March 3, 1992 from cancer) was a NASCAR driver from Frugarolo, Italy. She competed in one Sprint Cup event in her career. That race came in 1977, when Lombardi raced at Daytona. Starting 29th in the fourty-one car field, Lombardi had rear end issues halfway through the race and finished 31st.
External links
Edit
Ad blocker interference detected!
Wikia is a free-to-use site that makes money from advertising. We have a modified experience for viewers using ad blockers

Wikia is not accessible if you've made further modifications. Remove the custom ad blocker rule(s) and the page will load as expected.