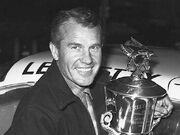 Lee Petty (March 14, 1914 (near Randleman, North Carolina) - April 5, 2000) was an American stock car driver in the 1950s and 60s. He was one of the pioneers of NASCAR, and one of its first superstars.
Lee Petty was thirty-five years old before he began racing. He began his NASCAR career at NASCAR's first race at Charlotte Speedway (not Charlotte Motor Speedway). He finished in the Top 5 in season points for NASCAR's first eleven seasons. He won the NASCAR Championship on three occasions and the inaugural Daytona 500 in 1959.
Petty Enterprises
Edit
He was the father of Richard Petty, who would become NASCAR's all-time race winner. With sons Richard and Maurice, he founded Petty Enterprises, which became NASCAR's most successful racing team. He was the grandfather of Kyle Petty, and great grandfather of Adam Petty.
Petty Enterprises 1949-1964
Gary Drake 1954
Carl Krueger 1955
Lee Petty died at 4:50 a.m. on April 5, 2000 at Moses Cones Hospital in Greensboro, North Carolina, at the age of 86, several weeks after undergoing surgery for a stomach aneurysm. He was buried at the Level Cross United Methodist Church Cemetery in Randleman, North Carolina.
External links
Edit