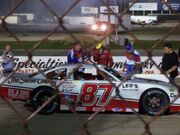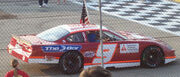 A late model is a class of racing vehicle. It is the highest class of stock cars that race at a local level. Many regional touring series use late models.
Varieties of late models (ranked from highest vehicle performance to lowest) include Super Late Models, Late Models, and Limited Late Models. Some series require that crate motors are used in racecars under their sanction. Late models raced on dirt are significantly different from vehicles raced on asphalt. Asphalt late model racing is an extremely common stepping stone for drivers who race in regional and national touring series including NASCAR. Racers of both dirt and asphalt Late Models have won the national championship of NASCAR Weekly Racing Series.[1] Almost every NASCAR driver raced in the class while progressing their career.
United States national touring series
Edit
References
Edit
↑ Schaefer, Paul. Where Stars Are Born: Celebrating 25 Years of NASCAR Weekly Racing. Coastal 181, Newburyport, Massachusetts, USA, 2006.
Ad blocker interference detected!
Wikia is a free-to-use site that makes money from advertising. We have a modified experience for viewers using ad blockers

Wikia is not accessible if you've made further modifications. Remove the custom ad blocker rule(s) and the page will load as expected.