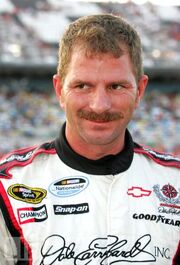 Kerry Dale Earnhardt (born December 8, 1969 in Kannapolis, North Carolina) He is the son of Nascar legend Dale Earnhardt and half-brother of NASCAR Sprint Cup star Dale Earnhardt, Jr.,He is the spitting image of his father but has yet to achieve the level of success enjoyed by his father and brother. He drives part-time in the Camping World Truck Series in the #01 Daisy Ramirez Motorsports Chevrolet.
Kerry Earnhardt was taken from his father by his mother as a child. He later found out that his father was Dale Earnhardt.
Racing career
Edit
He scored a pole, 8 top 5s and 40 top 10s as well as 1994 Rookie of the Year Honors at his local track in the NASCAR Dodge Weekly Racing Series.
He has had his greatest success in the ARCA Re/Max Series, winning 4 of 11 races with 7 top 5s and 8 top 10s.
He has raced in the NASCAR Winston West Series, scoring 2 top 5s and 5 top 10s in 8 races.
He has scored 2 top 5s and 8 top 10s in 11 races in the NASCAR Goody's Dash Series.
NASCAR career
Edit
He has competed in the Nationwide Series, scoring 3 top 5s and 6 top 10s. His 2002 run for FitzBradshaw Racing in the Nationwide Series has been his only full season in any of NASCAR's Big 3 series (Cup, Busch, and Truck), and he finished 22nd in the points.
In the NASCAR Camping World Truck Series he won the pole for the Florida Dodge Dealers 250 race in 2005, but after 2 races was released due to lack of sponsorship.
In 2005 part time he raced in seven Sprint Cup races, six for Richard Childress Racing in the #33. He highest finish was a 17th place run at Talladega.
Family life
Edit
He and wife René married in 1999, and have a daughter, Kayla.
From their previous marriages, Kerry has two sons, Bobby and Jeffrey, and René has a daughter, Blade.
Jeffrey has been racing in lower-tier divisions at Wythe Raceway in Rural Retreat, Virginia, and was recognized for his 2005 season efforts at the track's banquet after he scored two consecutive wins in May 2005 at the half-mile dirt track, in the "Hornet" division, which features four-cylinder subcompact cars, becoming the fourth generation of Earnhardts to win in Mid-Atlantic short tracks.
External links
Edit