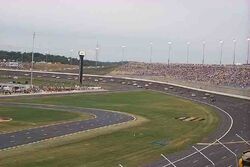 Kentucky Speedway is a 1.5 mile motor speedway located in north-central Kentucky, near the community of Sparta, Kentucky; approximately halfway between Louisville, Kentucky and Cincinnati, Ohio, and is additionally 70 miles from another fairly sizable market, Lexington, Kentucky. The track was designed to host a NASCAR Sprint Cup races and has hosted NASCAR Nationwide Series and Camping World Truck series races, as well as IRL races. However, NASCAR officials have refused any discussion of a Sprint Cup race being moved there until 2010, when it was announced the Kentucky Speedway would recieve a Sprint Cup race.
In July 2005, Kentucky Speedway filed a lawsuit against NASCAR and International Speedway Corporation, (ISC) claiming that they violated federal antitrust laws by not allowing tracks to bid for NASCAR races, be it they meet the necessary requirements. This lawsuit was filed a year after Francis Ferko, a Speedway Motorsports shareholder, successfully sued NASCAR and ISC, forcing NASCAR to eliminate the prestigious Southern 500 in Darlington, SC, in favor of a second race at Texas Motor Speedway, as demanded by the terms of the lawsuit. Track officials used the Ferko case as precedent for the lawsuit.
NASCAR asked that the suit be dismissed or moved to Florida, home of NASCAR headquarters, but instead the Federal Court decided the case should proceed in Kentucky courts. Hearings on the issue are expected in 2006.
On August 10, 2010, it was officially announced the track would get a Sprint Cup race in 2011. Quaker State was later announced as the title sponsor. 9 days before race day, it was announced grandstand tickets had sold out. The very first Quaker State 400 was held on July 9th 2011. The race was won by Kyle BUsch. However, the race was marred by traffic gridlocks. Around 10,000 fans were denied entry into the speedway because of the lack of parking spaces. Bruton Smith apologized to the fans and offered those who missed the races to exchange their tickets for any more of his tracks races, remaining 2011 Kentucky Speedway races, or the 2012 Quaker State 400. Bruton Smith purchased more land in later in the year and all problems were gone for the 2012 Quaker State 400, a race won by Brad Keselowski. Rain delayed the 2013 Quaker State 400 to Sunday at Noon. This was one of the more exciting 400's with 9 cautions over the course of the race. The race was one by Matt Kenseth. There has also been talk that Kentucky Speedway owners might purchase Pocono Raceway and move one of its Sprint Cup races to Kentucky. However, the Mattioli family, which owns Pocono Raceway, also own the South Boston Speedway, and manage the Music City Motorplex, has so far shown no interest in selling that superspeedway.
Major events
Edit
External links
Edit