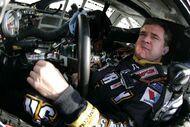 Joseph Frank Nemechek III (born September 26, 1963) in Lakeland, Florida is a NASCAR Sprint Cup Series driver and owner of the #87 Toyota for NEMCO-Jay robinson motorsports. He won the 1992 Busch Series championship. Former teamate Wally Dallenbach gave him the nickname "Front Row Joe" for his ability to qualify his car strongly.
Strange fact 1: All 4 of Joe Nemechek's wins have come with different numbered cars. He was won races driving car #01, #25, #33 and #42. he is also the last driver to win a race carrying those numbers on the car, except #25.
Strange fact 2: Obtained his last two rides by replacing Jerry Nadeau. He replaced Nadeau at Hendrick Motorsports following Nadeau leaving, and then replaced Nadeau again at MB2 Motorsports after Nadeau was nearly killed in practice at Richmond.
External links
Edit
}}
Ad blocker interference detected!
Wikia is a free-to-use site that makes money from advertising. We have a modified experience for viewers using ad blockers

Wikia is not accessible if you've made further modifications. Remove the custom ad blocker rule(s) and the page will load as expected.