Jasper Racing is a former Nextel Cup Series. It was sold to Michael Waltrip Racing in 2006, and is now known as Waltrip-Jasper Racing. For more on that collaboration, see Michael Waltrip Racing.
The car started in 1971 at what turned out to be the only Winston Cup race at Smoky Mountain Raceway as the #41 Ford owned and driven by D.K. Ulrich, who finished 29th out of 30 cars for heating problems on the 4th lap. During his days an owner, Ulrich never had much in the way of money, so as a result many of the big-name drivers weren't very interested in his ride.(Although Richard Petty once drove Ulrich's car at the 1986 Coca-Cola 600 when his regular wasn't ready. He finished 38th after experiencing engine problems.) Ulrich ran full-time for a couple of years, but normally he stepped aside and let other drivers race for him. During his tenure as an owner, he earned a reputation of being good at developing younger drivers. Sterling Marlin, Tim Richmond, Morgan Shepherd, and Mark Martin all went on to successful careers after piloting Ulrich's car. In 1987, Ulrich noticed a young short track driver from California named Ernie Irvan. Irvan qualified 20th in a Dale Earnhardt-sponsored car for a race that Ulrich didn't make. Seriously pondering hanging up his helmet for good, Ulrich put the aggressive young Irvan in his car for three races that year, with Irvan's partner Marc Reno as crew chief. When Ulrich was able to get Kroger as a full-time sponsor for the team, he fielded the car full-time in 1988 with Irvan competing for NASCAR Rookie of the Year in the #2 Chevrolet/Pontiac. Irvan had problems finishing races that year, and finished 59 points behind Ken Bouchard for Rookie of the Year. 1989, proved to be a much better year for the team, posting 4-top ten finishes and ending the season 22nd in points, three better than the previous year. Unfortunately, Kroger decided not to renew its contract, and Irvan had no choice but to leave the team. Ulrich was able to get several different sponsorships together for 1990, and the team ran most of the races.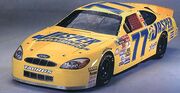 The car returned full-time for 1991 as the #55 Pontiac piloted by rookie driver Ted Musgrave. The team disappeared for a couple of years before returning in 1994 as #77 USAir Ford with veteran journeyman Greg Sacks handling the driving chores. During this time, Doug Bawel, an executive from Jasper Engines & Transmissions, became a business partner with Ulrich, and co-sponsored the team for the 1995 season, with the car originally piloted by rookie Davy Jones and later Bobby Hillin Jr.. After the season, Bawel bought the entire team from Ulrich and started a partnership with Jasper salesmen Mark Wallace and Mark Harrah, with team changing its name to Jasper Motorsports. Hillin continued to drive the car for 1996, and the first part of 1997, before being replaced by Robert Pressley and Morgan Shepherd. Pressley won the job to drive the car for 1998, during which he had a then-career-best finish of 3rd at Texas. 1999 proved to be a tumultulous year for the team, struggling with qualifying and finishing 39th in points. For the 2000 season, Ryan Pemberton came aboard as crew chief and made a huge difference as Pressley finished 25th in points the next two years, finished 2nd at the 2001 Tropicana 400 at Chicagoland, and the team hasn't missed a race since. Pressley and Jasper parted ways after the season, and former sprint car champion Dave Blaney was tabbed to replace him. But Blaney, while competitive in some races, was average at best, and was gone at the end of 2003. Mark Wallace sold his share of the team, and Roger Penske took his place. As a result, the team switched to Dodge.
The team also got a new sponsor in Kodak, as well as a new driver in rookie Brendan Gaughan. Despite grabbing 4 top finishes, Gaughan was replaced to the shock of fans by another rookie, Travis Kvapil. In his first year in the Cup circuit, he finished 32nd in points with two top-10 finishes. When the season came to a close, it was announced the #77 car would not run the 2006 season.
Ad blocker interference detected!
Wikia is a free-to-use site that makes money from advertising. We have a modified experience for viewers using ad blockers

Wikia is not accessible if you've made further modifications. Remove the custom ad blocker rule(s) and the page will load as expected.