Jason Leffler (September 16, 1975 - June 12, 2013) was an American stock car driver who competed in NASCAR and open-wheel dirt track racing. Leffler began racing in the open-wheel ranks before moving to NASCAR's three major series. On June 12, 2013, Leffler was competing in a Open wheel race when his car flip several times killing him instantly, he was 37 years old.
Racing career
Edit
Open wheel career
Edit
Leffler began his career racing midget cars in the USAC series, where he won 3 consecutive Midget championships from 1997 and 1999, as well as the Silver Crown series championship in 1998. He was the third driver to win three consecutive midget car championships. [1] He won the Hut 100 and Belleville Nationals in 1997, and the Turkey Night Grand Prix and Copper Classic in 1999. [1] He won his second Turkey Night Grand Prix in 2005.
Roger Penske met Leffler at the 1998 Hut 100. Leffler's success also caught the attention of Joe Gibbs Racing, a team who had previous signed Tony Stewart from the USAC ranks. Leffler joined the team in 1999 and made 4 starts in the Busch Series during the season with moderate success. At the same time, he also started a race in the Indy Racing League at Walt Disney World Speedway in the #5 Treadway Racing machine, but finished last after wrecking early in the race.
NASCAR career
Edit
During the 2000 season, Leffler drove full time for the #18 MBNA sponsored Busch team. He finished 20th in the championship and earned three pole positions during the year and finished second at Phoenix. He also made two IRL starts, among them a start for Treadway in the Indianapolis 500 where he started and finished 17th. After that season, he moved up to the Winston Cup Series to drive the #01 Chip Ganassi Racing Dodge Intrepid in Winston Cup, which was sponsored by Cingular Wireless. During his inaugural Cup season, he won the pole at the inaugural race at Kansas Speedway, but had only one top 10 finish and 4 failures to qualify. After his 37th-place finish in the championship, Ganassi replaced him with Jimmy Spencer for the 2002 season.
Leffler joined Ultra Motorsports in 2002 and had great success early on with the team. In his first year, he tied a single season Craftsman Truck Series record by scoring 8 pole positions, and qualified no worse than 8th at any race during the season. Despite not winning a race, six second-place finishes and a fourth-place finish in the championship. Leffler finally broke through in 2003 when he scored his first career victory at Dover. Despite being in the top 10 in points, however, he was fired from Ultra Motorsports ride after taking over in the Haas CNC Racing #0 NetZero Pontiac, which breached his contract with the Dodge-funded truck team. He won the 2002 Night before the 500 midget car race.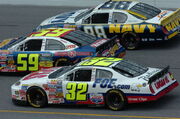 Leffler made 10 starts in Cup with Haas before Ward Burton took over. Haas then moved Leffler to the Haas Automation #00 car in Busch for the remainder of 2003, and later all of 2004. At Nashville Superspeedway in 2004, Leffler scored his first career Busch Series victory. He was running third in the points when the team released him from his contract. He ended up finishing 12th in the championship despite missing the last seven races.
Shortly after being replaced at Haas, Leffler signed a deal to re-join Joe Gibbs Racing for 2005, taking over in a newly created Cup team sponsored by FedEx. The #11 Chevrolet was regularly outside of the top 35 in points, meaning that it was not guaranteed a starting spot for all races; Leffler was unable to qualify for the Coca-Cola 600 because of it. He was replaced by Terry Labonte for the two road-course races and, eventually, was fired from JGR after 19 starts in which he failed to record a top ten finish. He was replaced by a mix of Labonte and JGR developmental drivers J.J. Yeley and Denny Hamlin, the latter of whom took over the car full-time the following season.
While racing with Gibbs, Leffler briefly raced with Braun Racing in the Busch Series, a team that had lost their regular driver, Shane Hmiel, to a drug suspension. After leaving Gibbs, Leffler joined Braun Racing on a full-time basis for the remainder of the season. Leffler has scored four top 10 finishes with Braun in 9 starts for the team.
For the 2006 season, Leffler was signed to return to Braun Racing to drive the #32 Chevrolet. The team carried sponsorship from Lucas Oil, Fraternal Order of Eagles, and ABF U-Pack Moving. The #32 team became the #38 team with sponsorship from Great Clips after it merged with Akins Motorsports. Jason also attempted to qualify for the second last race of the chase at Phoenix in the #71 for Braun Racing but failed to qualify.
During the 2007 season, Leffler won the pole for the Winn-Dixie 250 at Daytona International Speedway. He finished 9th. Leffler would make NASCAR history July 28, 2007 as he passed Greg Biffle with two laps remaining to win the Nascar Busch Series Kroger 200 at O'Reilly Raceway Park. The win marked the first race victory for a Toyota Camry in Busch Series competition, and the first win for a foreign manufacturer in a top-tier NASCAR series since Al Keller won in a Jaguar in 1954. The win also marked Leffler's second career Busch Series win and first win since the 2004 season. Leffer returned to Sprint Cup in 2008 for a few races in the #70 Haas CNC Chevy while driving full time for Braun Racing's #38 Toyota Camry.
In 2009 at the July Daytona race weekend it was announced that the #38 Toyota car would be shared with Kasey Kahne for the 2010 Nationwide season.
On June 12, 2013, Jason was racing in a Sprint Car event at Bridgeport Speedway in New Jersey when his car flipped violently a number of time. He was cut out of his car and airlifted to the hospital where he later died. NASCAR announced that in all of the races between June 13 and June 16, cars and trucks will have a sticker showing support for Jason's family. The current cause of death is unknown.
To honor Jason, Denny Hamlin, who replaced Jason in the #11 Toyota in 2006, drove a special paint scheme that resembled Jason's 2005 car. Denny finished
Career award
Edit
References
Edit
External links
Edit