James Christopher McMurray (born June 3, 1976 in Joplin, Missouri) is an American Stock car driver in the Monster Energy Cup Series, driving the the #1 McDonald's Chevrolet for Chip Ganassi Racing.
NASCAR career
Edit
In 1999, McMurray made 4 starts in the Craftsman Truck series. In 2000, he ran 15 Craftsman Truck races and posted 1 top-five and 4 top-ten finishes.
In 2001 and 2002, he competed full-time in the NASCAR Busch Series, driving the #27 Williams Travel Centers Chevrolet Monte Carlo for Brewco Motorsports. The latter year turned out better for McMurray, as he won two races and finished sixth in the overall points standings.
Before the fall race at Richmond in 2002, Chip Ganassi announced McMurray as the driver of a Texaco-Havoline sponsored Dodge in 2003. Ganassi planned to have Jamie drive the #42 Dodge for seven races in 2002. Those plans were accelerated when Sterling Marlin fractured a vertebra at the Winston Cup Race at Kansas Speedway.
2002 Win at Lowe's Motor Speedway
Edit
McMurray subbed for an injured Sterling Marlin who was out after a crash at Kansas Speedway, and he made his Cup debut filling in the #40 Coors Light Dodge at Talladega and one week later in just his second career NASCAR Winston Cup start, McMurray outraced Bobby Labonte to win the UAW-GM Quality 500 at Lowe's Motor Speedway in Concord, NC, setting a modern era record. McMurray had been consistent the entire night, and led 96 of the final 100 laps to score his first win. It is considered one of the biggest upsets in NASCAR history, with McMurray making his only start at Talladega Superspeedway, where upsets are common. McMurray did not race the next week. This was also set as the modern era record, for fewest starts before a win, and it is also the first time a driver won in his or her first start at a 1.5 mile track, the most common type of track in the sport.
2003-2005
Edit
In 2003, McMurray became a Winston Cup regular. He won the NASCAR Winston Cup (now Sprint Cup) Rookie of the Year competition by 37 points over Greg Biffle despite not winning a race. McMurray had 5 top-5s for the year and finished 13th overall. He began competing part-time in the Busch Series.
In 2004, McMurray and his team were penalized 25 points after the Food City 500 for an incorrect "x-measurement," which proved costly when, later in the year, McMurray missed the Chase for the Cup by 15 points. However, he had 23 top-10s during the season, including 12 in the last 14 races, and finished 11th in the points standings, which earned him a $1 million bonus. Had he made the Chase for the Championship, he would have been 4th in points. He won a Craftsman Truck Series race, joining a short list of drivers that have won a race in all three of NASCAR's top touring series (Craftsman Truck, Busch, and NEXTEL Cup).
McMurray left the #42 team after the 2005 season to drive the #26 Ford for Roush Fenway Racing. Owner Chip Ganassi was initially adamant that McMurray would not be released for 2006. However, on November 7, 2005, McMurray was released from his contract. McMurray was originally supposed to go to the #6 Ford in 2006, but since Kurt Busch was released after an off-track incident, and Mark Martin announced he would race for another year, McMurray instead took over for Kurt Busch in the #97 Ford (which was renumbered #26).
In April 2006, Jack Roush moved Jimmy Fennig from crew chief of the #26 Ford to head Roush's Busch operations. Bob Osborne, who had been crew chief for Carl Edwards, moved to head the crew for McMurray. In 2006, he was an adviser for the drivers below 10th and trying to make the Chase For The Cup, since he had been in that position in the past two years. McMurray's best finish of the 2006 season came at Dover where he finished 2nd.
McMurray began the 2007 season with crew chief Larry Carter, formerly from MWR and Penske Racing and sponsorship from Crown Royal and IRWIN Tools. On June 22, 2007 he won his 3rd career NASCAR NEXTEL Cup Pole, for the 2007 Toyota/Save Mart 350. On July 7th, 2007 McMurray won the Pepsi 400 by .005 of a second over Kyle Busch for his second career Cup win. The photo finish was the closest in Daytona International Speedway history and tied for the 2nd closest finish (1993 DieHard 500) since the advent of electronic scoring in 1993. McMurray finished the year 17th overall in the points.
In the beginning of the 2008 season, McMurray encountered a string of poor finishes that relegated him to 36th in points and not guaranteed a spot in the field when NASCAR reached the spring Martinsville race, and the 2008 points went into effect. McMurray was required to qualify for the race on time. He qualified 5th, locking himself into the field as the fastest of the Go or Go Homers. He earned an 8th place finish in the race, securing himself back into the top 35 in points and a guaranteed starting position for the next race. Throughout the remainder of the season, he steadily climbed back into the top 20 in points. On October 11, 2008, McMurray rallied to finish 5th in the Bank of America 500 at Lowes Motor Speedway. It was his first top 5 finish since his victory at Daytona in July of the previous year. McMurray finished the 2008 season with three 3rd place finishes, and will re-unite with former crew chief Donnie Wingo in 2009; Crew Chief Larry Carter has announced he is moving to Yates Racing to be crew chief for Paul Menard. Jamie McMurray finished 16th in the 2008 standings.
McMurray kicked off the 2009 season by dominating the final stages of the Budweiser Shootout, but lost the lead to Kevin Harvick on the last lap. McMurray finished second. McMurray had a good Speedweeks, finishing 9th in his Gatorade Duel. In the Daytona 500, McMurray ran up front and was a contender, but was eliminated from contention after he was involved in the race's biggest crash. Roush Fenway Racing recently informed McMurray that if he wishes to leave the team, he will be allowed to do so, as Roush Fenway needs to cut their teams down to four (they currently have five). McMurray in recent years has expressed interest in finding a new team with new owners. On November 1, 2009, McMurray won the AMP Energy 500 at Talladega Superspeedway, after leading over 20 laps and passing David Stremme with 8 laps to go, then surviving a green-white checkered finish to earn his second restrictor-plate win.
At the end of 2009, he left Roush Fenway Racing to drive for Earnhardt Ganassi Racing in the #1 car, replacing Martin Truex, Jr. who signed to drive for Michael Waltrip Racing. His departure came as Roush Fenway was forced by a new NASCAR policy implemented a few years prior that limited the amount of cars a race team could have to four, and the #26 was the team Roush Fenway chose to cut. McMurray will reunite with Chip Ganassi in the upcoming Rolex 24 Hours of Daytona. On February 14th Jamie McMurray won the 2010 Daytona 500.
On January 19, 2011, McMurray signed a multi-year extension with Earnhardt Ganassi Racing to continue driving the #1 Chevrolet. He won the pole for the Goody's Fast Relief 500 at Martinsville, where he finished 7th. Following the massive tornado that went through McMurray's home city Joplin, Missouri, McMurray listed Joplin as one of his racing sponsors to help his town. He blew his engine during the Coca-Cola 600. In July, McMurray came close to winning the Brickyard 400 by passing Paul Menard with nine laps left but with four laps remaining, Menard took back the lead and while Menard charged to his first Cup victory, McMurray ended up 4th as a good record of July. McMurray congratulated Menard publicly after the race when he was interviewed about his finish. However, McMurray's second season with Earnardt Ganassi Racing was a disappointment compared to his first; he earned just four Top 10's that year, and finished the season 27th in points.
2012 was not much better for McMurray. He started the season with a crash in the Daytona 500. The next week, in Phoenix, McMurray had an accident before blowing an engine; he then posted two straight 7th-place finishes at both Las Vegas and Bristol. He would not post another top ten in the Pocono race in June. McMurray contended to win at Talladega in the fall race, but Harvick spun McMurray in the final laps; thus, McMurray finished the season with only three Top 10s and no victories.
McMurray started his season on a low note, crashing in the Daytona 500 on lap 33, relegating him to a 32nd-place finish, followed by a 22nd-place finish at Phoenix. At Las Vegas, the third race of the year, McMurray improved, with a 13th-place finish. The following week, at Bristol, he scored a 10th-place finish; this was his first Top 10 of the season, despite spinning out in the middle of the race. Then, after a 19th-place finish in Fontana, McMurray finished a season-best 7th place in Martinsville, despite being involved in an early collision with Clint Bowyer. McMurray then had a 16th-place finish at Texas, and took another 7th-place finish at Kansas, bringing him up to three Top 10 and six Top 20 finishes.
McMurray took home first place in the non-points-paying 2013 Sprint Showdown at Charlotte Motor Speedway. Leading all 40 laps, the Cup win was his first since the 2010 Bank of America 500, which also came at Charlotte. He would go on to finish 8th in the NASCAR Sprint All-Star Race. McMurray would hit a low stretch, with a 19th-place finish in the Coca-Cola 600 and a 33rd-place finish at Dover. He then had a 13th-place finish at Pocono. At Michigan, McMurray led 21 laps but finished 33rd after a late accident. The following week at Sonoma, McMurray narrowly beat Marcos Ambrose to win his first pole of the season.
McMurray then had two strong runs - a runner-up finish to Matt Kenseth at Kentucky, followed by the Coke Zero 400, where he led 10 laps and finished seventh. He then got right outside the Top 10 with an 11th-place finish at New Hampshire.
In October, McMurray held off Dale Earnhardt, Jr. and Ricky Stenhouse, Jr. to win at Talladega, snapping a 108-race winless streak. This was his seventh career victory and fourth on a restrictor plate track (with wins at Daytona in 2007 and 2010 and Talladega in November 2009).
McMurray had a slow start to the season, finishing 14th at Daytona after a last lap crash, though he posted a Top 10 at Fontana. His performances improved at the All-Star Race. After starting in the Top 10, McMurray controlled 40% of the 90 lap race, passed leader Carl Edwards on the final restart, and held off Kevin Harvick for $1,370,400. He was very emotional about his win and gave credit of the win to his pit crew thanking his new crew chief Keith Rodden.
On lap 165 of the FedEx 400, McMurray drove into a chunk of concrete, causing his car to turn sideways. The resulting pothole, which was 8 in.x 10 in., led to a red flag which lasted 22 minutes and 22 seconds.[20]
On June 21, McMurray won the pole for the Toyota/Save Mart 350 for his first pole of the 2014 season and the tenth of his career.[21] McMurray finished 16th at New Hampshire, after a solid 5th place start.
At the Irwin Tools Night Race, McMurray had a car to beat, led the most laps (148), and had the lead with 67 laps to go, but faded towards the end of the race and finished 8th. McMurray had a good end to the season, grabbing a Top 10 at Homestead Miami. He finished in 18th in the overall standings, seventy-three points behind his teammate Kyle Larson.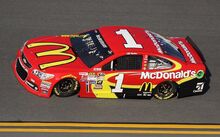 In 2015 he started the year off with a crash the 2015 Sprint Unlimited. He had 2 poor finishes at both Daytona and at Atlanta where he finished 27th and 40th. He then scored an 11th place finish at Las Vegas. The following week he was in contention to win Phoenix over Kevin Harvick but he finished 2nd. He finished 21st at auto club, 10th at Martinsville, 6th at Texas, 14th at Bristol, 4th at Richmond, 11th at Talladega. He then had a 44 point lead over 17th in points. In the beginning part of the summer stretch he finished 13th at Kansas, 16th in the all star race, 19th in the Coca Cola 600, afterwards finishing 7th the next 3 weeks in a row. He finished 11th at Sonoma, then at Daytona he got In a lot of wrecks to hold onto 15th in points. After 17 races he was 6th in points 85 points ahead of 17th. He then finished in the next couple of races 14th,26th and 40th at Watkins Glen. At Bristol he finished 11th. He was able to make his first chase. But after Dover he got eliminated from the chase.
At the Daytona 500 he finished 17th. He then followed up with a 21st place finish at Atlanta.
External links
Edit