JD Motorsports is a NASCAR Nationwide Series team that is owned by Johnny Davis and Gary Keller. The team currently fields the #1 G&K Services/Flex Seal Chevrolet Camaro for Landon Cassill and the #4 Flex Seal Chevrolet Camaro for Jeffrey Earnhardt.
Car #0 history
Edit
The 0 car made its debut in 2002, fielding an entry for Davis' son Kertus. In his first race, he started 31st but finished 32nd after a wreck. He ran three more races that season and had a best finish of twenty-fourth at Memphis Motorports Park after gaining sponsorship from Broadway Motors. In 2003, Eagle Jet International became the team's new sponsor, and Morgan Shepherd was hired as the team's driver for most of its races. His best finish came at Talladega Superspeedway, where he finished 11th, when J.R. Robbs took over for three races with a best finish of 27th. Jason White then became the team's regular driver, and Davis created the #70 team for Shepherd to drive, before he left to drive for Dwayne Miller. White drove for most of the season and had two top-twenty finishes in the #0 car, before Gus Wasson finished out the year in the car, finishing 29th at Atlanta Motor Speedway.
In 2004, the #0 switched to the #10 and the #70 the #0, and Jason Schuler began the year with the team with Operation Fire SAFE as sponsor. After six races and a best finish of 27th, he was replaced by Wasson with Race Girl sponsorship. He ran for most of the season in the ten car, replaced once by Tina Gordon. His best finish that season came at Nashville Superspeedway, where he finished 22nd. Jimmy Kitchens drove the #0 car for the first four races of the season, but did not finish a race. Greg Sacks and Blake Mallory attempted a few races in the car, but did not qualify. Mike Potter drove the car for two races before Kertus Davis came back to drive three times late in the season.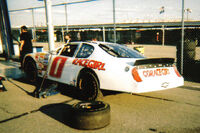 For the 2005 season, Davis began driving the #0 full-time with Race Girl sponsoring. He competed in twenty-eight races with a top-ten at Talladega for his rookie season and Rafael Martínez and Joe Fox served as relief drivers on road courses. The team began the 2006 season under rumors that they would close due to sponsorship issues, but remained open. Davis qualified for twenty-two races in that year, sharing the ride with Randy LaJoie and Morgan Shepherd. They also opened a second team, the #05, for a limited schedule to fill out short Busch Series fields. Teague and Shepherd drove that car.
Kertus Davis left for Kevin Harvick Incorporated in 2007 and was replaced by Eric McClure and Hefty sponsorship. J. R. Fitzpatrick drove at Mexico City and Montreal, while Kevin Lepage driving at Watkins Glen. At the end of the 2007 season, McClure and his sponsorship departed for Front Row Motorsports. Due to a lack of sponsorhip, it was announced on Jayski's Silly Season Site that JDM's equipment would be auctioned off on December 1, although the team remained open.
The #0 team began the 2008 season with Kertus Davis qualifying at Daytona, however his time was disallowed and he moved to the #01. Since Daytona, Dwayne Leik has run four races, Mike Potter has run two races, Danny Efland has been in the car for five races and Davis returned to the #0 car at Dover for one race.
Car #01 history
Edit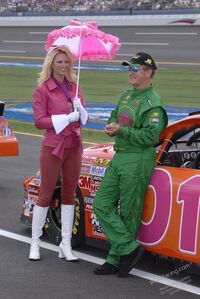 The #01 debuted in 2006 as Duesenberg & Leik Motorsports, with Jay Sauter driving the Western Union car, and was owned by Keith Duesenberg and Dwayne Leik. In the team's first season, the #01 team started 33 out of 35 races, with a best finish of seventh at O'Reilly Raceway Park. Leik also made one start, at the Winn-Dixie 250 in the #26. He started 38th and finished 32nd.
For the 2007 season, Duesenberg & Leik merged with Davis' operation, with the owner's points for the 2006 season for the 01 were transferred to the 0 car. Morgan Shepherd also drove the 01 on a limited basis this season. Kevin Lepage, Shelby Howard and Danny Efland have also driven this year after Shepherd left to drive for his own team. Joe Fox ran at Montreal and Watkins Glen. Kertus Davis returned after being released from the #77 and drove at Michigan, California, Kansas and Lowe's Motor Speedway.
Dwayne Leik qualified the #01 at Daytona to start off 2008, but was replaced by Davis after the #0 time was disallowed. Davis has continued to run in the #01 full time since moving to the #01 at Daytona. J.C. Stout raced the #01 car at Dover, shortly before Davis announced he was leaving the team for Jay Robinson Racing. The car was 30th in owner points when Davis left.
References
Edit
External links
Edit