Irwindale Event Center is a motorsports facility located in Irwindale, California. It features banked, paved 1/2 and 1/3 mile oval tracks.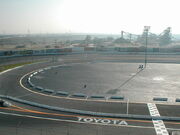 Since 2003, the main 1/2 mile oval has hosted the NASCAR Toyota All-Star Showdown. In this event, the top 30 drivers in the Grand National Division and the top 40 drivers in the Elite Division come from their respective regional tours to compete in a "best-of-the-best" race for prize money and bragging rights. The races are televised live on the SPEED Channel. It is also the home of the Turkey Night races, a Thanksgiving sprint car tradition in southern California since it debuted at the now-closed Ascot speedway in the 1950s. Among the 2005 participants were Tony Stewart, Jason Leffler, and J. J. Yeley.
1/8 mile drag racing is presented at this facility as well. In 2003, in cooperation with local law enforcement, Irwindale Speedway opened its' own dragstrip and hosts legal drag races for street legal cars, trucks, and motorcycles. The Dragstrip is proud to extinguish the "nowhere else to go" excuse used by illegal street racers, and local police often hand out flyers to offenders for free entry into drag races at the dragstrip to promote safe racing.
The venue is also known for drifting events; when it hosted D1 Grand Prix's first overseas event in Template:D1, with a sell-out crowd attendance of 10,000, it had surpassed all other event Irwindale hosted in the past, the previous being 8,700. Since then, it has become the series regular opening round in February and a non championship event in December and has also hosted a round of the domestic series, Formula D. The venue has been expanded to accommodate 15,000 spectators. The circuit is regarded as one of the most popular courses for crowds and drivers despite the unforgiving concrete wall which drivers usually brush through with their rear bumpers. Because of its popularity, the circuit is nicknamed the House of Drift.
The 2003 Guinness Book of World Records lists the fastest-ever top speed of a radio-controlled car as 111 mph (178.63 km/h) set by Cliff Lett of Associated Electrics. Lett, a Team Associated professional driver and one of the designers and developers of the aforementioned RC10, set the record with a heavily modified Associated RC10L3 touring car at Irwindale Speedway on January 13, 2001.
External links
Edit