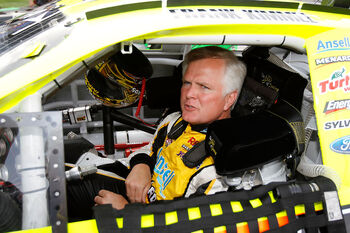 Franklin James Kimmel (born April 30, 1962 in Clarksville, Indiana) is an American stock car driver/owner. He drives the #44 Ansell Gloves/Menards Ford in the ARCA RE/MAX Series. Kimmel has won the ARCA championship nine times, including eight consecutive. He won the championship in 1998 and also won the 2000 through 2007 championships.[1]
His father, Bill Kimmel Sr., was a three-time race winner in the ARCA series[2].
As of 2006, Frank Kimmel resides in Borden, Indiana. [3]
Early career
Edit
Kimmel made his first career start racing street stock at the age of 15. Seven years later he moved to late models Before racing in ARCA, Kimmel won three championships racing Late Models.[4]
Frank's first ARCA race came in 1990. His first full season was 1992, driving the #02 Indiana Steel Co. Pontiac. Kimmel was consistent and was able to claim Rookie of the Year honors. Frank won his first race at Toledo Speedway in 1994.
He is the only nine-time champion in the Re/Max Series and the only driver to win eight championships in a row (2000-2007). As of the end of the 2008 season, he is second on the all-time win list with 74 victories. None of those victories have come at Daytona. He also has 207 top-5 finishes and 258 top-ten finishes in 349 starts.[1] Kimmel became the first ever ARCA Re/Max Series driver to be assigned a seat in the IROC (International Race of Champions) Series in 2006.
As of 2006, the crew chief on Frank Kimmel's team is his brother, Bill Kimmel Jr.[3] For 2008, the Kimmel brothers will leave Tri-Star Motorsports to form their own team, known as Kimmel Racing. The team initially ran a Dodge with the support of Cunningham Motorsport and sponsorship from Riverside Auto at Daytona before joining forces with Ford Racing for the remainder of 2008.
On August 2, 2008 Kimmel was seriously injured in a 3 car crash on lap 68 at Pocono Raceway, suffering a partially torn sphincter and pulled groin; he was taken to the hospital for observation overnight.[1] Though lacking a title sponsor for the entire year of 2008, Frank and team were able to pull out a 2nd place finish in points by a margin of 50. The loss of the championship was not the surprising part of that year but rather the surprise was how close Kimmel Racing was to winning a tenth title.
In 2013, Frank won his 78th race of the season and is now just one win away from having the most of any driver in ARCA competition.
He has made seven starts in the NASCAR Winston Cup (now NASCAR Sprint Cup) Series[5], six of these starts with Travis Carter Motorsports in 2002[6]. He so far found little success in the series. His best finish to date was a 26th place finish at Lowe's Motor Speedway. He had one Busch Series start[5]. He has had two Top-10 finishes from twelve Craftsman Truck Series starts.[5]
Kimmel was invited to participate in the 2006 edition of the International Race of Champions, IROC XXX. Kimmel was the first ever ARCA Re/Max Series driver to be assigned a seat in IROC.
That season, he placed seventh in points[7] with a best finish of third in the first race[8] of the four-race IROC season[7].
References
Edit
External links
Edit
Ad blocker interference detected!
Wikia is a free-to-use site that makes money from advertising. We have a modified experience for viewers using ad blockers

Wikia is not accessible if you've made further modifications. Remove the custom ad blocker rule(s) and the page will load as expected.