Edward Glenn "Fireball" Roberts, Jr.
Birthplace:
Tavares, Florida
Born:
January 20, 1929
Died:
July 2, 1964
Cause of Death:
Complications due to car crash on May 24, 1964 during World 600
Awards:
Named one of NASCAR's 50 Greatest Drivers (1998)

inducted in the International Motorsports Hall of Fame in 1990

inducted in the Motorsports Hall of Fame of America in 1995

NASCAR Cup statistics
206 races run over 15 years.
Best Cup Position:
2nd - 1950 (Grand National)
First Race:
1950 February 5, 1950 (untitled race) (Daytona Beach Road Course
Last Race:
1964 World 600 (Charlotte Motor Speedway
First Win:
1950 August 13, 1950 (untitled race) (Occoneechee Speedway
Last Win:
1964 November 17, 1963 (untitled race) Augusta International Raceway
Wins
Top Tens
Poles
33
122
32
Edward Glenn "Fireball" Roberts, Jr. (January 20]], 1929 in Tavares, Florida - July 2, 1964 in Charlotte, North Carolina) was one of the pioneering auto racing race car drivers of NASCAR.
Background
Edit
Roberts was raised in Apopka, Florida where he was interested in both auto racing and baseball. He was a pitcher for the Zellwood Mud Hens, an American Legion baseball team, where he earned the nickname "Fireball" because of his pitches. He enlisted with the United States Army Air Corps Army Air Corps in 1945, but was discharged after basic training because of asthma.
Racing career
Edit
He spent some time at the University of Florida, but would race on dirt tracks on weekends. In 1947, at the age of 18, he raced on the beach course at Daytona Beach, Florida Daytona for the first time. He would win a 150-mile race at Daytona Beach the following year.
Roberts continued to amass victories on the circuit, despite the changes in NASCAR as it moved away from shorter dirt tracks to superspeedways in the 1950s and 1960s. In his 206 career NASCAR Grand National races, he won 33 times and had 32 poles. He finished in the top five 45% of the time.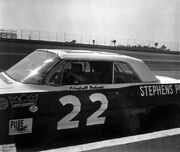 Roberts was known to have an allergic reaction to flame-retardent chemicals, and could not dip his clothing in chemicals then used for drivers to wear.
On May 24, 1964 at the World 600 in Charlotte, North Carolina, Roberts had qualified in the 11th position and started in the middle of the pack. On lap seven, Ned Jarrett and Junior Johnson collided and spun out and Roberts crashed trying to avoid them. Roberts's Ford slammed backwards into the inside retaining wall, flipped over and burst into flames. Witnesses who were at the track claimed that they heard Roberts screaming from inside his car after the wreck. Jarrett rushed to save Roberts as his car was engulfed by the flames. Roberts suffered second- and third-degree burns over 80% of his body and was airlifted to a hospital in critical condition.
Roberts was able to survive for several weeks and it appeared that he might pull through, but on June 30, Roberts began to take a turn for the worse. He contracted pneumonia and sepsis and he slipped into a coma by the next day. He died on July 2. Roberts' death, and also the deaths of two drivers at the Indianapolis 500 the same year, led to an increase in research for fire-retardent uniforms, and led to the development of the Firestone RaceSafe fuel cell, and all race cars today use a foam-backed fuel cell to prevent severe fuel spillage of the massiveness that Roberts had. Also, fully fire-retardent coveralls would be phased in, and is now mandatory.
Despite having his career cut short and having never won a Grand National title, Fireball Roberts is still considered one of the best and most well-respected drivers in the history of NASCAR.
External links
Edit