Days of Thunder is a 1990 movie produced by Jerry Bruckheimer, directed by Tony Scott and starring Tom Cruise, Nicole Kidman, Robert Duvall, Randy Quaid, Cary Elwes and Michael Rooker. The film also features appearances by real life racers Rusty Wallace and the late Neil Bonnett. ESPN commentator Dr. Jerry Punch also made an appearance.
Days of Thunder revolved around a talented, hot-shot auto racing rookie, Cole Trickle (Cruise), who, after trying his hand in the American open wheel ranks, seeks to win on the NASCAR circuit. His mechanic mentor, Harry Hogge (Duvall), acts as his crew chief and Dr. Claire Lewicki (Kidman) is a young and beautiful brain surgeon who tries to tame Cole.
The movie received middling reviews from critics who mostly shrugged off the sometimes over-the-top special effects and plot that, in many ways, resembled the earlier Bruckheimer, Scott and Cruise vehicle, Top Gun. Some NASCAR aficionados also took offense at the overuse and exaggeration of the "rubbing" (bumping) action of NASCAR, featuring maneuvers between cars that were overly dangerous and uncommon, even for the period of time in NASCAR history that the movie was filmed. This included a scene where Cole, after having been knocked out of a race at the very end by an opponent, instructed his pit crew to replace his flattened tires, proceeding to run out on the track and smash his car into the victorious rival who knocked him out of the race.
The plot was very loosely based on some real-life NASCAR personalities: Duvall's character was based on crew chief
Harry Hyde
, Cruise's on
Tim Richmond
, and Randy Quaid's on a composite of several owners, one of whom was
Rick Hendrick
. Hendrick also provided the movie cars, driven by then-NASCAR drivers
Greg Sacks
,
Bobby Hamilton
, and
Hut Stricklin
, with Hamilton making his Cup debut at Phoenix in 1989 in a movie car. Although this was not acknowledged by the film publicly this was obvious to fans from many coincidences between the film and well known events.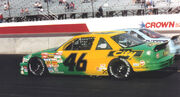 Kidman's casting as a brain surgeon was also panned by some critics; as a stunning 23-year-old who looked that age or younger, she looked completely implausible as a doctor, let alone a surgeon (who typically do not begin to practice until their thirties). Her casting probably had a considerable amount to do with Cruise's real-life interest in her - they married soon after.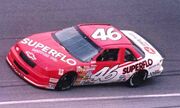 Cole Trickle is chosen to drive by a crew chief, however Cole's lack of knowledge about cars leads to many bad finishes. Following Cole's confession the team gets better and wins a race gaining them a sponsor (Exxon SuperFlo). Then:
Cole and his rival get involved in a massive wreck, sending both to the hospital.
Cole meets with his brain surgeon and their relationship grows. Cole is replaced by a cocky young driver (Cary Elwes as Russ Wheeler) but not in his car.
Cole is able to race again but his rival needs brain surgery, and therefore cannot race anymore.
Cole races again but is intimidated by his teammate which reaches a boiling point when the teammate causes Cole to get a flat tire and wins the race. Cole repairs his tires and rams his teammate during his victory lap. The owner is furious and fires Cole's whole team.
Cole's former rival needs to fund his family but his former sponsor is unwilling to pay if his car is not in the Daytona 500. Cole agrees (Mello Yello sponsored).

On race day, Cole's crew chief sees the car has a bad engine and asks his former owner to borrow one. During the race Cole's accelerator sticks, but a bump from his former teammate fixes it but damages the transmission. They go into the pits, fix the transmission but can only put the car in 4th (high) gear. So the former owner (Quaid) tells his pit crew to help push Cole's car to get the car started. Cole then starts gaining momentum before the green flag is flown for the restart and "slingshots" (uses the additional speed gained by drafting to gain passing momentum) past the entire field. When he gets up to 2nd place, behind ex-teammate and new rival Russ Wheeler, he goes to the outside twice with Wheeler slamming him into the wall, but the third time, Cole fakes to the outside and passes Wheeler inside, slamming him into the wall, and goes on to win the race. Cole and his crew chief Harry Hyde race to victory lane!
Real Life Comparisons
Edit
Ironically, a similar event to Trickle's intentional wrecking of another competitor happened later that season in the running of the Southern 500. Early in the race, drivers Morgan Shepherd and Ken Schrader made contact, sending Schrader into the wall. An angry Schrader returned to the race, and rammed Shepherd into the wall, knocking both drivers out of the race.
In another part of the movie, Trickle is told he can not pit because the team is too busy eating ice cream. This incident occurred in a 1987 race involving Benny Parsons. In another instance, Like Hogge, Parsons was told to hit the pace car because he hit every other thing out there!
In honor of Bobby Hamilton, who was undergoing cancer treatments at the time, Kyle Busch raced a Craftsman Truck for Billy Ballew Motorsports, truck #51, and painted similarly to the Rowdy Burns car from the movie, winning at Lowe's Motor Speedway in May 2006. Busch even went so far as to have "Rowdy Busch" over the driver's side door where his name would normally be. The original Rowdy Burns Exxon #51 from the movie was used by Hamilton in his Cup debut in 1989 at Phoenix.
Awards & Nominations
Edit
Days Of Thunder was nominated for the Academy Award for Best Sound.
External links
Edit