Dale Earnhardt, Jr.

Born
October 10, 1974
Kannapolis, North Carolina
Monster Energy NASCAR Cup Series statistics

Best finish

3rd (2003)
First race
1999 Coca-Cola 600
Last race
2017 Ford EcoBoost 400
First win
2000 DirecTV 500
Last win
2015 Quicken Loans Race
for Heroes 500
NASCAR Xfinity Series statistics
Team
No. 88 - JR Motorsports

Best finish

1st (1998, 1999)
First race
1996 Carolina Pride / Red Dog 250
First win
1998 Coca-Cola 300
Career award and achievements

1998, 1999 Busch Series Champion
2004, 2014 Daytona 500 Winner
2000 The Winston Winner
2003, 2008 Budweiser Shootout Winner

2003-2017 Monster Energy Cup Series Most Popular Driver (15 times)
1999 Busch Series Most Popular Driver
Ralph Dale Earnhardt, Jr. (born October 10, 1974) is an American stock car racing driver and current racing analyst for NASCAR on NBC who competed in the Monster Energy Cup Series from 1999 to 2017. He currently drives the #88 Chevrolet Camaro in the Xfinity Series for his own team, JR Motorsports. He is the son of NASCAR legend Dale Earnhardt, Sr., and the grandson of both the late NASCAR driver Ralph Earnhardt and Robert Gee, the well known stock car fabricator. Earnhardt Jr. is also the half-brother of former driver Kerry Earnhardt, the uncle of driver Jeffrey Earnhardt, and the stepson of former DEI team owner Teresa Earnhardt.
Early life & career
Edit
Born in North Carolina and raised in Kannapolis, Earnhardt, Jr. is a son of Brenda Lorraine (née Gee) and Ralph Dale Earnhardt, Sr. His maternal grandfather, Robert Gee, Sr., was a NASCAR car builder.[1] He began his racing career at the late age of 17, competing in the Street Stock division at Concord (N.C.) Motorsport Park. His first race car was a 1979 Monte Carlo that he co-owned with older half-brother Kerry. Within two seasons, the young Earnhardt, Jr. had honed his driving abilities to the point of joining the Late Model Stock Car division. There he developed an in-depth knowledge of chassis setup and car preparation, while racing against Kerry and Dale's sister Kelley Earnhardt-Elledge. Junior ran 9 Busch Series races between 1996 and 1997 for Dale Earnhardt Inc. and Ed Whitaker, respectively, before driving for Dale Earnhardt Inc. in the Busch Series full time in 1998, in which he started the season in an amazing blowover after contact with Dick Trickle and Buckshot Jones at Daytona. Earnhardt, Jr. won consecutive NASCAR Busch Series Championships in 1998 and 1999 barely edging Matt Kenseth. In 1998 he made his first start in the Winston Cup, at the exhibition race held in Motegi, Japan. Also in 1999 he drove in 5 Winston Cup races in the #8 Budweiser Chevrolet for Dale Earnhardt Inc., then in 2000 he went full time in the Winston Cup series.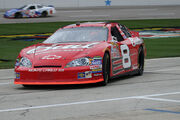 Earnhardt, Jr. competed for the Raybestos NASCAR Rookie of the Year Award in 2000. His primary competitor for the award was Matt Kenseth. Kenseth outran Junior in the season-opening Daytona 500. Earnhardt, Jr. scored wins at the Texas Motor Speedway and Richmond International Raceway. He also become the first rookie to win the All-Star exhibition race. Kenseth ultimately scored a 42-point victory in the rookie race.
Dale Jr. did have a part in recreating one Winston Cup milestone in 2000 when he competed with his father and half-brother Kerry in the Pepsi 400 at Michigan International Speedway. That occasion was only the second time that a father had raced against two sons. Lee, Richard and Maurice Petty had previously accomplished the feat.
Dale Jr. also "wrote" a non-fiction book based on his rookie season titled DRIVER #8.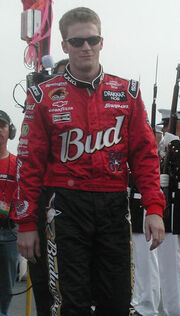 Dale Jr also attended college and earned a 2 year automotive degree in Mooresville, North Carolina
In 2001, Earnhardt, Jr. came into the season hoping to avoid a sophomore slump, but the year proved to be one of the most tumultuous and memorable seasons the young driver would experience.
The major event of the season occurred in the final corner of the final lap of the 2001 Daytona 500. As Earnhardt, Jr. finished second, to his teammate Michael Waltrip, his father had crashed in turn four. Dale Earnhardt Sr. did not survive the wreck. He was pronounced dead at 5:16 p.m. that Sunday. Junior raced at Rockingham the following weekend, but finished in 43rd-place after a wreck that looked eerily similar to his father's wreck just one week earlier. Earnhardt, Jr. rebounded and scored victories at Dover and Talladega, as well as an emotional win in the return to Daytona in the Pepsi 400,[2] finishing eighth in points for the year.
The Talladega victory earned Junior a Winston No Bull 5 $1 million bonus. This season of emotion produced nine top-fives and 15 top-10 finishes, as well as two Bud Poles.
2002-2003
Edit
In 2002, Junior had a roller-coaster season. He struggled after enduring a concussion at Fontana in April — an injury he did not admit to until mid-September. In the three races following Fontana, Earnhardt, Jr. finished no better than 30th. Still, Junior rallied to score two more wins at Talladega, a pair of Bud Pole Awards and an 11th-place finish in the standings.
2003 saw Earnhardt, Jr. become a true title contender. He scored a record-breaking 4th consecutive win at Talladega, but people were beginning to say that Earnhardt, Jr. could only win on the restrictor plate tracks, as his last win on a non-plate track had come at Dover in 2001. He put that talk to rest as he scored a victory at Phoenix in October, recording a career best 3rd place effort in the standings. He would also take home the NMPA Most Popular Driver award for the first time in his career.
2004-2006
Edit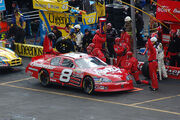 In 2004, Dale Earnhardt, Jr. won the Daytona 500,[3] six years to the day after his father won his only title in the "Great American Race (and 3 years after his father was killed in the 2001 race)." On July 18, during an off-weekend from NASCAR, Dale Jr. crashed a Chevrolet Corvette C5-R during a practice for the American Le Mans Series Grand Prix of Sonoma at Infineon Raceway. The car slid off course and hit a concrete barrier during warm-up the day of the race, rupturing a fuel line and causing the car to burst into flames with Earnhardt, Jr. still inside. He suffered second and third degree burns on his neck, chin, and legs partially due to not wearing a protective balaclava with his helmet. The burns prevented him from finishing two races where he was replaced by Martin Truex Jr. and his DEI teammate John Andretti in the middle of the races. In the fall, Junior became the first driver to sweep a weekend at Bristol by winning both the Busch race and Cup race in the same weekend.
He was able to qualify for the NASCAR ten-race playoff, and had his fifth NEXTEL Cup win of the season (a career high) at Talladega. However, he was penalized 25 points for use of an obscenity during the television broadcast, in violation of a NASCAR rule prohibiting participants from using obscene language. That incident, combined with two consecutive DNF's in the playoffs, eventually dropped him out of the running, and he finished fifth in the 2004 NEXTEL Cup chase despite a career-high 6 wins at Daytona, Atlanta, Richmond, Bristol, Talladega and Phoenix. He also picked up his 2nd consecutive Most Popular Driver Award.
At the close of the 2004 season it was revealed that Tony Eury, Sr. would be promoted to the team manager position for the DEI corporation, while Tony Eury, Jr. became the crew chief for the DEI #15 driven by Michael Waltrip for the 2005 season. Peter Rondeau, a Chance 2 employee who also helped Earnhardt, Jr. win the Busch Series race at Bristol in August, became the crew chief for Earnhardt, Jr. in 2005. Rondeau served as Earnhardt's crew chief until the Coca Cola 600 weekend when he was replaced with DEI chief engineer Steve Hmiel, who helped Jr. score his lone win of 2005 at Chicagoland in July. Earnhardt, Jr. was eliminated from any possible competition for the NEXTEL Cup championship after suffering an engine failure at the California Speedway. Earnhardt, Jr. was reunited with cousin Tony Eury, Jr. after the fall Richmond weekend, and results improved immediately. For the 3rd straight year, Earnhardt, Jr. took home the NMPA Most Popular Driver Award.
Meanwhile, Earnhardt's proficiency as a car owner continued. His race team outside of DEI, JR Motorsports, in 2005 fielded a car in the USAR Hooters ProCup Series, winning once and qualifying for the Four Champions playoff. Mark McFarland moved to the Busch Series in 2006, driving the #88 JR Motorsports US Navy Chevrolet, with Richard Childress Racing providing assistance; however, he was fired before the fall Michigan race, the Carfax 250. He was replaced by Robby Gordon and Martin Truex, Jr. for the rest of the year. Long-time short track racer Shane Huffman drove Earnhardt's USAR Hooters ProCup car in 2006.
In 2006, during the spring weekend at Talladega Superspeedway, Junior and other DEI drivers drove with special black paint schemes on their cars, intended to be reminiscent of his late father's famous #3 paint scheme. On Father's Day 2006, Dale Jr. drove a vintage Budweiser car at Michigan International Speedway to honor both his grandfather (Ralph Earnhardt) and father, who at one point in both their careers used the number 8 car. After rain caused the race to be ended early, Dale Jr. finished 3rd with Kasey Kahne winning the race. After 17 races in the 2006 season, Dale Earnhardt, Jr. sat 3rd in the championship standings with one win, coming at Richmond in May 2006.
During the race at New Hampshire, Junior experienced the second engine failure of his 2006 season, ultimately leading to a 43rd place finish. Following New Hampshire was the race at Pocono, where Junior was running in the middle of the pack when he crashed in turn 2. These two events catapulted him to 11th in the points standing, out of the Chase for the Cup. At Indianapolis Motor Speedway, Junior and his crew made a critical decision to stay out on the final pit stop to get a much needed top-ten finish to move him up to tenth in the points.
Dale Earnhardt, Jr. made the 2006 Chase for the NEXTEL Cup after finishing 17th in the Chevy Rock and Roll 400 at Richmond International Raceway on September 9, 2006. His points position going into the Chase was 6th. Earnhardt, Jr. finished the season 5th in the point standings, 147 points behind leader Jimmie Johnson.
in 2007 Earnhardt, Jr. began the 2007 NEXTEL Cup season by finishing 32nd at the Daytona 500. His first top ten came at Bristol Motor Speedway in the Food City 500 when he finished 7th. His first Top 5 came at Martinsville Speedway in the Goody's Cool Orange 500. He led 136 laps and finished 5th. Jr. collected his third top 10 of the season and his 8th at Talladega Superspeedway with his 7th place performance in the 2007 Aaron's 499. On May 14 Earnhardt, Jr. was docked 100 driver championship points, car owner Teresa Earnhardt was docked 100 owner points, and his crew chief Tony Eury Jr. was fined $100,000 and suspended for 6 races due to the use of illegal mounting brackets used to attach the wing to his car. During the April race at Texas Motor Speedway he drove the last 10 laps in the #5 car of Kyle Busch owned by Rick Hendrick. Although it was gracious of Earnhardt to do so, the circumstances of the situation (Busch stormed out of the car past his crew, believing his car to be damaged beyond repair), and that both Busch's and Earnhardt's contracts expiring at the end of the season, the experience was life changing.
On May 27, 2007, Dale Jr. rode a camouflage #8 car in the
Coca-Cola 600
on Memorial Day to raise money for the families of military troops.
Jeff Gordon
,
Jimmie Johnson
,
Greg Biffle
,
Mark Martin
,
Ward Burton
,
Denny Hamlin
,
Casey Mears
,
Shane Huffman
and
Jon Wood
also changed their paint schemes for the occasion.
[4]
Earnhardt, Jr. finished eighth, after leading with seven laps to go, but
Casey Mears
finished with the win.
[5]
On August 5, 2007, Dale Jr. earned his first pole position in a race since 2002 at Pocono Raceway. Although Kurt Busch won the race, Earnhardt had a dramatic comeback to finish second after spinning out and experiencing shock troubles. Earnhardt led for eight laps before Busch took over.[6] On August 12 at Watkins Glen International, Dale Jr. was making the push into the Top 12 of the Nextel Cup standings from his #13 position. After being at the #2 position during the race, Jr. had engine problems on lap 64 and had to end his race day. After the Glen, Junior tried furiously to reach the 12th spot in standings. However, a resurgence by Kurt Busch and a blown engine during the final race at Richmond ended his Chase hopes.That was Dale's last chance to participate for the Championship at Dale Earnhardt Inc.(DEI). After the 2007 season, Earnhardt Jr. won the NMPA Chex Most Popular Driver award for the 5th consecutive time.
Move to Hendrick Motorsports
Edit
After much speculation, Dale Earnhardt, Jr. announced on May 10, 2007, that he would leave Dale Earnhardt Inc., the company founded by his father, to drive for another team in 2008. Earnhardt expressed that his decision was based entirely on his desires to achieve his career goal of a Sprint Cup Championship, and his apparent belief that he would not be able to attain that objective while driving for DEI. He said that unless he could gain majority ownership, and therefore control, of DEI, that he was not confident in the organization's ability to field the elite level equipment that would yield the elusive title.[7]
On June 13, 2007, he announced at a press conference that he had signed a five-year contract with Hendrick Motorsports, replacing Kyle Busch. He has joined Hendrick which at the time consisted of Jeff Gordon, Jimmie Johnson and Casey Mears (Mears would be replaced in 2009 by Mark Martin).
On July 13, 2007, it was announced that his long-time primary sponsor Budweiser would not be with Earnhardt Jr. when he made the move to Hendrick. Other contractual agreements in place at Hendrick Motorsports are said to have prevented a relationship with Bud.[8]
On August 15, 2007 it was announced that Dale Earnhardt Jr. would not be taking his familiar #8 with him to Hendrick Motorsports in 2008. His late grandfather, Ralph Earnhardt, used that number and Earnhardt Jr. picked it when he entered the Cup Series in 1999. Earnhardt's father also used #8 early in his career. Earnhardt Jr. blamed his stepmother for not allowing the #8 to move with him to Hendrick Motorsports. Earnhardt Jr. said negotiations broke down when Teresa Earnhardt asked for part of the licensing revenue, along with wanting the number back after he retired.[9] (The #8 team, after a successful season in 2008 with co-drivers Mark Martin and Aric Almirola, would end up being shut down in 2009 after DEI's merger with Ganassi Racing.)
Earnhardt Jr. moved to the #88 car with Tony Eury, Jr. coming to Hendrick to remain as his crew chief.[10] On September 19, the official announcement was made that Earnhardt Jr. would be driving the #88 Mountain Dew AMP/National Guard Chevy for the 2008 season.
The #88, according to NASCAR archives, was driven by Ralph Earnhardt, his paternal grandfather, in 1957. His maternal grandfather, Robert Gee, was one of the first employees of All Star Racing, initially a Late Model Sportsman (now Nationwide Series) team with Gee as Hendrick's partner, which is now Hendrick Motorsports. Hendrick said about Earnhardt and his uncles, "I can look at Robert Gee Jr., or Jimmy Gee, or Dale Jr., and all I see is Robert Gee. They're the spitting image of him. I go back and look and pictures from when we did things together, and I have to say, I owe Robert a lot."[11]
Starting in the 2008 season, Hendrick Motorsports merged its Nationwide Series team to Dale's JR Motorsports, with the cars coming from Dale's shop, which employs his mother and uncles.
Earnhardt started the season by winning the 2008 Budweiser Shootout,[12] a non-points paying exhibition. It was his first race for Hendrick. He led for a total of 47 of 70 laps, a Budweiser Shootout record. He followed that up five days later with a win in the Gatorade Duel. This was his third career win in the duels, however he was unable to follow it up with victory in the Daytona 500, finishing 9th. Ryan Newman was the winner of the event.
Dale Earnhardt Jr was docked 50 points because his rear spoiler didn't meet the specified height in the Nationwide Series. His crew chief Chad Walter was fined $35,000, suspended for 6 races and was placed on probation until December 31, 2008. Team owner Rick Hendrick was also docked 50 owner points along with Jr.[13]
Dale Jr. started 15th for the Auto Club 500 because qualifying was rained out and the lineup was determined by owner points from last season. However on lap 21, teammate Casey Mears went up into the wall due to water on the track. When he came back down the track he took out Jr. When the cameras caught up with Earnhardt in the garage, he was irritated about the fact that they were even out on the track in those conditions. It had been raining all weekend and water was "weeping" out of the cracks on the track causing slick spots in the corners. The race was later rain delayed until Monday and Earnhardt finished the race 40th.
A string of four top-5 and top-10 finishes over the following weeks improved his position in the points standings from 23rd to fourth.
Despite winning the pole for the Samsung 500 at Texas, Junior finished the race a lap down in 12th position.
Earnhardt Jr. made his 300th career Sprint Cup start at the Aaron's 499 at Talladega Superspeedway. Despite running a strong race (including leading 12 times), his involvement in a late-race collision left him with a 10th place finish in the race.
A string of three top-5 finishes in the next four races continued Earnhardt Jr.'s consistency, and maintained his 3rd place position in the points standings.
At Michigan, Dale Jr. broke his 76-race winless streak, managing to stretch his fuel mileage enough to allow him to win under a caution on the last lap of a green-white-checkered (overtime) finish.
Dale Jr couldn't find much success after the Michigan win. He then went back to Talladega Superspeedway for the AMP Energy 500 where he was en route a possible win before being caught up in "The Big One" late in the race. He headed to Martinsville Speedway where he finished second to teammate Jimmie Johnson.
He ended the season in the garage area at Homestead Miami Speedway in The Ford 400 after losing his brakes with just a few laps to go in the race.
In the season-opening Daytona 500, Earnhardt, Jr. began well and even led a lap. However multiple miscues including a missed pit stop and a 1-lap penalty for pitting outside of his pit box, put him back in the pack. Earnhardt, Jr. was then directly involved in a controversial crash on lap 124, when, while fighting to get a lap back, he turned into Brian Vickers, starting a 10 car crash which collected Kyle Busch, along with Denny Hamlin, Scott Speed, Jimmie Johnson, Kurt Busch, Robby Gordon, Jamie McMurray, and Carl Edwards. Both Busch and Vickers later criticized Earnhardt, Jr.. Earnhardt, Jr. denied clipping Vickers on purpose and criticized Vickers for blocking him on the inside. When the race concluded early due to the rain, Earnhardt, Jr. ended with a 27th place finish. After a blown engine at California and falling to 35th in the owners points, he finished 10th at Las Vegas and reached 29th place in points. Earnhardt Jr. finished 8th at Martinsville. Unfortunately, Earnhardt Jr. had a string of poor finishes including 20th at Texas, and 31st at Phoenix after being spun out by Casey Mears. Earnhardt Jr. gained confidence in his team after he finished second at Talladega. However, two weeks later at Richmond, Earnhardt Jr. finished 27th. He was again spun out late in the race at Darlington and ended the race in 27th place. He then finished 10th in the All-Star race at Lowe's Motor Speedway. Dale's poor performance continued as he finished in 40th place in the Coca-Cola 600.
On Thursday, May 28, 2009, Tony Eury Jr. was removed as crew chief of the #88 car. Lance McGrew was named interim crew chief, and was scheduled to take over starting with the June 7, 2009 Pocono Race with team manager Brian Whitesell calling the shots at Dover the previous week.[14] Mcgrew was scheduled to work with Brad Keselowski at Dover, but after a failed qualifying attempt by Keselowski, was able to take on his duties for the #88 team a week early. Dale Jr. managed to finish 12th at Dover for the Autism Speaks 400 with his new crew chief after contending for the lead. At Pocono Raceway, however, he again ended with a 27th-place finish missing the setup. Since the crew chief change he has ran ok not cracking the top 10 as of Chicagoland Speedway; during that time he had one DNF at Daytona International Speedway where he was taken out in a big pileup.
Retirement
Edit
On April 25, 2017, Earnhardt announced he would retire after the 2017 season. Earnhardt stated that he had made the decision on March 29, stating "I wanted honor my commitment to Rick, to my sponsors, to my team, and to my fans". [2]
Business interests
Edit
Earnhardt, Jr. owns Hammerhead Entertainment, a media production company that created and produces the TV show Back In the Day, which airs on SPEED. Hammerhead also produces "Shifting Gears", a new show on ESPN2. He is partners with a group of investors who are building Alabama Motorsports Park, A Dale Earnhardt Jr Speedway.[15] The track is located near Mobile, Alabama and will feature stock car racing, KART racing and a road course. This will join with his partial ownership of Paducah International Raceway. Earnhardt has also opened a bar named Whisky River in downtown Charlotte, NC in April 2008.[16] Earnhardt also has a candy bar out with Palmer called Big Mo', available in peanut butter or caramel flavors. Recently Earnhardt made his own recruiting division for the Navy named the Dale Jr. Division in honor of his Nationwide Series sponsor.
Media appearances
Edit
Earnhardt has made numerous appearances in television, radio, commercials, movies, and music videos.
Television
Edit
Dale Jr. currently hosts Back In The Day a show that takes a step back in time to races in the 60's and 70's with trivia and information. The show debuted on the SPEED Channel on February 6 2007. He has also appeared in an episode of the TV show Yes, Dear. He has also been on Cribs.
He hosts a show on XM Satellite Radio's XM Sports Nation called Dale Earnhardt, Jr.'s Unrestricted.
Advertisements
Edit
Earnhardt, Jr. has also appeared in advertisements for Adidas, Budweiser, KFC, SONY, NAPA, Domino's Pizza, Gillette, Enterprise Rent-A-Car, Drakkar Noir Cologne, Wrangler Jeans, Chevrolet, Army National Guard, Polaris Industries ATVs, Tylenol Rapid Release Gels, Champion Spark Plugs, US Navy, Go Daddy, Q Horsepower, AMP Energy Drink, and Nationwide Insurance.
He appeared in the 2006 film Talladega Nights: The Ballad of Ricky Bobby. In the movie, he walked up in a crowd and asked Ricky Bobby (Will Ferrell) for his autograph, but told him "don't tell any of the other drivers." He also appears in a deleted scene where he calls Ricky a "dirty liar" and asks him for money he owed him. The #8 car also appeared in Herbie: Fully Loaded in the final race where Herbie overtook him. The #8 car also appears in the Disney Pixar film Cars, It thanks King For all the years after the tiebreaker piston cup race between Lightning McQueen, Chick Hicks, And The King
Voice work
Edit
His voice is featured in the video game Scarface: The World is Yours.
Dale Jr. has a voice in Disney/Pixar's movie Cars as a #8 car named "Junior" with the DEI logo on the hood.
Music video appearances
Edit
Dale Earnhardt Jr. has made appearances in several music videos, including:
"Show Me What You Got" with Jay-Z along with Danica Patrick.
Matthew Good Band's video for Anti-Pop, as he is friends with band front man, Matthew Good.
Sheryl Crow's "Steve McQueen" music video
Trace Adkins video entitled "Rough and Ready"
Three Doors Down's "The Road I'm On" along with Tony Stewart.
O.A.R.'s "Right on Time"
Nickelback's "Rockstar" along with other celebrities.
"Warrior" by Kid Rock
Dale Jr. appeared on the cover of EA Sports' NASCAR Thunder 2003. Dale Jr. is helping design Alabama Motorsports Park with his brother Kerry Earnhardt, and sister Kelly Earnhardt Elledge. He also won the Chex Most Popular Driver Award for the seventh straight year in 2009. He also appeared in the EA Sports video game, NASCAR Rumble in the #8 Dale Earnhardt Inc./Dale Jr. Chevrolet as a guest driver, while his father of course, appeared in his #3 GM Goodwrench Chevrolet as a full-time driver.
References
Edit
External links
Edit
|