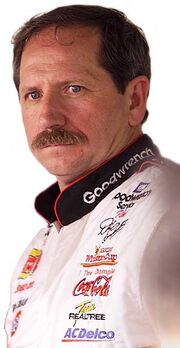 Dale Earnhardt
(April 29, 1951 – February 18, 2001) was an American professional stock car racing driver and team owner. He was born in Kannapolis, North Carolina, to
Ralph Lee Earnhardt
and Martha Coleman.
Two of his four children are also NASCAR drivers: his son Dale Earnhardt, Jr. is a successful driver on the Sprint Cup circuit, and is a former Xfinity Series champion. His other son, Kerry Earnhardt is a journeyman driver who has competed in all three national NASCAR series. His widow, Teresa Earnhardt is a successful race car owner.
Earnhardt is best known for his success as a driver in the Winston Cup Series, in which he won seven championships, tied for most all-time with Richard Petty. His highly aggressive driving style made him a fan favorite and earned him the nickname "The Intimidator."
Earnhardt died in a crash on the final lap of the 2001 Daytona 500. Since his death, NASCAR has mandated the use of the HANS device, installed SAFER barriers at all oval tracks, and announced the Car of Tomorrow, among other new safety devices and concepts.
Early life
Dale Earnhardt was the son of race car driver Ralph Earnhardt, who participated in the formative years of the NASCAR circuit's Grand National Division (the precursor to today's NEXTEL Cup Series). Although the elder Earnhardt was a successful racer, he kept his day job at a cotton mill in Kannapolis, North Carolina. Dale quit school at the age of 16 to pursue racing fulltime. He also married his first wife at a very young age: she gave birth to his eldest child, his son Kerry.
Ralph Earnhardt died of a heart attack at his home in 1973. His father's death affected Dale deeply and it would take many years before his success in racing would make him feel as though he had "proven" himself to his father's memory.
NASCAR career
Dale Earnhardt began his Winston Cup career in 1975, making his very first start at the Charlotte Motor Speedway in the longest race on the Cup circuit, the World 600. Earnhardt drove an Ed Negre car and finished 22nd in the race. Earnhardt would compete in 8 more races until, at the age of 28, got his first full time ride with Rod Osterlund Racing.
1970s
1979 Rookie of the Year Earnhardt started the 1979 season with car owner Rod Osterlund, who had fielded a full time team for Dave Marcis with 1 win and several top 10 point finishes. They ran well at Daytona and Earnhardt notched his very first win on April 1st, 1979. at the Bristol Motor Speedway dueling NASCAR legends Darrell Waltrip and Bobby Allison. Earnhardt ran well the rest of the year, despite missing 4 races due to a broken collarbone suffered at Pocono. He finished the year with 1 win, 11 Top 5's, 17 Top 10's, 4 poles, and a 7th place points finish.
The 1979 Rookie of the Year class was one of the strongest in NASCAR history. It included three legends: Earnhardt, Harry Gant, and Terry Labonte; all three whom later were named to NASCAR's 50 Greatest Drivers list. The battle for the Rookie Award went down to the last race.
1980s
1980 Championship The dawning of a new decade in Winston Cup racing saw Earnhardt win the Budweiser Shootout, a non-points race for all of the years previous pole winners. Earnhardt would get his first points racing win of the year at the Atlanta Motor Speedway, and would go on to win at Bristol, Nashville, Martinsville, and Charlotte, with young Doug Richert as crew chief. Earnhardt went on to win his first championship, becoming the first and only driver to win the title the year after winning rookie of the year.
1981 Osterlund sold his team to J.D. Stacy in mid-1981. Earnhardt competed in four races with Stacy before he decided to finish off the season with Richard Childress. Earnhardt went winless in 1981 and finished 7th in the point standings.
Childress convinced Dale that he didn't have enough resources for the defending champion, so Earnhart joined legendary car owner Bud Moore for the 1982 season. Earnhardt got back to victory lane at Darlington Raceway and ended a 39 race losing streak. However, that would be the only win of the year as engine failures in his Ford Thunderbird would plague their season as the team scored 15 DNF's (Did Not Finish). Earnhardt would finish twelfth in the point standings, the lowest finishing position in his career (he would finish twelfth again in 1992). In 1983 Earnhardt won the first of his thirteen Twin 125 qualifiers for the Daytona 500 in his career. While he didn't win the Daytona 500, he did notch wins at Nashville and Talladega. He finished eighth in the point standings, but unreliable engines convinced Dale that Richard Childress' Chevrolets could not be worse than driving Moore's Fords.
In 1984 Earnhardt returned to Richard Childress Racing. Childress had built up his team through help from Junior Johnson. Earnhardt would finish the season with two wins, one each at Talladega and Atlanta. Earnhardt led at the halfway mark in the season before ending up fourth in final season points standings. In 1985, Earnhardt won four races, all at short tracks, including one at Richmond, two at Bristol, and one at Martinsville.
Earnhardt started 1986 season by winning the Budweiser Shootout and a Twin 125 qualifier. Earnhardt beat Darrell Waltrip for the title for Earnhardt's second in his career title. Childress received his first owner's championship. Earnhardt won five races, including wins at North Wilkesboro, Atlanta, Darlington, and two wins at Charlotte.
Earnhardt won eleven races during the 1987 season: Rockingham, Richmond, Darlington, North Wilkesboro, Bristol, Martinsville, Charlotte, Michigan, Pocono, Bristol, Darlington, and Richmond. The team set a modern era record of 4 consecutive wins and won 5 of the first 7 races. It might have been 6 of 7 had the team not ran out of gas while leading with three laps to go at the Daytona 500. Earnhardt also earned his nickname "The Intimidator" during the The Winston at Charlotte by intimidating Bill Elliott in the final segment before scoring his first of three career wins in the event. The final 10-lap segment featured Earnhardt's famous "pass in the grass". Earnhardt grabbed the points lead with his early success, and stretched the lead at one point to greater than 600 points over Bill Elliott before beating "Million Dollar Bill" by 288 points. Long-term sponsor Wrangler left Earnhardt's team after the season.
Earnhardt began the 1988 season with new primary sponsor GM Goodwrench. GM Goodwrench insisted on a black paint scheme which would become Earnhardt's signature, so much so that it inspired a nickname, "The Man In Black." Earnhardt scored three wins at Martinsville, Darlington, and Bristol. He finished third in the final points standings behind Bill Elliott and Rusty Wallace.
In 1989 Earnhardt scored five wins: two at Dover, with one each at North Wilkesboro, Darlington, and Atlanta. Earnhardt was racing against Ricky Rudd for the win at North Wilkesboro with a handful of laps to go. Earnhardt went for the win. The drivers collided and both of them spun, giving the win to Geoff Bodine. Earnhardt finished twelfth instead of second, which eventually was his downfall (he finished second to Rusty Wallace by 12 points).
1990s
1990 Earnhardt couldn't wait to get back behind the wheel of the #3 GM Goodwrench Chevrolet Lumina in 1990. He had something to prove after letting the 1989 Winston Cup title slip out of his grasp. The season started with another disappointing result in the Daytona 500. Speed Week started auspiciously with victories in the Budweiser Shootout and his heat of the Gatorade Twin 125's. Near the end of the 500, he had a 4 second lead when the final caution flag came out with a handful of laps to go. When the green flag came out, Earnhardt was leading journeyman driver Derrike Cope. On the last lap, Earnhardt ran over a piece of debris coming out of Turn 3, cutting a tire down. Cope, in a stunning upset, won the race (the first of only two Cup wins in Cope's career) while Earnhardt held on to finish 5th.
The #3 Goodwrench Chevy team team took the tire that cost them the win and mounted it on the wall of their shop to motivate themselves for the rest of the season. Apparently, this motivational strategy worked, because Earnhardt won nine races this season. He also won his 4th Winston Cup title, beating out Mark Martin by just 26 points.
1991 Earnhardt won his 5th Winston Cup championship. He would score just 4 wins, but he took the title by 195 points over Ricky Rudd. One of the biggest highlights of the season for Earnhardt was scoring the win at North Wilkesboro, stealing the thunder of Harry Gant, who had tied Earnhardt's mark of 4 consecutive wins and was going for a 5th but lost the brakes late in the run, giving Earnhardt the chance he needed to take the win and end Gant's streak.

1992 After back-to-back titles for the 2nd time in his career, Dale Earnhardt was determined to take advantage of the opportunity to make it 3 in a row, but again, it wasn't to be. Ford's new engine and body package for their Thunderbird dominated, winning 13 consecutive races from the end of the 1991 season into the first nine races of 1992. Unfortunately for Earnhardt, he happened to be driving a Chevy. Earnhardt's lone win of the season came at Charlotte Motor Speedway in the prestigious Coca-Cola 600, ending the 13-race win streak for the Ford teams. Earnhardt would finish a career-low 12th in the points for the 2nd time in his career, and the only time he had been that low since coming to RCR. Longtime crew chief Kirk Shelmerdine left at the end of the year to become a driver. Andy Petree took over as crew chief.
1993 Hiring Petree turned out to be a good move, as the #3 GM Goodwrench Chevy was back up front in [[1993. Earnhardt once again came close to a win at the Daytona 500, dominating throughout speedweeks before finishing 2nd to Dale Jarrett on a last-lap pass. Earnhardt would score 6 wins en route to his 6th Winston Cup title, including wins in such prestigious races as the Coca-Cola 600, the Winston All-Star race and the Pepsi 400 at Daytona. Earnhardt defeated his friend and rival Rusty Wallace for the championship by just 80 points.
1994 Richard Petty had been the only driver in NASCAR history to win 7 championships in NASCAR's top division, a record no one thought would be broken. Earnhardt showed them they were wrong. Once again, Earnhardt was a model of consistency, scoring only 4 wins, but winning the title by over 400 points over Mark Martin. This proved to be the last season title of his career.
1995 Earnhardt started off the season by coming up one spot short in the Daytona 500, losing to Sterling Marlin. He would win 5 races in 1995, including his first career road course victory at Sears Point and the prestigious Brickyard 400 at Indianapolis Motor Speedway, a win he called the biggest of his career at the time. But in the end, he once again came up short of the historic 3-peat, losing the title to Jeff Gordon by just 34 points.
1996 When Earnhardt teamed up with Wrangler to sponsor him in the 80s, their slogan for him was that he was "One Tough Customer". In 1996, he showed us why. Earnhardt had his now-legendary Daytona luck, winning the pole for the Daytona 500 and dominating speedweeks again before finishing 2nd to Dale Jarrett for a 2nd time. Earnhardt won early in the year, scoring back to back victories at Rockingham Speedway and Atlanta Motor Speedway. Coming to Talladega Superspeedway, he was leading the points looking for his 8th title despite the departure of Andy Petree as crew chief. David Smith had taken the reigns of the crew chief role in 1996. A horrific accident at the track appeared to have ended his season early, let alone his title hopes. But in true Earnhardt fashion, Dale refused to sit out and raced every weekend. He had to let Mike Skinner (NASCAR) take the wheel the first week after the accident at Indianapolis, but Earnhardt didn't like the taste of that and the following weekend at Watkins Glen he won the pole and refused to get out of the car, dominating most of the race before fatigue from his injuries caused him to slow down in which he wound up 6th. Earnhardt would not win again in 1996, but he still finished 4th in the standings behind Terry Labonte, Jeff Gordon and Dale Jarrett. David Smith would leave as crew chief of the #3 team at the end of the year to become team manager of the new #31 Lowe's Home Improvement Warehouse RCR entry of Mike Skinner (NASCAR) as a teammate to Earnhardt and Larry McReynolds would replace him.
1997 The black #3 was shut out of victory lane for only the 2nd time in Earnhardt's career. The lone win of the season came during speedweeks at Daytona in the Twin 125-mile qualifying race, his record 8th straight win in the event. Once again in the hunt for the Daytona 500 with 10 laps to go, Earnhardt was taken out of the Daytona 500 by a late crash which sent his car flipping down the backstretch. Earnhardt would hit the low point of the year when he would black out early in the Mountain Dew Southern 500 in Darlington, causing him to hit the wall and scaring onlookers and fans. He would go to the hospital and be cleared to race, but had no idea what caused the blackout. Despite no wins (all of Chevrolet's wins were by Hendrick Motorsports -- Ford won all other races in 1997, except for the last race, won by a Joe Gibbs Racing Pontiac), the RCR team finished the season 5th in the final standings, with no DNF's.
1998 After 20 years of disappointment in the Daytona 500 Earnhardt finally held on and won the race. He started Speedweeks by winning his Twin 125-mile qualifier race, then fielded questions from the media about his inability to win the race thus far. On race day, Dale showed himself to be one of the contenders early, leading for long periods of time. But halfway through, it seemed that Jeff Gordon had the upper hand. But by lap 138, Earnhardt had taken the lead, and thanks to a push by teammate Mike Skinner on lap 170 on the restart, he would not lose it. Earnhardt beat Bobby Labonte to the line to take the checkered flag in the race. Afterwards, there was a large show of respect for Earnhardt, in which every crew member of every team lined pit road to slap his hand as he made his way to Victory Lane. Earnhardt then spoke about the victory, saying "I have had a lot of great fans and people behind me all through the years and I just can't thank them enough. The Daytona 500 is over. And we won it! We won it!" Unfortunately, the rest of the season would not go as well for Earnhardt. He slipped to 12th in the standings by the season's halfway mark, and Richard Childress decided to make a crew chief swap, taking Mike Skinner (NASCAR)'s crew chief Kevin Hamlin and putting him with Earnhardt while giving Skinner's team Larry McReynolds. The results seemed to improve, as Earnhardt climbed back to 8th in the final standings.
1999 was the year that served notice that The Intimidator had not gone into that good night. Everyone had started talking about Earnhardt's age and thinking that with his son Dale Jr. getting into racing that Earnhardt might start thinking retirement. Dale set out to prove them wrong, and did so with ease, scoring the sweep at Talladega Superspeedway. But this season was highlighted by a much more controversial moment. At the August Bristol Night race, Earnhardt found himself in contention to win his first short track race since his win at Martinsville Speedway in 1995. Earnhardt had not won a non-restrictor-plate race since 1996, and people doubted his ability to win on the short tracks, thinking he had mellowed and wasn't going to beat and bang anymore. When a caution came out with 15 laps to go, leader Terry Labonte got hit from behind by the lapped car of Darrell Waltrip. His spin put Earnhardt in the lead with 5 cars between he and Labonte with 5 laps to go. Labonte had fresher tires and Earnhardt did not. Labonte caught Earnhardt coming to the white flag and hit him 3 times to move him out of the way. Earnhardt returned the favor, but unlike Earnhardt, Labonte could not hold on. He spun, and Dale collected the win and the boos from the multitudes at the track. Earnhardt would finish 7th in the standings that year, but more importantly looked like a contender again.
2000s
Everyone was expecting 2000 to be the Year of Earnhardt, but for the junior Earnhardt instead of Dale Sr. Dale's son had moved up to the Winston Cup Series under Dale Earnhardt, Inc. and was competing for Rookie of the Year, and most expected the younger Earnhardt to outrun his father. Once again, Earnhardt proved his [[detractors wrong, as he scored the 2 most exciting wins of the year, winning by a foot at Atlanta Motor Speedway over Bobby Labonte, then winning at Talladega Superspeedway after coming back from being 18th with only 5 laps to go to score his first No Bull 5 million dollar bonus. On the strength of these performances, Earnhardt took the No. 3 GM Goodwrench Chevrolet Monte Carlo to 2nd in the standings, proving to everyone that he was by no means done racing yet. He also won the battle of the Earnhardts, as Dale Jr. scored 2 wins also, but finished only 16th in the standings.
With the season he had last year, people knew he could still get the job done. When the Daytona 500 rolled around, it seemed different. Every Speedweeks for over a decade, Dale had won at least one race before the Daytona 500. This year, Earnhardt appeared to have the qualifying race in hand but was passed by Sterling Marlin on the last lap. He finished 2nd to budding star Tony Stewart in the Bud Shootout. When the Daytona 500 started, Earnhardt appeared to have a good car, but not a dominant one. A big crash inside 25 laps to go eliminated a great deal of competition, though, and it appeared that either Earnhardt, his son or DEI's newest hire, Michael Waltrip, would win the race. Earnhardt appeared content to ride behind the two, seemingly running interference for them. When they came to the final lap, Sterling Marlin got a run under Earnhardt and tapped him in the left quarterpanel, sending him into Ken Schrader, which in turn sent him into the wall headfirst. As his friend Michael and his son Dale Jr. went on to finish 1-2 in the Daytona 500, Dale's life came to an abrupt end. The rest of the season seemed to be a tribute to the greatest to drive a stock car, with his replacement, Kevin Harvick, driving a white #29 GM Goodwrench Chevy, scoring 2 wins and a 9th-place effort in the standings en route to rookie of the year. Steve Park, another DEI teammember, won at Rockingham Speedway and appeared to have a top 10 finish in the standings secured before a serious head injury ended his season early. Dale Jr. scored 3 wins, including emotional wins at Daytona International Speedway and Talladega SuperspeedwayTalladega, en route to an 8th-place finish in the standings. Michael Waltrip would push his teammate and friend Dale Jr. to his win in the first race back at Daytona in July of 2001 for a DEI 1-2 finish at the track, creating a storybook ending to a difficult year.
Dale drove the #3 car for most of his career, spanning the early 1980s until his unfortunate passing in 2001. As of 2012, only Austin Dillon has used this number.
Death at the 2001 Daytona 500
Dale Earnhardt died on February 18, 2001, on the last lap of the Daytona 500. Earnhardt had a "strong" car that day: he led 17 laps and stayed at the front of the pack throughout the race. However, in the closing laps of the race, two DEI drivers, his son, Dale Earnhardt Jr., as well as Michael Waltrip were battling for the win with Earnhardt in third place. Going into the last turn of the last lap, Earnhardt's car was nudged by Sterling Marlin. Earnhardt's car took off up the track and struck the wall. It was also hit by Ken Schrader. The three cars ended up on the infield grass. Schrader and Marlin climbed out of their cars. Earnhardt Sr. did not and died on the way to the hospital with massive head injuries. The crash occurred at the same place where his friend Neil Bonnett was killed.
Earnhardt is survived by his third wife, Teresa Earnhardt, and four children: Son Kerry (from his first marriage to Latane Brown), Kelley, Dale Jr. (both from his second marriage to Brenda Gee), and daughter Taylor (from his third marriage). Kerry and Dale Jr. are both NASCAR drivers, and Kelley is now married to L.W. Miller a NASCAR Southern Modified Driver by whom she has a son Wyatt. She was previously married to Jimmy Elledge, a crew chief at Chip Ganassi Racing by whom she has 2 daughters Karsyn who races in the mini outlaw and Kennedy who also races. Dale's youngest daughter Taylor married her boyfriend Brandon Putnam in 2012 and now competes in the horse barrel race. Dale's grandson Jeffrey Earnhardt (Kerry's son) competes in the NASCAR Nationwide Series driving the #4 car for JD Motorsports.
Earnhardt's #3 car was renumbered the #29 car, with the same sponsor (GM Goodwrench) but a reversed color scheme (i.e, white with black and red trim.) The #3 has been unofficially retired by NASCAR. Kevin Harvick took Earnhardt's place behind the wheel of the Goodwrench Chevy. Three weeks after Earnhardt's death, Harvick scored his first career Cup win at Atlanta. The Fox Broadcasting Company television commentators' call of the final lap of the 2001 Golden Corral 500, Harvick beating Jeff Gordon by .006 seconds, and the images of Earnhardt's longtime fueler, Chocolate Meyers|Danny "Chocolate" Myers, crying after the victory, are considered memorable moments in recent United States| motorsports history.
Dale Earnhardt Jr. scored an emotional victory in the next Cup race at Daytona: the Pepsi 400 on July 7, 2001. He later went on to win the 2004 Daytona 500.
#3 Car
Earnhardt drove the #3 car for most of his career, spanning the early 1980s until his death in 2001. Although he had other sponsors during his career, his #3 is associated in fan's minds with his last sponsor, GM Goodwrench, and his last color scheme—a predominately black car with bold red and white trim. The black and red #3 continues to be one of the most famous logos in racing.
As of the 2006 season, no other Nextel Cup race car has used this number. NASCAR does not officially retire numbers, but the number has not been reused. The #3 (as well as the #03) has also been taken out of use in the Busch Series (where Dale Earnhardt Jr. wore it on the side of his car during two championship seasons) and the Craftsman Truck Series.
A common conception is that Richard Childress Racing "owns the rights" to the #3 but in fact no team owns the rights to this or any other number: NASCAR decides who uses which number. However, according to established NASCAR procedures, RCR would have priority over other teams if and when the time came to reuse the number. RCR and the Earnhardt estate do own the rights to various black and red #3 logos used during Earnhardt's lifetime: however these rights would not prevent a future racing team from using a different #3 design. (Also, a new #3 team would in any case need to create logos which fit in with their sponsor's logos.) In 2004, ESPN released a made-for-TV movie entitled "3: the Dale Earnhardt Story" which used a new (but similarly colored) #3 logo. Even though the movie was a sympathetic portrayal of Earnhardt's life, the producers did get sued for using the #3 logo. (The lawsuit has not gone to trial as of mid-2006.)
There is speculation (and perhaps more of the elder Earnhardt's fans hopes) that Dale Earnhardt Jr. will use his father's number 3 towards the end of his career, and possibly even using the familiar Black paint scheme. A black-and-silver paint scheme was used by Earnhardt Jr at the 2006 [Aaron's 499 at Talladega to celebrate the Earnhardt Sr's International Motorsports Hall of Fame Induction. Marketing efforts have been aided over the years by the fact that Earnhardt Jr.'s primary sponsor, Budweiser beer, happens to use the same color scheme (red, black, and white) used by his father's sponsor, GM Goodwrench.
Austin Dillon, Richard Childress's grandson, currently races the #3 car in the NASCAR Nationwide Series and his brother, Ty Dillon, races the #3 truck in the NASCAR Camping World Truck Series. Austin and Richard asked Dale Earnhardt, Jr. if he would not mind if one of the brothers ever raced the car in the NASCAR Sprint Cup Series during their career. He also hinted that he may want to race it during his own career.
Teams
Controversy over cause of death
At a news conference five days after the fatal crash, NASCAR officials announced that a seat belt had broken in Earnhardt's car. Daytona International Speedway physician Dr. Steve Bohannon said he thought the faulty belt had allowed Earnhardt's chin to strike the steering wheel, causing a basilar skull fracture, killing him. The manufacturers of seat belts for NASCAR, Simpson Race Products of Charlotte, North Carolina, maintained that the belt had failed because it had been installed in an unapproved fashion in order to increase Earnhardt's comfort, an allegation that had been supported by some who were familiar with the situation.
Certainly, being held responsible for the death of one of NASCAR's most popular and successful drivers was not a desirable prospect for Simpson. On the other hand, NASCAR also did not wish to be seen as negligent in not requiring adequate head and neck restraint for drivers in the wake of five fatal accidents in the past 11 months, including popular drivers Kenny Irwin, Jr., Tony Roper, and Adam Petty, grandson of legendary NASCAR driver Richard Petty. NASCAR soon made it a requirement to wear full faced helmets (although Earnhardt had been one of the very few to still use an open face helmet).
The Orlando Sentinel, particularly Sentinel sportswriter Ed Hinton, attempted to acquire Earnhardt's autopsy records and photos for study, autopsy records being normally public documents in Florida, but Earnhardt's widow, Teresa, (along with public opinion) petitioned a judge to seal the records. After a short court battle, it was mutually agreed to appoint Dr. Barry Myers, a Duke University expert on crash injuries, to independently study Earnhardt's death. On April 10, 2001, Myers published his report rejecting NASCAR's explanation, finding that Earnhardt's death was in fact the result of his inadequately restrained head and neck snapping forward, independent of the broken seat belt (making the question of proper or improper installation irrelevant).
"If the outboard lap belt had remained intact throughout the crash, Mr. Earnhardt's head would still likely have experienced similar inertial forces and similar contact forces with the steering wheel. As such, the restraint failure does not appear to have played a role in Mr. Earnhardt's fatal injury." [1]
Dr. Philip Villanueva, a University of Miami neurosurgeon who had previously analyzed the crash for the Sentinel before the autopsy records were available, said he had reached the same conclusion, but had wanted to examine the autopsy photos to be certain. Dr. Steve Olvey, medical director of Championship Auto Racing Teams for 22 years, and Wayne State University crash expert John Melvin also agreed with Myers' report. Simpson's founder, Bill Simpson, called the report "The best news I've heard in seven weeks. I've been living in daily hell."
On the same day as Myers' report was made public, NASCAR announced its own investigation, after having remained silent for six weeks since the accident. However, when the greatly anticipated official NASCAR report[2], which had cost over a million dollars, was published on August 21, 2001, it cited collision with another car, the speed and angle of impact, and separation of the seat belt as factors in the fatality. After NASCAR's report, Simpson retired, citing the stress as "too much." The Simpson company attorneys asked NASCAR to unequivocally assert:
The belts were of high quality in workmanship and there were no design or manufacturing defects.
The belts met the NASCAR rule book requirements.
The belts, as installed, did not conform to manufacturer installation requirements.
The separation of the left lap belt was not a result of design or manufacturing defect, but caused by improper installation.
The belt separation was not the cause of Earnhardt's death.
NASCAR, however, did not respond.
NASCAR declined at the time to require drivers to wear the uncomfortable head and neck restraints. NASCAR president Mike Helton said that "We are still not going to react for the sake of reacting." However, it did state that it "encouraged their use." Drivers were indeed encouraged, with 41 out of 43 drivers wearing them at the Pepsi 400 by Meijer at Michigan International Speedway on August 19, 2001, just two days before NASCAR's report came out.
Autopsy Photographs Controversy
Dale Earnhardt's death changed Florida's laws as to who and how public record medical examiner files, to include autopsy photographs would be released to members of the public.
On or about February 19, 2001, the Volusia Country Medical Examiner (hereinafter the "Medical Examiner") performed an autopsy on Dale Earnhardt's body.
During a press conference, Amy Rippel of the Orlando Sentinel made a public records request to inspect the public record autopsy records of Dale Earnhardt.
The unusual act of notifying NASCAR and Teresa Earnhardt was made prior to releasing the records sought by members of the public and media.
Shortly thereafter, on February 22, 2001, Teresa Earnhardt, then filed a Complaint for Declaratory and Injunctive Relief (hereinafter the "Injuction") in the Circuit Court of the Seventh Judicial Circuit, in and for Volusia County, Florida (Case No. 2001-30373-CICI Div. 32) (hereinafter "Earnhardt v. Volusia").
The attorneys who filed the Injunction in Earnhardt v. Volusia included Laurence Bartlett, of Crotty & Bartlett, P.A., 1800 W. International Speedway Blvd., Daytona Beach, Florida 32114 (hereinafter "Crotty and Bartlett").
At the time, Crotty and Bartlett were the attorneys for the International Speedway Corporation (i.e., owners of NASCAR and the Daytona International Speedway).
Once the Complaint for Declaratory and Injunctive Relief was filed, the Medical Examiner was barred from releasing the public records pertaining to Dale Earnhardt, to include autopsy photographs, until a formal hearing on the merits of Teresa Earnhardt's Complaint for Declaratory and Injunctive Relief could be heard.
On February 28, March 13, and March 16, 2001, the Orlando Sentinel ("Sentinel"), Michael Uribe, Founder of WebsiteCity.com ("Uribe"), and Campus Communications, Inc., publisher of The Independent Florida Alligator ("CCI"), filed motions to intervene into the Earnhardt v. Volusia litigation in order to uphold their rights to inspect and copy public records held by the Volusia County Medical Examiner to include the photographs and videotape of Dale Earnhardt's autopsy examination. (See, copies of these pleadings filed by the Sentinel, Uribe and CCI at Sentinel Motion to Intervene, Uribe Motion to Intervene, and CCI Motion to Intervene respectively).
On June 12-13, 2001, a trial would then be conducted before the Honorable Judge Joseph Will. Judge Will eventually ruled against Uribe and CCI's original public records requests and constitutional arguments to inspect and copy the medical examiner files pertaining to Dale Earnhardt, to include autopsy photographs.
Judge Will's ruling set forth in motion an extensive legal battle later fought in the appellate courts by both Uribe and CCI seeking to deam the denial of their public record's request unconstitutional under Florida State and Federal laws.
Then on December 1, 2003, the United States Supreme Court denied to hear Uribe and CCI's appeal to their court (See original Petition for Writ of Certiorari. Thus, Florida Governor Jeb Bush's March 29, 2001 law preventing release of Dale Earnhardt's public record autopsy photographs would remain in effect.
Governor Jeb Bush's March 29, 2001 law, also known as the Earnhardt Family Protection Act, changed Florida's previously long standing and historically open public records laws from that day onward. The law deemed Florida's medical examination autopsy photographs, video and audio recordings exempt from public inspection without the expressed permission from applicable next of kin.
Legacy
Earnhardt was a very polarizing figure in NASCAR. He was both loved and hated in the sport, yet despite his numerous detractors, Earnhardt remained one of the sports most popular drivers. His death drew a considerable ammount of reaction from the nation, NASCAR, and his fans.
Earnhardt kept his personal life relatively private. He enjoyed the company of his family, being outdoors, hunting and fishing, and actively working on his farm in Kannapolis, In contrast with his image as a hardnosed competitor on the track, off the track he was known to his friends as someone who was charitable and generous, but usually kept that side of himself hidden from the rest of the world.
Earnhardt has a street in his hometown of Kannapolis named after him. Dale Earnhardt Boulevard (originally Earnhardt Road) is marked as Exit 60 off of Interstate 85, northeast of Charlotte. A road between Kannapolis and Mooresville, near the headquarters of DEI, has been given the designation State Road 3 by the North Carolina Department of Transportation. In addition, Exit 73 off of Interstate 35W, one of the entrances to Texas Motor Speedway, is named "Dale Earnhardt Way".
A 2005 novel, St. Dale by Sharyn McCrumb explores the world of NASCAR as it follows several racing fans on a tribute tour of tracks in memory of Dale Earnhardt.
On April 23, 2006 at the Aarons 499 Dale Earnhardt Jr. competed in a special black paint scheme to honor what would have been his fathers 55th birthday on April 29th. He would finish 30th, retiring early in the race due to engine problems.
Awards
Earnhardt was named one of NASCAR's 50 Greatest Drivers in 1998.
He was posthomously inducted into the Motorsports Hall of Fame of America in 2002 and the International Motorsports Hall of Fame in 2006.
Trivia
In 1997, Earnhardt appeared as a special guest with his close friends, the country duo Brooks and Dunn, in the video for Brooks and Dunn's hit song, Honky Tonk Truth.
Earnhardt appeared in a cameo role in the 1998 comedy spoof BASEketball as a taxi driver, who reveals himself only after Yasmine Bleeth's character asks the driver if he "can go any faster,"
In 2000, the Piedmont Boll Weevils minor league baseball team was renamed to the Kannapolis Intimidators after Earnhardt purchased a share in the team's ownership.
In 2004 Keith Bryant released the album "Riding with the Legend," with the title track being a tribute to Dale Earnhardt based on David Allan Coe's "The Ride (The Ghost of Hank Williams)"
External links