Curtis Turner (April 12 1924 - October 4, 1970) was an early NASCAR driver. In addition to his success in racing, he made a fortune, lost it, and remade it buying and selling timberlands. Throughout his life he developed a reputation for drinking and partying.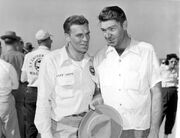 He began his racing career in 1946 when he finished 18th in a field of 18 contestants in a race at Mt. Airy, North Carolina. However, he rebounded and won his next race. During his career, he won 360 races several different racing series, including 22 in NASCAR's convertible division in 1956, and 17 wins in the NASCAR Grand National series (now Sprint Cup). From 1950 to 1954, he drove for Oldsmobile being billed as the Blond Blizzard of Virginia. He switched to driving Fords in 1954. He eventually acquired the nickname of Pops, allegedly because of the way he would "pop" other drivers on the track.
Accomplishments
Edit
He is noted for several other racing accomplishments:[1]
The only NASCAR driver to win two Grand National races in a row from the pole by leading every lap (Rochester NY and Charlotte NC in July 1950)
The only driver to win 25 major NASCAR races in one season driving the same car in each of them (in 1956 -- 22 were won as the #26 car in the convertible division, the other three, including the 1956 Southern 500, were with a top welded on.)
The only driver to win a major NASCAR race that was red-flagged because his car was the only one still running (at the Asheville-Weaverville NC track on September 30, 1956.)
The first driver to climb Pike's Peak in less than 15 minutes (in a 1962 Ralph Moody Ford -- the actual time was 14 minutes 37 seconds for the 14 mile course.)
The first winner of the American 500 at Rockingham NC (in a 1965 Woods Brothers Ford.)
The first driver to qualify for a NASCAR Grand National race at a speed greater than 180 miles per hour (1967 Daytona 500, driving #13, a 1967 Smokey Yunick Chevrolet.)
Turner conceptualized, secured financing for, and built Charlotte Motor Speedway in 1960 before being forced out by his business partners.
Labor Union
Edit
Being able to seeing the racing industry from the business end, he developed a feeling that drivers deserved a better deal for their roll in the sport. He attempted to organize a union for them in 1961. Unfortunately for him, NASCAR has never looked favorably on an organized union for the drivers, and Turner was banned for life. However, the ban was lifted in 1965, and he returned to racing.
He died in a plane crash neat Punxsutawney, Pennsylvania on October 4, 1970. The crash also killed golfer Clarence King.
External links
Edit