Carl Long is a NASCAR race car driver in the Monster Energy Cup Series. He drives the #66 Chevrolet SS for his own team MBM Motorsports on a part-time basis. He has driven for numerous independent teams in the Monster Energy Cup Series, Xfinity Series, and Camping World Truck Series, as well as ARCA. In the past, he served as a mechanic for Black Cat Racing and Travis Carter Motorsports.
Career leading to Cup Series
Edit
Long began racing in 1983 at Orange County and South Boston Speedway. He won the track championship at South Boston in 1987 and the Street Stock championship at Orange County in 1990. In 1992, he raced in NASCAR-sanctioned competition for the first time, earning Rookie of the Year honors at Orange County in the Winston Racing Series, and was awarded the Best Sportsmanship award the following season. After competing at various Winston Racing tracks in the 90's, he moved up to the Slim Jim All Pro Series in 1997, grabbing a win at Bristol Motor Speedway in the #15 Austin Foods Chevy. In 1998, he began running ARCA and Craftsman Truck races for Mansion Motorsports. Most recently, he won the championship race at Orange County Speedway on November 12, 2006.
NASCAR career
Edit
1999-2002
Edit
Long made his NASCAR debut in 1998 in the Craftsman Truck Series. at Bristol, starting 21st but finishing 31st after the engine in his #91 Mansion Motorsports Ford F-150 expired.
He began running the Cup races in 1999 with the #85 Mansion Motorsports team, but DNQ'd for every attempt throughout that year. He ran Bristol again the following year, in the Truck Series posting a career-best 9th place qualifying effort, as well as at Louisville Speedway, where he wrecked very early in the race. After more struggles in 2000, he finally qualified to make his Nextel Cup debut in one of its most prestigious races, the Coca-Cola 600. However, Darrell Waltrip, one of the top drivers in series history, who was retiring at the end of the 2000 season, failed to qualify. Long gave up his ride to Waltrip for the race. He made another truck race in 2000 at Texas, where he started 33rd but finished 17th in a truck fielded by Team 23 Racing. Long would eventually make his Cup debut at Dover, qualifying 42nd but finishing 41st after a crash on lap 12. He made one more start that year, at Rockingham Speedway, finishing 32nd. He ran three races in 2001, his best finish being a 29th at the UAW-GM Quality 500. He alsomade his Busch Series debut in 2001 in the Aaron's 312 at Atlanta. Driving the #49 for Jay Robinson Racing, Carl started 41st but came across handling problems during the race, relegating him to 42nd.
In 2002, Long ran for Rookie of the Year, but failed to earn the award mainly due to an incomplete season. Long attempted a group of the races, but failed to qualify for all except two. He started the season with Mansion Motorsports again, but when that team ran out of money, Long departed the team, originally to Glenn Racing, then to Ware Racing Enterprises, and then finally the #59 Foster Price team, with whom he finished 39th at Atlanta Motor Speedway. In addition, he had a sixteenth-place start at Dover for Mansion in the Truck Series, and a 30th place finish at Richmond for Rick Ware in the Revival Soy truck.
2003-present
Edit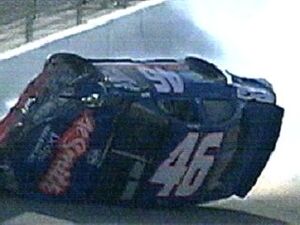 He made two Busch races in 2003 for Robert Creech, his best finish a 28th at Rockingham. He had another 28th at Rockingham the following year, as well as running the #07 for Moy Racing at Loudon, where his engine expired early in the race. He also ran another race for Ware at New Hampshire, but finished last. He made his first race as a team owner that season, when Matt Carter drove his #96 truck to a seventeenth place finish at Martinsville Speedway. After failing to make a Cup race in 2003, Long returned to rhe Glenn Racing Dodge in 2004. In their first race together, Long's car flipped several times in a violent accident at the final race ever held at North Carolina Speedway in Rockingham, North Carolina, where such crashes are very uncommon. Long was not injured, however, his accident in that race raised questions if drivers such as Long and Andy Hillenburg, a sprint car ace, who compete in inferior equipment in these types of races, should be allowed to compete in such prestigious events with such non-competitive cars. These questions gained further fire the next month at South Carolina's Darlington Raceway when a slow Hillenburg was t-boned by a much faster Jeff Gordon, after being spun by Tony Stewart. These questions have since faded out of the limelight. However, the incident gained publicity for the virtual-unknown Long, whose popularity among the fans peaked to unprecedented levels, and also got him a ride in the following Cup event at Las Vegas Motor Speedway, driving for fellow independent Hermie Sadler. Long then drove at Pocono Raceway for the fledging McGlynn Racing operation, finishing 41st. After a final race for Glenn he ran two races with Hover Motorsports.
Long announced he would merge his #46 team with the McGlynn Racing team to run in 2005. Although he drove only the #00 from McGlynn, Long ran 9 races that year, and had a career-best qualifying effort of 20th at Atlanta. Long would again make headlines at the Dodge Charger 500 at Darlington Raceway when he outqualified Cup superstars such as Matt Kenseth, Dale Earnhardt Jr., and veterans such as Joe Nemechek and Dale Jarrett Unfortunately, sponsors wanted 1990 Daytona 500 winner Derrike Cope to drive the car, which forced McGlynn to release Long. Long closed out the year running at Homestead-Miami Speedway in a personally owned chassis originally purchased from Petty Enterprises. The car was prepared in Stan Hover's shop with mostly volunteers, and a leased motor from Bill Davis Racing was dropped into the car. Unfortunately, a crash in qualifying ended his weekend prematurely. In 2006, Carl ran the #80 for Hover Motorsports at the Daytona 500, but missed the race. He attempted three races for R&J Racing but also failed to qualify for those events. He returned to the Busch Series, driving the #23 for Keith Coleman Racing in six races before being replaced, and also ran a Truck Series race for Jim Rosenblum Racing. He attempted a race at Bristol with Long Brothers Racing, but did not qualify. Long joined a new Nextel Cup team, Cupp Motorsports, in the #46 Millstar Tools Dodge. Long attempted three races for Cupp, but failed to qualify for each of them. He returned with help from McGlynn to attempt the Ford 400 at the end of 2006, but did not make the race.
In 2007, Long drove a limited schedule with Long Brothers Racing as well as his own team in the Busch Series. In addition, he will be competing in various short track races with the Long Brothers.
In 2017, Long returned to the cup series yet again after a 9 year suspension, driving the #66 for MBM Motorsports on a part-time basis, starting with Kansas. He was penalized right off the bat for violating NASCAR's sponsorship policy. He was initially sponsored by Veedverks, a company that makes vapes as well as ingredients for weed. NASCAR officials made him remove the sponsor before he could go out onto the track. Later in the season at Dover, MBM Motorsports placed Timmy Hill in the #66 car, with the more appropriate sponsor of Waltrip Brothers Charity. Long and MBM Motorsports are expected to run more races throughout 2017.
External links
Edit