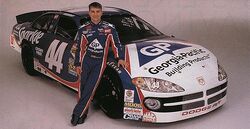 Roy "Buckshot" Jones (born July 23, 1970 in Monticello, Georgia), is a former auto racing driver who has competed in NASCAR and sprint cars.
Jones earned the nickname "Buckshot" from his grandfather after he ran into a table and showed no signs of pain or agony. His racing career began as a hobby during his studies at the University of Georgia. Jones originally wanted to race motocross, but his dad suggested stock cars since they were safer.
After his sixth race Jones went out to dinner with his father, where he told him that he wanted to be a NASCAR champion. He and his father then developed a five-year plan that would allow Jones to move up the ladder and begin to fulfill his dream.
In 1995, Jones moved to the NASCAR Busch Series with his own team called Buckshot Racing. After a disappointing rookie campaign, Jones hired Ricky Pearson, son of the legendary David Pearson, as his crew chief. Jones won two races over the next three years. In 1999, after marrying his long-time girlfiend Jina, he made the jump to Winston Cup driving the 00 Pontiac, with Ricky's brother Larry Pearson taking over his Busch ride. Crown Fiber was the major sponsor of the car. Jones failed to qualify several times in his rookie year, including the first two races of the season. On the occasions in which he did make the field, a DNF was the typical result. After nine starts, he decided to end his bid for Rookie of the Year and returned to the Busch Series. In 2001 he returned to the Cup Series, driving the number 44 Georgia-Pacific Dodge Intrepid for Petty Enterprises. Unfortunately, the results were only slightly better than his previous races and he was released midway through the 2002 season.
Buckshot has since sold his team and has apparently retired from racing. He last appeared in a NASCAR sanctioned race in 2004, when he ran two Busch Series events. He currently works in land development and real estate in Gwinnett County, GA, and has no immediate plans to return to racing.
External Links
Edit
Ad blocker interference detected!
Wikia is a free-to-use site that makes money from advertising. We have a modified experience for viewers using ad blockers

Wikia is not accessible if you've made further modifications. Remove the custom ad blocker rule(s) and the page will load as expected.