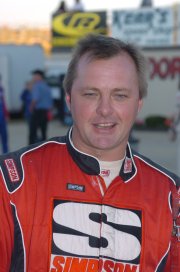 Brian Tyler, born October 27, 1967 in Parma, Michigan is an American auto racing driver. He was a back-to-back USAC National Sprint Car Champion for Larry Contos Racing in 1996 and 1997. He made 10 starts in the Indy Racing League in 1998 and 1999 for 3 different teams with a best finish of 6th at the Las Vegas Motor Speedway.
Tyler has 9 NASCAR Nationwide Series starts, and one NASCAR Craftsman Truck Series start, however with little success.
1997 USAC Sprint Car Series "Champion"
1997 USAC Silver Crown Series "Most Improved Driver"
1996 USAC Sprint Car Series "Champion"
2006 USAC Payless Little 500, Anderson, IN. Winner.
Ad blocker interference detected!
Wikia is a free-to-use site that makes money from advertising. We have a modified experience for viewers using ad blockers

Wikia is not accessible if you've made further modifications. Remove the custom ad blocker rule(s) and the page will load as expected.