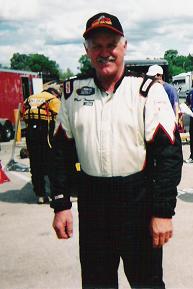 Brad Teague is a veteran of the NASCAR Nationwide Series and the Sprint Cup Series. He was born December 9, 1947 in Johnson City, Tennessee.
Busch Series
Edit
Brad Teague is a Busch Series veteran, making his first start in 1982 at Bristol, nailing a 5th place finish. Teague ran sporadically over the next two seasons before he ran his first full season in 1985, scoring 7 top tens and finished 13th in points. In 1986, Brad scored 10 top tens (in 20 races), and finished 19th in the final rankings.
1987 was his best career season, winning one race at Martinsville Speedway, having 10 top tens, and finishing 7th in points. However, troubles plagued Brad through 1988 through 2002, not being able to grab a sponsor, or a full-time ride. He raced for multiple teams. In 2002, he ran full-time (for two teams, switching off each race), even though he failed to qualify for 12 races. In 2004, he ran seven races for Means Racing, and two for GIC-Mixon Motorsports at the age of 57.
Nextel Cup
Edit
In the Nextel Cup Series, Teague raced a handful of races nearly each year from 1982-1994, running an undeclared rookie year in 1988, in which he ran 13 races.
Brad's career stats in Nextel Cup include 44 starts. Brad's career stats in the Busch Series include 202 starts, 11 top fives, 43 top tens, 2 poles, and 1.3 million dollars in career earnings. Brad has also raced in 9 Craftsman Truck Series races.
External links
Edit
Ad blocker interference detected!
Wikia is a free-to-use site that makes money from advertising. We have a modified experience for viewers using ad blockers

Wikia is not accessible if you've made further modifications. Remove the custom ad blocker rule(s) and the page will load as expected.