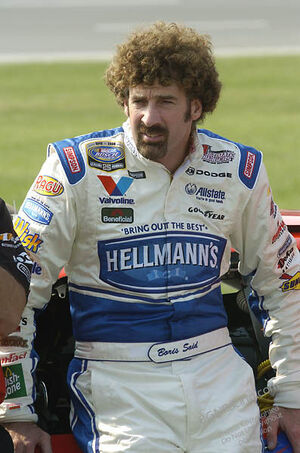 Boris Said (born September 18 1962) is an American race car driver from Carlsbad, California but grew up in Connecticut and New York City.
He drove a part-time schedule in the NASCAR Sprint Cup series driving the #36 Chevrolet for MB Sutton Motorsports. He competed in his first cup race in 1999, and his first oval race in 2004 (at Homestead). His first Daytona 500 start was in 2005. He is commonly referred to as a "Road Course Ringer" along with Ron Fellows and Scott Pruett among the media and other drivers for his ability on the road courses at Infineon Raceway and Watkins Glen International.
He drove full-time in the 1997 and 1998 seasons in the Craftsman Truck Series. He won the 1998 race at Infineon Raceway.
Said signed a contract with Evernham Motorsports to help the team's road course program in 2006. Said finished second in Mexico City as his closest finish of the year.
In 2006, Boris Said and life-long friend Frank Stoddard announced the formation of No Fear Racing which bought equipment from Roush Racing. The team was sponsored by Pepsi, SoBe energy, and No Fear clothing. Said finished in 5th spot at Sonoma after leading a lap. In a big upset the next week, Said won the pole for the 2006 Pepsi 400, promising to reporter Dick Berggren that if he won he would shave his head. After a long race with 9 laps left, Said through a genius call by crew chief Frank Stoddard, took the lead. After leading with 2 1/2 laps left, Tony Stewart got by Boris to steal away the what would have been upset victory. Said finished in 4th spot, and emotionally said that his performance was the highlight of his racing career.
From 2007-2008, No Fear's brand faded into history. Said raced part-time in the NNS in 2008 and 2009. In 2010, Said raced for Latitude 43 Racing, but was released after 5 races. Said also raced for TEAM Red Bull at Watkins Glen, but was crashed by Tony Stewart. Boris Said got his first NNS win at Montreal in a photo finish beating Italian driver Max Papis in a rubbing side-by-side battle.
Controversies
Edit
In 1998, Boris Said got fame in the beginning of his NASCAR career when he had an incident with driver Rich Bickle in the Truck series. At Sonoma in 1998, Boris Said was fighting Rich Bickle for 2nd spot with a few laps left, but Rich Bickle won the battle by accidentally cutting down Boris' tire. In reply, an angry Said waited for Bickle to come back around the track, and then retaliated in one of the dangerous turns. For his actions, Said was disqualified by NASCAR for the final 4 laps of the event and fined $25,000.
At Sonoma in 2006, Boris Said got into a race incident with one of his closest friends off the track Tony Stewart who has a good relationship with the road course ace. After the race ended, Stewart flipped off Said from his window and crashed Said's #60 car that debuted in the Cup series that day. As a consequence, NASCAR put Stewart on probation and ordered Tony to publicly apologize to Said and pay for the damages on Said's car. Stewart apologized willingly and paid for Said's damages. Ironically Stewart had passed Boris Said for the win of the 2006 Pepsi 400 the week after the incident.
In 2008 at Mexico City, Boris Said was running in the top ten on lap 56, but got loose in turn 2 wrecking with contribution from driver Marcos Ambrose. Said climbed out unhurt but maintains to this day that Ambrose intentionally wrecked him. In a post-race meeting Ambrose showed up in an identical curly hair wig like Boris' (A "Said head") to apologize, but Boris replied "The only way you can make amends is if you let me beat your (expletive)." (Despite promising payback repeatedly, it never took place; most notable when Ambrose won his first NNS victory at Watkins Glen that same year; just behind a lapped Boris Said and Said did not show intentions to wreck the Aussie from the win.)
In 2010 at Watkins Glen, Boris Said was driving for TEAM RED BULL in the #83 subbing for Brian Vickers. When Said was driving in 8th spot, while battling Tony Stewart in the esses, Said forced Stewart out of line. In reply, Tony Stewart intentionally tapped Said from behind, causing the #83 to wreck while Stewart remained in the race. Out of sadness and frustration, Said verbally abused Tony Stewart on radio communications; who replied "That idiot tries to run me off the track I am gonna hold my line!" Stewart later apologized.
In 2011, Boris Said, driving for James Finch in the #51 car, was the center of controversy in the final laps at Watkins Glen. Said tapped David Ragan at the same site he battled Tony Stewart at in 2010. Ragan flew into a barrier, drove into David Reutimann causing a horrific barrel-roll. Ragan's teammate, Greg Biffle confronted Boris after the race accusing him of rough driving. Said tried to charge at Biffle but was led off by security. After the event, Boris Said told reporters "I did not mean to wreck Ragan. I am more upset with Greg Biffle he is the most unprofessional little scaredy cat I've ever seen." Said even vowed after the race to give Biffle a "whooping" but after a night to calm himself, both Biffle and Said publicly apologized for their actions and Biffle & Ragan's boss Jack Roush (Who has a good relationship with Said) forgave Boris for his post-race rant. However Ragan, after being treated with a broken leg, replied on his twitter page "The problem with Boris Said is, he has no respect for anyone."
External link
Edit