Bill Davis Racing is a NASCAR team that fields the #22 Toyota Camry driven by Dave Blaney in the NASCAR Sprint Cup Series, the #5 Toyota Tundra for Mike Skinner, the #22 Toyota for Bill Lester, and the #23 Toyota for Johnny Benson in the Craftsman Truck Series. The team switched to Dodge in 2001, but when the team switched its trucks over to Toyota in 2003, Dodge stopped backing the team, although the team still will run the Dodge cars in the Sprint Cup and Busch Series. In 2007, the team switched over to Toyota in full, when the Toyota Camry debuts in Sprint Cup [[Jacques Villenueve will run in the #27 in 2008. The team is based in High Point, North Carolina.
Beginnings
Edit
BDR was formed by then-truck rental owner Bill Davis, who himself was a former motocross racer. Davis helped his friend and business partner Julian Martin develop his son Mark's ASA racing program. When Martin signed with J.D. Stacy, Davis took a break for racing, but the call of the racetrack still lured him, and before he knew it, he hired Martin to drive his Busch Series car for 15 races with sponsorship from Carolina Ford Dealers. In 1990, Davis moved the team to North Carolina while his wife Gail stayed in Arkansas to oversee the trucking operation.
Sprint Cup
Edit
Car #22 History
Edit
Upon arriving in Carolina, Davis was asked by the Ford Motor Company to hire an up-and-coming driver from the Midwest named Jeff Gordon. Gordon won the NASCAR Busch Series Rookie of the Year in 1991, and won 11 pole positions the next year. Davis was hoping to move Gordon and crew chief Ray Evernham to the Winston Cup series, but they were lured away by Rick Hendrick. Davis still moved up to the Cup series full time in 1993 however, with Bobby Labonte driving who finished runner up to Jeff Gordon for Rookie of the Year driving the #22 Maxwell House Ford. After 1993, the team traded engines and chassis with Penske Racing switched to Pontiac. (Penske switched from Pontiac to Ford). After 1994, Labonte left for Joe Gibbs Racing. MBNA America replaced Maxwell House as a sponsor. Originally, Davis went with another rookie and Busch Series standout Randy LaJoie to drive the car. Midway through the year, LaJoie was fired from the team and was replaced by a series of rotating drivers including Wally Dallenbach who finished 2nd at Watkins Glen. Finally, Ward Burton was hired to finish out the year. He impressed when he won at Rockingham Motor Speedway before the season was out.
They didn't win again until 2000 when he was the winner at the spring Darlington race, and took home the trophy for the 2002 Daytona 500. With several races to go in a disappointing 2003 season, Burton bolted to Haas CNC Racing, and was replaced with Davis's Busch driver Scott Wimmer. Wimmer raced full-time in 2004, finished 3rd in the first race of his rookie season. Fans of the popular Burton were outraged when Burton and Davis split, since Burton has not had a steady ride since. Some fans have even stated that the team is too undefunded to compete in the sport, even though it has won 4 races over the past decade. Surprisingly, in late 2005, BDR announced it would part ways with Wimmer at the end of the year. Dave Blaney, who previously drove the #93 for BDR, was tapped to drive the #22 beginning with the 2006 season. He had two top-tens and finished 26th in the standings.
Car #27 History
Edit
What is now the #27 Toyota started as the #93 Amoco Pontiac driven by sprint car racer Dave Blaney. The team moved to Winston Cup in 2000. Despite failing to qualify at the spring Rockingham race, Blaney finished 3rd in the Rookie of the year standings. The team flirted with victory lane a few times in 2001, but Amoco decided not to renew its contract, and Blaney left for Jasper Motorsports.
The team recivied Hills Brothers sponsorship and hired Hut Stricklin as driver, changing the number to 23. Stricklin was so unimpressive that he was fired before the final quarter of the season had started. Kenny Wallace finished out the season for the car with help from Geoff Bodine, Scott Wimmer, and Tom Hubert. Wallace also piloted the car in 2003 with Stacker 2 sponsorship, before moving down to the team's Busch program. Since then, the car has gone mostly unsponsored, with a couple of drivers running selected events. Shane Hmiel, Tony Raines, and Blaney ran the car in 2004. Mike Skinner ran six events in 2005.
In the fall of 2005, it was announced that Michael Waltrip and his sponsor NAPA would drive this car in 2006. Soon after, however, in order to ensure that the #55 qualified for the first 5 races, the team went under the banner of Michael Waltrip's own team, Waltrip-Jasper Racing and bought the defunct #77 team from Roger Penske. That team still received much of its support from BDR. Instead, the #23 has carried on as an R&D team for Davis. Mike Skinner failed to qualify for the 2005 Daytona 500, but Bill Lester became the first African-American since Willy T. Ribbs to compete in a Cup race at the Golden Corral 500. He started nineteenth and finished 39th. Jeremy Mayfield will drive the car full-time in 2007, with the car renumbered 36 for new sponsor 360 OTC. The car has some unique associate sponsors, such as the rock band Kiss, Turner Network Television, & WWE. The #36 360 OTC Toyota Camry, driven by Jeremy Mayfield, failed to secure a top 2 position in the Gatorade Duels, thus causing him to miss the official debut race of the Toyota Camry and the 2007 Daytona 500. Mayfield will not return in 2008, he has only qualified for 8 of 21 races. His replacement will be Jacques Villeneuve and the car number will switch again to the #27.
Nationwide Series
Edit
Besides the current #22 Sprint Cup Series team, BDR has fielded cars in the Nationwide Series before. In 1996, Burton drove eight races in the #22 MBNA Pontiac, posting three top-tens. Davis did not field a Nationwide team again until 1998, when he fieled the #93 Amoco Pontiac piloted by sprint car ace Dave Blaney. Running a limited schedule, Blaney finished in 6th place 3 times. Blaney had an even better 1999 season, winning the pole position several times and finished eighth in points. That same year, Davis fielded a second car for Burton, the #02 sponsored by Siemens. He finished in the top-ten in every race and won a pole at Darlington.
In 2000, Davis opened the #20 ride sponsored by AT&T. Rookie Mike Borkowski started the year in the ride, but after the Busch 200, he was released. Dave Blaney and Tom Hubert shared the ride for the year before Scott Wimmer took over in the final part of the season. Burton's team changed to the #22 sponsored by Polaris, and had two top-five finishes, then closed up.
Wimmer took over the #20, renumbered the #23, for 2001, posting eight top-tens and finishing eleventh in points in a Jani-King sponsored car. Siemens became a part-time sponsor in 2002, but the team threatened to shut down to a lack of finances. However, it remained open, and Wimmer won four races in the second-half of the season, finishing 3rd in points. For 2003, Stacker 2 came onboard as sponsor, and he picked up a win at Pikes Peak. At the end of the season, Wimmer moved to Cup, and Kenny Wallace took his place, posting ten top-ten finishes and finishing ninth in points. After Wallace and Stacker 2 left for ppc Racing, Davis sold the equipment to Keith Coleman Racing. The team still remained involved in Busch supplying engines to MacDonald Motorsports.
Craftsman Truck Series
Edit
Truck #5 history
Edit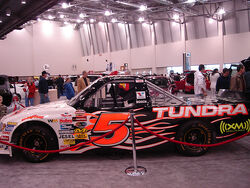 The #5 truck started out in 2004 at Bang! Racing as the #42 driven by Mike Skinner. Skinner started the year with two top-fives, but his performance began to decline, and his team was sold to Davis, changing to the #5, starting at the Las Vegas 350. He won two poles and had a sixth-place run at the season-ending race at Homestead-Miami Speedway. In 2005, he won seven poles and two races, at Bristol and Richmond respectively, finishing fifth in points. In 2006, he had thirteen top-tens including a win at Las Vegas Motor Speedway. Skinner is signed to drive for BDR through the 2009 season.
Truck #23 history
Edit
The 23 truck began in 2004 when Davis purchased its equipment from Phil Bonifield. The truck was piloted by Shelby Howard. Howard ran eight races before he was released, and Johnny Benson took over. Despite running a limited schedule, Benson finished 25th in points. Benson became the full-time driver in 2005, and had six top-fives en route to a tenth place points finish. Benson went on to collect five wins during the 2006 season with additional backing from Exide Batteries and finished runner-up to Todd Bodine for the championship. 360 OTC will sponsor the 23 for ten races during the 2006 season.
Truck #24 history
Edit
The 24 truck entered as a research and development entry for BDR in 2005. Steve Park drove the #67 South Padre Island entry in a pair of races towards the end of the year following his release from Orleans Racing. His best finish was 16th at Texas. In 2006, A. J. Allmendinger drove the newly-numberd 24 for three races, posting a fifth-place run at Talladega Superspeedway.
Truck #36 history
Edit
BDR's original foray into the Truck series, it debuted in 2004 at the Florida Dodge Dealers 250, where Bill Lester drove it to a sixteenth place run. He posted just one top-ten that year and finished 22nd in points. The next season, he won two poles (back-to-back at Kansas and Kentucky), had a best finish of fifth and moved up to seventeenth in points. Lester failed to finish in the top-ten during the 2006 season and dropped to twentieth in points. Tyler Walker will drive the renumbered 36 truck full-time in 2007, with sponsorship from 360 OTC.
External links
Edit
Sprint Cup Series
BAM Racing • Bill Davis Racing • Joe Gibbs Racing • Hall of Fame Racing • Michael Waltrip Racing • Team Red Bull
Nationwide Series
Braun Racing • Germain Racing • Joe Gibbs Racing • Michael Waltrip Racing
Craftsman Truck Series
Bill Davis Racing • Billy Ballew Motorsports • Germain Racing • HT Motorsports
Ken Schrader Racing • Red Horse Racing • Wyler Racing
Championships
2006 NASCAR Craftsman Truck Series – Todd Bodine with Germain Racing
Ad blocker interference detected!
Wikia is a free-to-use site that makes money from advertising. We have a modified experience for viewers using ad blockers

Wikia is not accessible if you've made further modifications. Remove the custom ad blocker rule(s) and the page will load as expected.