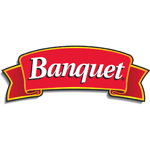 Banquet is a food producer. It is a current part-time NASCAR sponsor for Joe Gibbs Racing's #19 Busch Series developement team of Aric Almirola. Banquet has run five races a year with JGR, including 2005 with Bobby Labonte behind the wheel. Tony Stewart is the main endorser of the company in 2006 and the company is the title sponsor of the Nextel Cup race at Kansas
These food brands are also NASCAR sponsors, made by Banquet company. They share time on the #19 Chevy.
Ad blocker interference detected!
Wikia is a free-to-use site that makes money from advertising. We have a modified experience for viewers using ad blockers

Wikia is not accessible if you've made further modifications. Remove the custom ad blocker rule(s) and the page will load as expected.