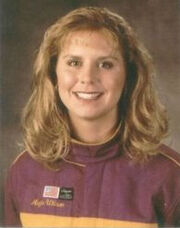 Angie Wilson, born December 29, 1974 in Marion, NC, is a former NASCAR driver. She competed in four Craftsman Truck Series events in her career.
All of those came in 2002, driving the #81 Ware Racing Enterprises truck. In her debut, which came at Martinsville, Angie qualified 34th. She ran well, and despite falling out late, Angie finished 23rd. It would turn out to be her best career start. She was then 25th at Gateway and Pikes Peak. Those were the only two races she finished, and a 27th start at Pikes Peak would be her career best. After a 34th place finish at Dover, Wilson was released and has not raced in NASCAR since.
External links
Edit
Ad blocker interference detected!
Wikia is a free-to-use site that makes money from advertising. We have a modified experience for viewers using ad blockers

Wikia is not accessible if you've made further modifications. Remove the custom ad blocker rule(s) and the page will load as expected.