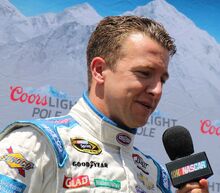 A.J. Allmendinger (born December 16, 1981) is a NASCAR Sprint Cup driver of the #22 Shell/Pennzoil Dodge for Penske Racing. He formerly drove the #84 Toyota for Team Red Bull and the #43 Ford for Richard Petty Motorsports. It was announced on September 24, 2008 that he and Team Red Bull would part ways and join Penske Racing to driver the #22 Shell/Penzoil Dodge.
Racing career
Edit
Early career
Edit
He started his career in kart racing. He won two International Karting Federation Grand National championships. [1]
Allmendinger won the Barber Dodge Pro Series championship in 2002, and the Champ Car Atlantic Championship in 2003 with Carl Russo's RuSport team.
Champ Car
Edit
In 2004 they entered the Champ Car World Series, with Michel Jourdain Jr. joining Allmendinger. He generally outperformed the experienced Mexican, scoring a run of 6 top-6 finishes towards the end of the season, winning the Roshfrans Rookie-of-the-Year award ahead of Justin Wilson. Wilson joined the team for 2005, and both drivers have been in regular contention for podium finishes.
On June 9, 2006, RuSport announced that Allmendinger would be replaced by 2002 CART champion Cristiano da Matta. However, he did not remain unemployed long, as Forsythe Championship Racing hired him on June 14, 2006. In the interim, he became engaged to Lynne Kushnirenko, a model and chiropractor.
On June 18, 2006, Allmendinger won the Grand Prix of Portland in his first race with Forsythe Championship Racing. Allmendinger became the first American to win a Champ Car World Series event since Ryan Hunter-Reay won at The Milwaukee Mile in 2004.
On June 25, 2006, Allmendinger won the Grand Prix of Cleveland from the pole in a hectic race that saw two-time CART champ and points leader Sébastien Bourdais, teammate Paul Tracy, former teammate Justin Wilson, Dan Clarke and former seatholder Mario Dominguez eliminated during the race.
He continued his winning streak by winning his third consecutive race at the Grand Prix of Toronto on July 9, 2006. He started second after Wilson bested Allmendinger's time in the last lap of the event's final qualifying session. The victory moved Allmendinger into second place in the CCWS championship standings, behind leader Bourdais.
He chalked up his fourth and fifth wins of the season at Denver and Road America.
Allmendinger made his NASCAR debut in the Camping World Truck Series driving for Bill Davis Racing at New Hampshire International Speedway on September 16, 2006[2] [3]. He crashed his primary truck in qualifying but started the race 32nd and finished on the lead lap in 13th. He also competed at Talladega Superspeedway in October with a finish of 5th. In his 3rd career truck series start, he qualified in 2nd place at Atlanta.
Allmendinger attempted his first Nextel Cup Series event at Atlanta in October 2006 driving the Team Red Bull entry, however, a rain out in qualifying prevented him from making the race, due to lack of owners points for the team. He also attempted to make the race at Texas however he failed to qualify.
It was announced on October 24, 2006 that Allmendinger will drive the Nextel Cup #84 Team Red Bull Toyota Camry in 2007.
Allmendinger failed to qualify for the 2007 Daytona 500 after a crash in the first Gatorade Duel race. He has also failed to qualify for the California, Las Vegas, and Atlanta races. As of May 25, 2007, he has qualified for one "current car" event, and has made four races, all featuring the Car of Tomorrow. To assist him in the transition, he is also driving selected Craftsman Truck Series races for Toyota under the Darrell Waltrip Motorsports banner.
Allmendinger finished 40th his first Nextel Cup start at the Food City 500 at Bristol, which was the debut of the COT. The next race, he finished 38th at Martinsville and posted a 32nd place finish at Richmond on May 6, 2007.
Entering the 2009 Sprint Cup Series Season, A.J. Allmendinger will be behind the wheel of what used to be the ride of Patrick Carpentier at Gillett Evernham Motorsports, which was bought out in the off season by Richard Petty. The organization is now called Richard Petty Motorsports, and A.J. Allmendinger will be sporting the 1979 #44 Valvoline paint scheme during the 2009 Budweiser Shootout, and throughout speedweeks. He has alot to show, being that he is driving for Richard Petty, and using the replica of Kyle Petty's 1979 ARCA Valvoline paint scheme at Daytona.
Well the Daytona 500 is over, A.J. Allmendinger proved himself a worthy driver as of Sunday, Feb. 15th 2009, posting a 3rd place finish in his first Daytona 500 with his new team Richard Petty Motorsports. On April 10th 2010 Allmendinger won his first pole at Phoenix International Raceway.
In 2012, A.J. was relieved from his contact with Penske Racing and suspended by NASCAR after he failed NASCAR's Substance Abuse Policy which is taken very seriously. A.J. would return to NASCAR in 2013 with small based teams such as Phoenix Racing but hopes to one day return to the top.
On Friday, January 19, 2007, A.J. married Lynne Kushnirenko in Palm Beach, Florida.
References
Edit
External links
Edit
Complete Champ Car results
Edit
(key)
Yr
Team
1
2
3
4
5
6
7
8
9
10
11
12
13
14
Team
Rank
Points
2004
RuSPORT
LBH
12
MOT
Ret
MIL
5
POR
6
CLE
6
TOR
11
VAN
3
ROA
13
DEN
5
MON
5
LAG
Ret
LAS
6
SUR
6
MEX
3
RuSPORT
6th
229
2005
RuSPORT
LBH
8
MOT
10
MIL
2
POR
5
CLE
2
TOR
Ret
EDM
Ret
SAN
Ret
DEN
3
MON
9
LAS
13
SUR
2
MEX
2
 
RuSPORT
5th
227
2006
RuSPORT
LBH
Ret
HST
8
MOT
3
MIL
4
POR
1
CLE
1
TOR
1
EDM
3
SAN
7
DEN
1
MON
Ret
ROA
1
SUR
Ret
MEX
DNS
Forsythe
2nd
280
* Pole positions indicated in bold.
External links
Edit