The 2006 Stonebridgeracing.com 200 is a Busch Series race that occured at Dover International Speedway. It was won by Jeff Burton.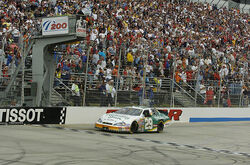 .
Pre-Event Stories
Edit
Practice Notes
Edit
J.J. Yeley both wrecked his cars in the first practice by himself and went to a backup.
Mark McFarland also wrecked in the final practice and went to a backup.
Qualifying
Edit
43 cars were entered into the race and all were guaranteed to make the race. However, qualifying was a rainout and the field was set to owner's points with Kevin Harvick starting the field from the pole and Carl Edwards on his outside.
Race Data
Edit
To the back
Edit
Matt Kenseth (#17 Ameriquest) Ford) pitted before the green, complaining of a 'popping' noise in the engine. The crew did not fix the problem during that pit stop and would take laps for the crew to correct the problems. He would lose laps and eventually finish 26th.
Event Recap
Edit
Harvick led the field to the flag and for the first six laps, before Carl Edwards in the #60 Weyerhauser Ford lead for the nexty forty laps. There were a streak of three cautions in this period. Two were for debris, and one was for a chain reaction accident caused by Matt McCall's wreck that also collected Ashton Lewis and Regan Smith.
Kyle Busch powered past Edwards on the restart, when Stephen Wallace wrecked soon after. On the subsequent restart, Regan Smith spun out from a flat tire. Busch lead til lap 81, when Edwards reclaimed the top spot.
Clint Bowyer took the lead during pit stops for Jon Wood's wreck. (David Green led one lap during the cycle) Bowyer led until lap 140, when Edwards climbed past Bowyer.
The change of the race came on lap 149, when Steve Park backed his car into the Turn Two wall. The top four cars (plus Aric Armolia who was running eighth at time of cautions) stayed out, hoping that the tires would not give up. The quintet was aided by another caution two laps after the restart. Jason Leffler, Todd Bodine, Paul Menard and Mark McFarland tangled up after Bodine got loose on the frontstretch.
The tires didn't give up, and the top five began pulling away from Edwards. Clint Bowyer blocked Kurt Busch for a few laps, but Busch eventually succeeded in the pass. However, Busch's car began losing the handle and Jeff Burton began to close in on Busch. For ten laps of side-by-side racing, Busch held off Burton, which allowed Edwards to join the fray. However, once Burton and Edwards cleared the Busch vehicle, Burton clearly had the better car and led the last eighteen laps en route to victory.
1)Jeff Burton
2)Carl Edwards
3)Kurt Busch
4)Clint Bowyer
6)Kyle Busch
Top Ten in Points
Edit
1)Kevin Harvick (13th-Worst finish to point)
2)Carl Edwards (2nd)
3)Clint. Bowyer (4th)
4)Denny. Hamlin (7th)
5)Kyle. Busch (6th)
6)J.J. Yeley (9th)
7)Greg Biffle (8th)
8)Paul Menard (35th)
9)Johnny Sauter (21st)
10)Jason Leffler (34th)
Wally Rogers, crew chief for Ron Hornaday was penalized for improper equipment ($1,000) after the race.
External Links
Edit
Ad blocker interference detected!
Wikia is a free-to-use site that makes money from advertising. We have a modified experience for viewers using ad blockers

Wikia is not accessible if you've made further modifications. Remove the custom ad blocker rule(s) and the page will load as expected.